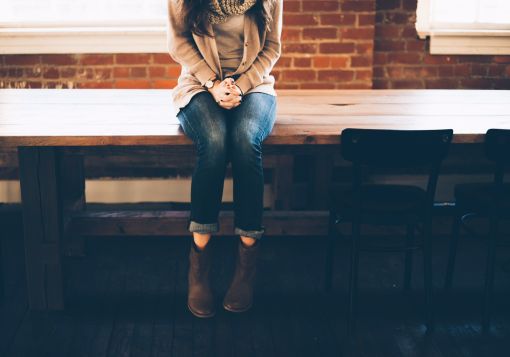 Heading back to school can often times feel overwhelming.
There's the stress of making new friends, trying to fit in, figuring out which activities to participate in, getting to know your teachers, adjusting to your new schedule, and so much more.
Although I never went to an actual school building week in and week out (I was homeschooled), I still experienced a lot of what you girls may have experienced.
One of my absolute favorite parts of kicking off the new school year was *drum roll* shopping for new clothes. I loved heading to the stores to buy new shirts, jeans, skirts and anything else I could squeeze into my little back-to-school shopping spree.  
The excitement would build as I thought about the fun new pieces I would hopefully add to my wardrobe.
I loved dressing fashionably and I loved shopping.
The excitement of shopping for new clothes typically lasted until I stepped foot into the first store. My eyes would then scan the clothing racks and I'd realize my dreadful position.
I would immediately think to myself, "How in the world am I going to find fun, cute, fashionable and modest clothing?"
Good Feelings Gone
My good feelings were gone and I'd soon start complaining and whining about how difficult it was to add modesty into my fashion choices. My mom (who was typically with me) would listen and then would lovingly do her best to give me some tips and tricks for making modesty an easier part of my shopping experience.
Thanks to her years of patience and input, I finally realized that shopping, with modesty in mind, doesn't have to be a horrible experience.
I want you girls to know that it's totally possible to dress fun, cute, fashionable and modest all at the same time. Don't sway on your modesty standards just because it's difficult or hard to do.
You can make this school year a pain-free wardrobe experience with just a few simple tips and tricks.
I want to share with you my top six tips and tricks for making modesty happen in my life.
For a full list of these tips and tricks, as well as a printable "Modesty Mirror Check," download our new e-book Project Modesty. It's loaded with everything you need to know for combining fashion with modesty this school year.  
6 Tips and Tricks for Making Modesty Happen
1. Making Jeans Work
Is it just me or do somewhat loose fitting jeans seem nearly impossible to find these days? Shopping for pants can be a nightmare if you don't have this trick up your sleeve. I've recently realized that long dress/shirts are my ultimate go to with jeans/pants.
Instead of stressing over the fact that loose jeans are hard to come by, I just pair them with a long dress/shirt. It looks feminine, fashionable and totally modest. You can see exactly how I do this in my Project Modest Video.
2. Short Shorts No More
Short shorts are all the rage and it's making me crazy. With my mile long legs, even the "long shorts" look short on me. I've learned that I don't have to depend on the fashion industry to give me what I need. I've decided to create my own.
I buy pants or jeans that fit me well, cut them off below the knee, roll once or twice and bam! I've got an adorable new pair of modest shorts.
3. Why is Everything So Low Cut?
The fashion industry must assume that we all want to sport cleavage. Finding a shirt that actually comes up to a decent height on the top is becoming a rare find. Thankfully, camisoles are designed to fix the problem and cover up that cleavage, raise the neckline, and keep everything covered that's supposed to be covered.
Not to mention camisoles are so subtle that they don't ruin the outfit. They just add that extra coverage to the shirt and create a beautiful modest look.
4. My Belly Button Isn't for Public Viewing.
Last  I checked, my belly button isn't for public viewing. Despite the rage of showing off the mid section, I personally like to keep my midriff covered.
Again, camisoles are my lifesaver. I don't know what I would do without my tucked in camisole underneath my shirts. Wow! They keep my midriff covered and give me the opportunity to wear shirts that I couldn't wear without one. I HIGHLY recommend them.
5. Button-Up You Get Me Every Time
A few years ago my sisters and I discovered the button-up shirt. We wear them several times in our video and multiple times in our Project Modest E-book. For a visual of these shirts, check out our E-book and you will know exactly what I'm talking about.
Buttons-ups are like a modest girls dream. They cover up so well without looking old fashioned. I love pairing my button-ups with a fun necklace or belt. If you aren't in the habit of wearing button-ups, you've got to try them out. Old Navy has a cute line of them for a pretty fair price.
6. Go For The A Line Skirt
Finding skirts can be a nightmare…if you don't know which kind to look for. When I shop for a pencil style skirt, I nearly lose my mind. They are more often than not tight fitting and make me hate the shopping experience. I've learned to keep my eyes peeled for a-line skirts and skirts with a bit of a flare.
This type of skirt totally avoids the tight issue and can still be trendy and fashionable. I wear several different a-line and full skirts in our E-book. I highly recommend looking at the "some of our favorite skirt looks" for ideas and inspiration.
7. Bonus Tip
Girl, you've got to learn to sew. Knowing just a few basic sewing tricks can open up endless possibilities in making modesty a part of your wardrobe.
Keep Your Eyes Peeled
Over the next week we are going to release pictures from our e-book to all of our social media sites. Facebook, Instagram, Twitter and Pinterest. Each of these pictures will be a tip or trick for how to make modesty happen. Keep your eyes peeled. I'll be releasing the first image later today.
What about you?
Does the back-to-school shopping trip stress you out? Why or why not?
What modesty tips and tricks can you share with the rest of us?
Photo Credit Here