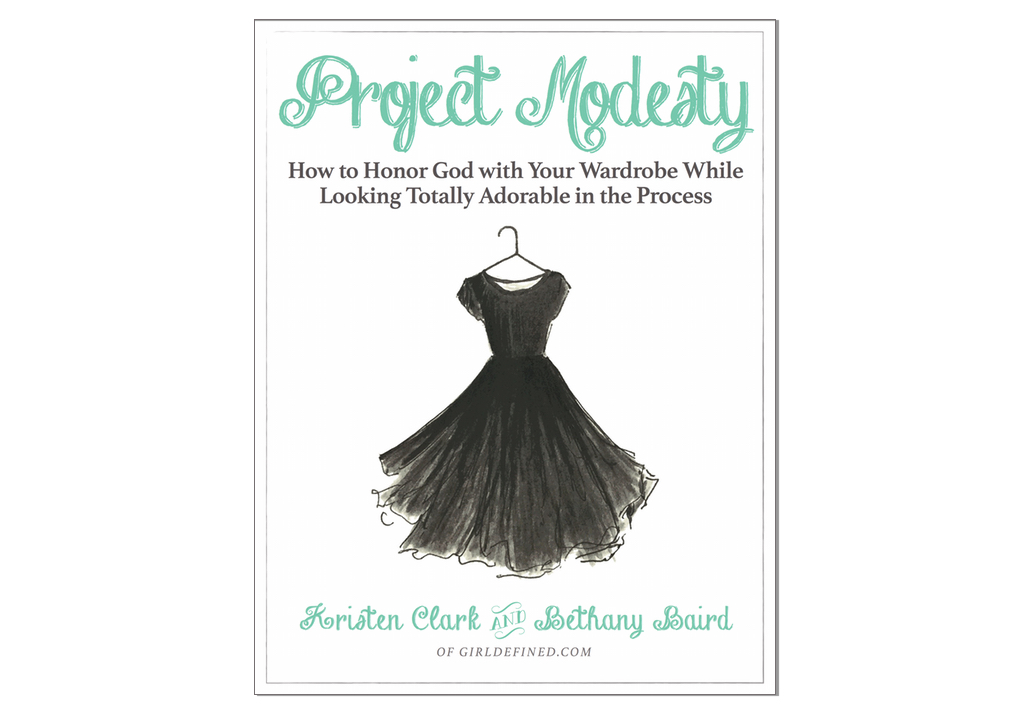 Growing up the two of us were convinced that modesty equalled old-fashioned. We looked around and noticed that the hip stores weren't pushing long shorts, classy shirts or knee-length skirts.
The clothes they promoted were hip, edgy, trendy and, we assumed, top notch fashionable.
Because the fashion industry held the loudest voice on clothing, we assumed they were the standard on what equalled fashion and what equalled old fashioned.
Modesty and Fashion Didn't Combine
As young women we looked around us and found very few (if any) Christians promoting modest fashionable clothing. We did hear quite a bit on modesty, but to be totally honest we weren't all that excited about the style of clothing being promoted.
From what we saw dressing modesty truly meant wearing slightly ugly, out-of-date clothing.
With hearts that truly desired to honor God, we decided to study up on the topic of modesty. We wanted to know God's heart behind modesty and we wanted to know if it was possible to combine modern fashion with modest clothing.
After several years of research we become totally convinced that modesty and modern fashion truly can go hand-in-hand.
That's what brings us to this exciting blog post today.
Project Modesty has been on our hearts for a long *long* time. As a result of our past research and studies we've become passionate and excited about helping girls understand that modesty doesn't have to be boring and old fashioned.
Because of the major misconception so many of us have had (and still have) on modesty, we've decided to create a video and e-book  (available now!) to help set the record straight. These two resources are truly unlike anything we've ever seen before. They are the tools we wish we had earlier in our own lives.
Our prayer is that this e-book and video will change your perspective on modesty and give you fresh inspiration on how to incorporate fashion into your wardrobe.
Project Modesty E-book
This e-book is the best of anything we've ever written on the topic of modesty. It's basically our dream for a book on modesty made into a reality. 
By reading Project Modesty you will…
Understand the reasons behind why modesty is so important to God.
See dozens of inspiring photos of Kristen, Bethany and their three sisters displaying fashionably modest outfits.
Learn numerous tips on how to transform immodest clothing into something beautiful and modest.
Hear honest thoughts from Christian guys about why modesty is a blessing to them.
BONUS: Peek inside Kristen and Bethany's swimwear wardrobe and learn how to take modesty to the water.
BONUS: Free "Modesty Mirror Check" PDF download.
This e-book has 13 chapters and is jam packed with everything you could ever want to know on the topic of modesty.
Project Modesty Video
This video will give you a taste of what you will find inside of the e-book. If you enjoy the video we know you will love the e-book. The video is the two of us, along with our three younger sisters, showing our tips, tricks, and favorite looks for modest clothing.
We take you through the main pieces of clothing (i.e. shirts, pants, shorts, skirts, and dresses) and show you how to style those pieces, as well as show you how to make difficult pieces work.
Whoever said modesty had to be boring obviously didn't know what they were talking about.
And this video proves that.  
Our hope is that this video and e-book will leave you feeling more inspired and excited than you've ever felt about modesty before.
Purchase the Book – Project Modesty: How to Honor God With Your Wardrobe While Looking Totally Adorable in the Process
Free E-book Giveaway
We are going to giveaway two free e-books to two of you sweet girls. To enter the giveaway simply comment below and share why you want a copy! You will then be automatically entered for your chance to win our brand new e-book.