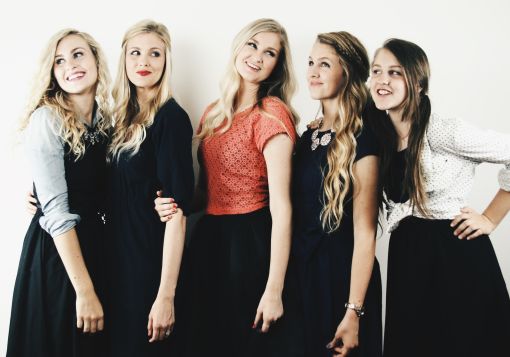 "But everyone else is wearing it, mom! I don't want to stand out like a super weirdo," I said through distressed tears.
This was me having a small meltdown. Scratch that. A major meltdown.
My mom wasn't super excited about the shirt I was wearing and was encouraging me to put on something more modest. I was thirteen years old at this point and didn't care about modesty at all. I wasn't interested in "being different" and dressing like a frumpy old lady. To me, modesty meant grandma garb.
I rebelliously argued with her for a while, then finally gave in and changed my shirt.
As a young teenage girl I wanted to be cool. I wanted to be trendy. I wanted guys to notice me. I wanted other girls to like me. In my mind, dressing modestly would basically ruin all of that.
For several years I gave in to my parent's wishes for me to dress modestly simply because they were my parents. I had to obey. I didn't want to obey. Modesty wasn't my conviction, it was my parents'. I was only playing the part.
Okay girls, let's be real for a minute. How often have you done something simply because your parents made you do it?
How often have you obeyed on the outside, but hated every second of it on the inside?
That was me.
Sadly, I've seen a lot of Christian parents force their daughters to do something (like dress modestly) and the daughter hated it. Guess what happened when the daughter left home? Yep. She instantly changed her wardrobe fashion to reflect her true heart. She immediately ditched the modest clothes and wore whatever she felt like.
Her parents were left wondering "what went wrong? Why did our daughter abandon her 'Christian' convictions?"
Well…newsflash. She never had the convictions to begin with.
And that is exactly what my parents didn't want to happen with me or my four younger sisters. They weren't interested in forcing us to look like perfect little Christian girls. They were interested in teaching us on to think for ourselves.
As a result of this mindset, my parents rarely enforced any kind of rule without sharing the "why" behind the rule.
"Girls," they would say, "we want you to dress modestly because we believe it honors God."
They would expand on what modesty was and why it mattered.
As I reached my mid-high school years, something crazy happened.
I started to think for myself!
I started reading dozens of solid Christian books and learned what other Christian men and women had to say about modesty. To my utter shock, the Holy Spirit began opening my eyes and changing my desires. I began to see the value of dressing modestly. I began to see the purpose for wearing modest clothing.
Slowly but surely I adopted the "modesty conviction" for myself. As I graduated high school guess what happened? I didn't go off the deep-end with my wardrobe. I didn't abandon everything my parents ever taught me.
I continued to dress fashionably and modestly, because I wanted to. I had the personal conviction.
Listen girls.
When it comes to being a Christian, you have to think for yourself.
You have to learn to read the Bible and gain your own convictions about what you believe. Don't piggy back on your parents. It doesn't last.
We live in a culture where clothing and fashion rule the day. Trends come and go every year. As girls, we're pushed to fit into a cookie cutter mould with our wardrobes. To be "cool" we're pressured to wear whatever the latest trends are.
Midriff styles are back. We're pressured to wear them.
Tiny rompers are back. We're pressured to wear them.
High waisted tiny cutoff shorts are back. We're pressured to wear them.
Two piece dresses are back. We're pressured to wear them.
These trends suck Christian girls in because they're popular and fashionable.
Just because these trends are in doesn't mean they're appropriate to wear though. As a Christian girl, you can't be a product of our cookie cutter culture. You shouldn't brainlessly wear the latest trends just because everyone else is.
Think for yourself. Establish your own convictions and stick to them. Raise the bar.
There's a major lack of young Christians girls who think for themselves today. Many allow the culture to think for them. Especially when it comes to clothing.
As a result of this epidemic issue, Bethany and I decided to launch a countercultural fashion movement.
Say hello to Project Modesty.  
Over the next two weeks, Girl Defined is going to zero in on teaching you how to think for yourself when it comes to your wardrobe. We're going to help you break free from the cookie cutter fashion trends and show you why modesty is so valuable.
We have some exciting surprises planned for you too. One of them is our brand new ebook that we recently wrote called Project Modesty: Honoring God with Your Wardrobe While Looking Totally Adorable in the Process.
This ebook is filled with everything from why we wear clothes, to what guys think about modesty, to dozens of how-to pictures on combining modesty and fashion.
We'll also be releasing a brand new short video filled with inspiring ideas on how to combine fashion and modesty.
Bethany and I learned to think for ourselves and we want you to as well!
Don't be a cookie cutter girl when it comes to your wardrobe choices. Be a thinker. Be intentional. Join us for the next two weeks as we dive into Project Modesty.
Let's chat.
In what ways has our cookie cutter culture influenced your wardrobe choices?
Are you a thinker or a trend follower? Why?
Do you think it's possible to combine modesty and fashion? How?
PS: The picture above was taken from the set of Project Modesty. Our three younger sisters helped us make this project even more awesome!