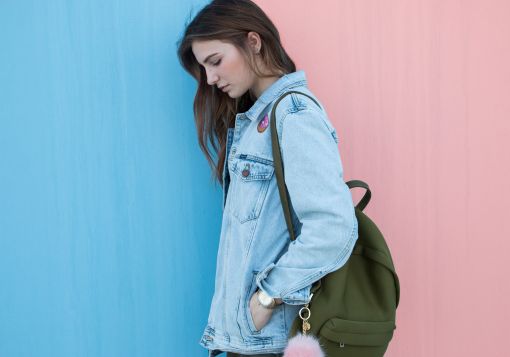 The moment summer hits is the moment modesty seems to go out the window. Shorts shrink into underwear size. Shirts are so small they don't even cover the mid drift. Clothes are sheer and basically see through.
It often feels like being trendy and fashionable means wearing close to nothing.
Despite how popular the itty-bitty clothing trend seems to be, we don't have to accept it.
We can rise to a more decent and respectable standard.
Just because underwear size shorts are "in," doesn't mean we have to wear them and let our cheeks hang out. Just because teeny-tiny-cleavage-revealing-belly-button-displaying shirts are "in," doesn't mean we have to wear them.
We as Christian women can choose to display our bodies in a way that says, "I value and respect the body God has given me and I don't have to wear tiny clothing to prove I'm cute or fashionable."
I'm challenging each one of us to present our bodies in a way that portrays decency, honor, and respect.
I'm challenging each one of us to dress in a way that represents the holiness and purity of our Savior, Jesus Christ. I'm challenging us to dress in a way that acknowledges our worth and identity is found in Christ alone.
Here are 10 ideas to help you combine fashion and modesty this summer.
1. Turn Old Jeans into Bermuda Shorts.
I know it's hard to find shorts that don't look like underwear. I get it. It's hard, but not impossible. I encourage you to get creative and think outside the box. Grab an old pair of your jeans and cut them off to a length that is modest. Wash them in the washing machine to get that modern fringe look.
2. Tie a Flannel or Denim Shirt Around Your Waist. 
This is one of my all-time favorite looks. I'm actually wearing a flannel shirt around my waist right now. I love it because it covers up the back of my jeans in the rear area. If you haven't tried this look, you've got to give it a try.
3. Wear a Dress Over Your Jeans. 
Dresses are such a great and versatile option. As a really tall girl, I've always had problems with dresses being too short though. Instead of ditching short dresses, I've decided to add jeans and wear them together. The dress covers the rear area and the jeans cover the thighs and legs. It's a win/win combo.
4. Add a Button up Shirt Under Your Dress. 
There are so many cute dresses that just need a little extra coverage up top. Instead of ditching the thin strapped dresses, just add an adorable button up underneath. It makes an adorable classy later and adds some great modest coverage.
5. Always Have One Black and One White Camisole on Hand. 
Camisoles are lifesavers for the girl striving to combine fashion and modesty. I wear a camisole almost every single day. I buy thin ones (so that I'm not sweating even more) and wear them under my shirts. It helps cover any cleavage issues and any see through issues. I highly recommend them!
6. Buy Real Denim (Not Jegging or Super Stretch Denim). 
Real denim is hard to come by these days. It seems like most jeans are made up of super stretchy material. The jeans are so tight that they leave little to the imagination. When I shop for jeans, I look for jeans that are made up of real denim material. Real denim adds so much more structure and seems to leave a little room to move in.
7. Order Online In Tall for Extra Length. 
Ordering online is a huge win! Most stores sell dresses, skirts, shorts, shirts and jeans in long. That means extra length on everything. Talk about a big time score. Even if you aren't tall like me, I encourage you to order your clothes in tall to get that modest extra length.
8. Shop at Stores Geared Towards Women (not teens). 
There is a major difference in clothing styles depending on where you shop. If you shop at a super trendy store geared towards teens, it's going to be hard to find modest clothing. If you shop at a store geared more towards twenty-somethings, you will have a much easier time finding modest clothing.
9. Follow a Modest Fashion Blogger for Inspiration. 
It can be really hard to come up with creative and fashionable looks. I encourage you to follow some modest fashion bloggers. My younger sister, Rebekah, runs an amazing modest fashion blog. Check out her blog www.hellomodesty.com or her Instagram account for fun, creative, and modest ideas.
10. Find Your Worth in Christ Alone
We, as Christian women, need to regularly remember that our worth is in Christ alone. He created us, therefore He decides what gives us value. We can't add to our value and we can't take away from our value. We are loved and worthy because Christ says we are. Not because of what anyone else says. We don't need to prove ourselves to those around us. We just need to walk in the worth Christ has already placed upon us.
Which of the ten steps were most helpful to you? How can you combine fashion and modesty this summer?
I'd love to hear your thoughts and any additional ideas you might have. Feel free to comment below and share your thoughts.