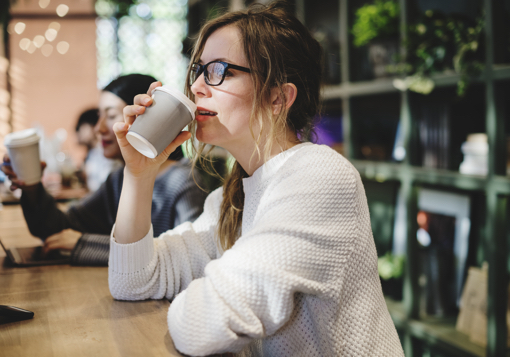 Life on earth is a far cry from perfect. In fact, it can often feel overwhelmingly negative at times. In my own life, I'm tempted to focus on the things that go wrong more than the things that go right. I find myself zeroing in on the negative stuff until my sight turns into a depressing tunnel vision. I can't see anything good anymore because I'm so zoomed in on what's not going my way.
Ever been there?
Honestly, it's a depressing and sad way to live.
There's no joy in the negative tunnel vision…yet we all do it regularly. Since this is the month for giving thanks, I thought it would be a really good idea to dedicate this post to overcoming our tunnel vision and instead, choosing gratitude.
As Christian girls, we have a million reasons to give thanks, with the biggest being our Salvation through Jesus. We should be the leading example of gratitude and joyfulness. Yet sadly, we're often not; and it's largely because we choose to focus on the wrong things.
With Thanksgiving Day around the corner, I thought it would be really good for all of us (me included) to refocus our thinking. I'm starting a gratitude list below, and I want you to add to it.
Choosing gratitude is the key to becoming a joy-filled woman, regardless of what happens in life. Let's give thanks together!
15 Amazing Things You Can Thank God for Today:
1. You woke up this morning which means God has a purpose and a plan for you today. Every new day is a gift! "This is the day that the Lord has made; let us rejoice and be glad in it" (Psalm 118:24).
2. God loves you more than anyone in this world ever could. His love never fails. "Oh give thanks to the Lord, for he is good, for his steadfast love endures forever" (Psalm 107:1).
3. You have free access to the greatest, most life-changing book ever written – the Bible (Romans 15:4).
4. God handcrafted you just the way you look, and He says you're wonderful! (Psalm 139:13-14).
5. No matter how heavy your personal burdens are, God has the power to sustain you through them (Psalm 55:22).
6. God's forgiveness is bigger than your biggest sin. "If we confess our sins, he is faithful and just to forgive us our sins and to cleanse us from all unrighteousness" (1 John 1:9).
7. This broken earth is not our home. Jesus is coming back again. Hallelujah! (1 Thess. 4:16-17)
8. Every sunrise and sunset is a gift from our Creator. "From the rising of the sun to its setting, the name of the Lord is to be praised" (Psalm 113:3).
9. Heaven is going to be awesome! You get to spend all of forever with your Creator, Savior, and loving Father (John 14:2).
10. God sees your secret tears and He hears your silent cries. He can't wait to wipe them away forever. "He will wipe away every tear from their eyes, and death shall be no more, neither shall there be mourning, nor crying, nor pain anymore…" (Rev. 21:4a).
11. Life may seem confusing at times, but God sees the bigger picture. He is always 100% in control (Isaiah 41:10).
12. God gives us what we need, even when we don't know we need it. "Many are the plans in the mind of a man, but it is the purpose of the Lord that will stand" (Proverbs 19:21).
13. Do you remember that really hard thing that happened in your life? Well, God will use those things for good "for those who love God…for those who are called according to his purpose" (Romans 8:28).
14. Not sure what to do with your future? Well, guess what? God knows what you need to do. Seek Him and trust Him and He will make your paths straight (Prov. 3:5-6).
15. Do you wish you had a super-close-best-friend? As corny as this may sound, Jesus is truly the most incredible friend you could ever have. He is the perfect friend. He will never fail you. Never abandon you. Never let you down. He is God – and He wants to have an intimate relationship with you. "Draw near to God, and he will draw near to you" (James 4:8a).
Just reading this list renews my heart and mind!
There is so much to be grateful for. God is so good to us! Let's keep this gratitude list going. It's your turn to add #16 and beyond! What are you grateful for today? Share with me below.