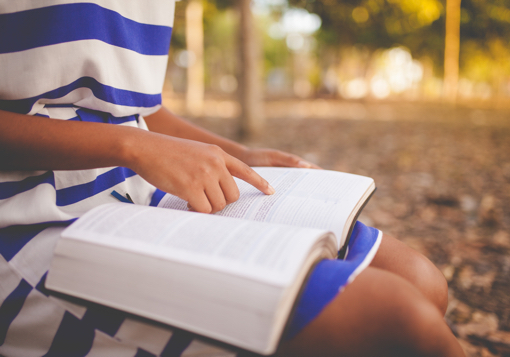 I was doing the dishes in my kitchen while listening to a podcast when I heard something that caused me to stop in my tracks. The speaker on the other end of my earbuds was a woman named Jen Wilkin.
She was teaching a session on why it's vitally important for Christian women to know the Bible.
The phrase that caused me to halt my dish washing went something like this:
"We, as American women may not be illiterate in the normal sense, but we are becoming more and more Bible illiterate with each passing day."
I was instantly struck by that term — "Bible illiterate."
Jen went on to share how many Christian woman today who grew up attending church on a regular basis, know very little about their own Bibles.
Their knowledge of the Old Testament and New Testament is so minimal, that even locating certain books of the Bible is a challenge.
Jen wasn't trying to belittle or demean anyone, but was simple sharing the reality of what is happening in many churches today. She was ultimately calling modern Christian women (you and me) to become women of the Word.
After I finished listening to the podcast, I sat down and thought about my own Bible reading habits. Am I a woman who knows the Word? Do I love God's Word and prioritize my time to study it? Am I competent in understanding the context, history, and cultural background of Scripture? Do I love my Savior more as a result of spending time in His word?
As these questions swirled around in my mind, I felt a mixture of emotions rise up.
I felt convicted for not prioritizing God's word more in my life on a daily basis. But at the same time I felt a rush of excitement inside of me at the thought of becoming a passionate woman for God's Word.
And so, with that — I decided to focus on one primary prayer in my heart, "Lord, please make me a woman of your Word this year."
That specific prayer has been on repeat in my heart and mind this entire year. And as result, I have been so much more intentional to dig into God's Word on a daily basis. It has been amazing!
As modern Christian women, I am realizing more and more how vitally important it is that we are not Bible illiterate.
If we're Bible illiterate, we will not know much about God, His plan for redemption, His character, His ways, His truths, His commands, His justice, His Grace, or His love.
Bible illiterate women quickly become lukewarm women…which makes us very ineffective for God's kingdom (Revelation 3:15-16).
As I've been studying God's Word more intentionally, and striving to become a woman of the word, I've see 3 compelling reasons for why this is essential for us, as Christian women, to do.
1. A Woman of the Word Knows God.
The only way we can know God on a personal level, is through studying His Word. The Bible is ultimately a story about God from the beginning to the end. The more we study the Bible, the more we will learn about our incredible God and Savior.
The more we learn about our God, the more in awe we will become of who He is. That sense of awe and wonder will drive us to worship and love Him in deeper and more profound ways.
We will be compelled to praise His name like the Psalmist in Psalm 145:3, "Great is the Lord, and greatly to be praised, and his greatness is unsearchable."
2. A Woman of the Word Loves God's Ways.
The more we study God's Word, the more we will learn about God's ways. God isn't neutral on most issues. He has specific ways that He desires for His children to walk in. "Blessed is everyone who fears the LORD, and walks in His ways" (Psalm 128:1). 
By becoming women of the Word, we will gain true wisdom and learn to discern from what is good and holy, and what is evil and unholy. We begin to see through the lies of our culture because we will be grounded in God's truth.
I love the way these verses in Psalm 19 describe God's ways: "The law of the Lord is perfect, reviving the soul; the testimony of the Lord is sure, making wise the simple; the precepts of the Lord are right, rejoicing the heart; the commandment of the Lord is pure, enlightening the eyes; the fear of the Lord is clean, enduring forever; the rules of the Lord are true, and righteous altogether."
3. A Woman of the Word is Uncompromising.
In a culture that is rapidly disintegrating down a moral and spiritual landslide, we must stand firm on the solid foundation of God's Word. We must know what God's Word says, and then stand firm by His truth.
A faithful woman of the Word becomes a strong woman who is uncompromising on God's truth (Romans 12:2). Just because something's popular, doesn't make it right or true . Regardless of how popular and accepted sin may become in our modern day, a woman of the Word will be uncompromising.
I want to challenge you to do what I did that day.
Ask yourself the question, "Am I Bible illiterate?" Then ask yourself, "How can I become a woman of the Word starting today?"
"When women grow increasingly lax in their pursuit of Bible literacy, everyone in their circle of influence is affected. Rather than acting as salt and light, we become bland contributions to the environment we inhabit and shape, indistinguishable from those who have never been changed by the gospel. Home, church, community, and country desperately need the influence of women who know why they believe what they believe, grounded in the Word of God. They desperately need the influence of women who love deeply and actively the God proclaimed in the Bible." — Jen Wilkin
I highly encourage you to grab a copy of Jen Wilkin's book, Women of the Word and begin learning more about how to become that kind of woman.
Let's chat below.
What problems have you seen as a result of Christian women not knowing the Word?