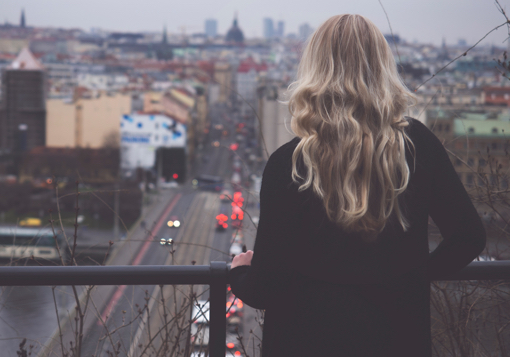 Maybe this will finally be my year for finding true love! I thought to myself. As the clock struck midnight, the New Year sparked feelings of hope and excitement. It had been several months since my devastating breakup and I was grateful to leave that behind.
The New Year seemed to usher in a fresh start. Maybe I'll meet the one this year. Maybe I'll even get engaged!
The start of a new year has a way of reigniting hope and rekindling dreams. There's just something exhilarating about the potential to come. The mystery of the unknown. The possibility of dreams coming true!
I remember feeling all of those exact things the year it turned 2008. I know, I know. That sounds ancient. But bear with me. The date was January 1, 2008. I was about to turn 21 and had recently gone through the hardest breakup of my life.
As the new year settled in, I was hopeful that my love life would turn out differently in the coming months.
However, my excitement was slowly met with reality. God apparently had different plans for me than I had for myself. The months began to slip by. First January. Then February. Then March… July…September…and then *poof* it was December again.
As the Christmas tree went up yet again, reality hit me square between the eyes. I would spend another Christmas in singleness. I was disappointed, to say the least. However, as hard as my singleness was for me that year, God was doing a work in my heart.
He was teaching me some crucial life lessons. He was revealing the idolatry in my heart. God used my unfulfilled dreams to show me how off my focus had become.
I had become more passionate about my love life than I was about the true Lover of my soul.
God had taken a backseat in my life.
As this new year rolls around, maybe you're feeling similar hopes and dreams for your love life like I was. Having desires for marriage is a wonderful thing. However, those desires can quickly become idols when our hope and fulfillment hinges on it.
Instead of falling prey to idolatry, I want to encourage you to do something I wish I had done back in 2008. I want to give you 4 specific goals for your love life this year.
Whether God has romance in store for you this year or not, you can still have an awesome year.
These goals will keep your heart centered on Christ, rather than carried away by fantasies. Your love life doesn't have to dictate your joy and fulfillment. By keeping your heart in the right place, you can have a joy-filled and fruitful year, with or without a boyfriend.
So, from my heart to yours, I pray you'll make these goals your own.
4 Goals for Your Love Life this Year:
1. Trust in God's Timing.
God sees the bigger picture of your love story. He holds the pen. He writes the script. We often want things on our own terms forgetting that God has a bigger plan. God knows what's best for us and if He has chosen to withhold a good thing from us, we must choose to exercise faith by trusting in God's timing.
Psalm 9:10 says, "And those who know your name put their trust in you, for you, O Lord, have not forsaken those who seek you." God is faithful and can be trusted…even with the timing of your love life.
For more in trusting God, check out: How to Handle Your Desire for a Boyfriend
2. Strive for Faithfulness and Purity
If God has marriage in store for your future, guess what? Your future husband is alive and walking on this earth right now. Isn't that crazy! But what's even crazier, is a little verse in Proverbs 31 that subtly encourages women towards faithfulness, even before she meets her husband.
Proverbs 31:12 says, "She does him good, and not harm, all the days of her life." What do you think "all of the days of her life" means? I think it means what it says. All the days of her life. That would include the days you're living right now…this year. Choose to do good to your future husband now by the way you live your life, interact with other guys, and handle your purity.
For more specific tips on purity, check out this post: 8 Strategies to Help You Fight for Purity
3. Find Total Satisfaction in Christ.
No matter how handsome, funny, talented, or awesome a guy may be, he can't satisfy you. Period. He wasn't created to meet all your needs or fulfill your every longing. Only Christ can do that. Instead of pouring your emotions and thoughts into your crushes this year, use that energy and time to invest in a real relationship with Jesus Christ.
Proverbs 19:23 says, "The fear of the Lord leads to life, and whoever has it rests satisfied." Make it your goal this year to read your Bible and pray every day. Be intentional to fill your mind with the right type of music, entertainment, books, and podcasts that will draw you closer to Jesus.
If you struggle to find your satisfaction in Christ alone, check out this post: 3 Clear Signs You're Looking to Guys for Your Security Instead of to God
4. Get Busy Serving.
Singleness can be really hard. Even though I'm married now, I was single for 24 years. I went through some challenging seasons. However, as I look back on my single days, one thing stands out. The more I focused my time and energy on serving others, the less time I spent dwelling on my singleness.
Don't just survive during these years. Use them to be fruitful for God's glory. The more you get beyond yourself, the more joy you will discover. Make this year a turning point for you by intentionally serving your family, church, younger women, etc.
For some specific ideas on how to do that, check out this post: 5 Strategies for Living With Purpose as a Single Girl
As you enter this new year, I am praying that these 4 goals will inspire and challenge you to live differently.
Whether God has romance for you this year or not, I pray you will trust Him. He is a good Father. There is no greater joy than living each day in obedience and faithfulness to Christ.
I'd love to hear from you below!
Of the four goals above, which one do you find the hardest to embrace? Why?

What will you do differently this year to trust Christ with your singleness?