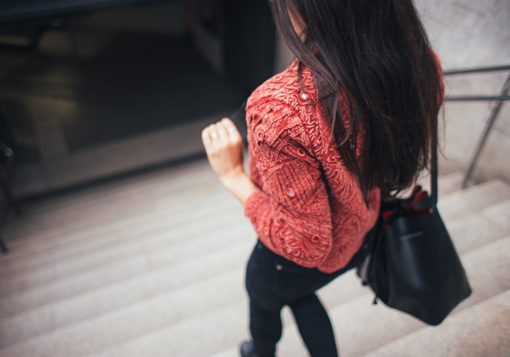 It happens to me every year. The transition from my summer wardrobe to my fall wardrobe is always a struggle. What worked so well last season just doesn't seem to be working this season.
Styles have changed, my taste had changed, and I honestly just have the desire for something new. Something fresh.
And to makes things even harder, striving to dress modestly adds a whole new array of challenges.
Are you feeling me here?
It's been a long time since I've been in school, but I remember all too well the annual wardrobe challenges.
If you're heading back to high school or college this fall (whether private, public, or home school), you're probably facing the wardrobe struggle too.
However, before you explode with frustration, or just give up on modesty altogether, I want to offer you some encouragement. Your wardrobe doesn't have to be the enemy this fall. With a few back-to-school tips, tricks, and modesty hacks, you can actually have a smooth, fun, and enjoyable time with your closet this year.  
As you hit stores over the next few weeks, take these 5 helpful modesty hacks with you.
1
. 
The Denim Jacket.
The denim jacket is a game changer. Hands down. If you don't own one, be sure to grab one for this season (dark and/or light colored denim).
This jacket can easily and quickly provide modesty coverage for any top, as well as spice up your entire outfit. Denim jackets can be paired with skirts, jeans, and dresses.
This is a must-have piece for every back-to-school season.
2. The Dress-Up-Dress-Down Black Skirt.
This skirt is life changing. Seriously. I own one that is an A-line black skirt that sits high on my waist and hits me right at the knee. Even if you dislike wearing skirts, you should try this one.
This versatile skirt has the flexibility to look super casual with a tucked in T-shirt and sandals, or to look fancy with a nicer top and heels/dressier flats.
This skirt can be paired with almost any top and can easily be worn multiple days in a row without looking repetitive.  
3. The Tie Around.
I absolutely love the tie around and wear this style at least 2-3 times a week. This is a great modesty hack for jeans that fit too tight in the rear.
By simply wrapping a tie-around on your waist you can cover your tight jeans and add a touch of style to any outfit.
The tie around accomplishes modesty and cuteness all in one go. Score!
Have fun with the tie-around patterns too. My favorites are denim and plaid.
4. The Long Cardigan.
I didn't own any long cardigans until the past few years, and these have truly revolutionized my fall wardrobe. Long cardigans come in long sleeved, short sleeved, thick fabric or thin and can be paired with an endless variety of outfits.
These adorable long cardigans can easily add a touch of modesty to any outfit, as well as femininity and style.
For starters, I highly recommend grabbing a gray colored long cardigan and a navy blue one. You will be amazed at how these simple pieces enhance your wardrobe.
5. The Must-Have Tank Top.
With styles getting lower and lower in the neck line, and more transparent in the fabric, owning tank top is helpful for modesty. Not only do they provide extra warmth in the winter, they add some all around coverage if the shirt is low-cut, short, or thin.
If you don't own any tank tops, I recommend grabbing a few in black and white. They're super inexpensive and provide the necessary modesty for certain styles that wouldn't work well otherwise.
You don't need to get frustrated with your wardrobe this school season.
By applying these hacks and tips to your closet this fall, you will open up a whole new world of opportunity.
I'd love to hear from you below!
What other modesty hacks and tips would you add to my list?

What has worked for you?