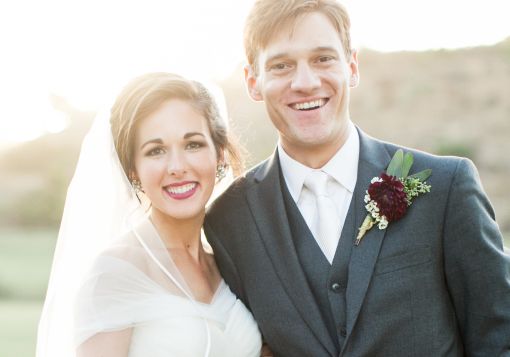 He started out as just another "You should meet him" conversation.  I stood arranging flowers with my friend Mrs. Ludlam, preparing for the evening's dance event.
"There's this guy coming tonight…and I just think the two of you would hit it off.  He's a seriously solid, godly guy with a sweet family. You'll know him when you see him; tall, dark, and handsome.  His name is Richard Wickham."
Richard Wickham? That's his name?  Seriously great name.
I'd had several similar kind recommendations from mom-friends before.  I was 21 and unattached, busily engaged with endeavors like school, piano teaching, and ministry.  While marriage was a very present and cherished hope, I was waiting for something special. Someone special.  
Simply put, I had fallen in love with the person of Jesus Christ. I wanted a guy who mirrored our Savior.
Coincidentally, I ended up noticing Richard that night without knowing that he was the aforementioned guy.  His tall, graceful form initially caught my eye. Then I noticed how every young girl who danced with him left with an illuminating smile.  In a room full of dancers much younger than himself, he seemed comfortable and happy to participate.
When it came time to choose a partner for the next dance, I may or may not have stood in his general vicinity.  To my delight, he turned, scanned, spotted, and asked, "Shall we?"
I was immediately drawn to Richard. 
He possessed a contagious energy. A random detail–but his solid, strong hands impressed me.  This man was no wimp.
At the end our dance, he said "Hey, it was great dancing with you! My name is Richard by the way."
That's the guy?!  
Shortly afterward, a friend/wingman messaged Richard, inviting him on a group day trip to the mountains. I secretly hoped Richard would single me out for small talk.  He didn't.
At the day's end, it was obvious he had no interest.
I felt a tad disappointed (ok, more than a tad).  But I wasn't one to waste mental energy on something that clearly wasn't happening, so I soon put him completely out of mind.
In December 2014, I started hosting monthly game nights at our house.  Richard became a consistent guest. Looking back, it's as if a veil had been dropped over my eyes.  I simply didn't see him…not in that way, anyway.  He was just Richard–the talkative one with word BACHELOR stamped across his forehead.
But I got to know him within the context of our friends.
Rich was a happy, helpful guy.
He inspired people in every conversation. His heart for God was sincere and actualized.
Little did I realize that I was on his radar. For a solid year, he'd become more and more intrigued by the game night hostess with crazy curls. He never flirted or tugged on my heartstrings. While our friendship was amicable and even affectionate, he wanted to save emotional intimacy for a serious relationship.  
And then, on a wet December evening, Rich decided to take the plunge.  He texted, requesting to speak with my dad and I that night.
I was shocked.  
Rich?!  Interested in me?? But he's….Richard! Never on the hunt, never even talking about marriage…
But there he stood on my doorstep in the rain, collared shirt and tie speckled with droplets.
It took him an hour to say what we all knew he came to say.  He nervously picked at the china plated custard pie I'd handed to him.  Finally, he spoke of his serious intentions:
"I want to get to know you. I want a family."
I was tickled and touched by his blunt honesty. He deserved the same from me.
"I'll be honest.  I have no feelings for you whatsoever. But I respect you, and you're my friend, so I'd be a fool if I didn't give this a shot."
He was thrilled—elated that my heart was a clean slate, my mind free to evaluate him objectively.  That night, I felt completely honored as I sat beside my dad, faced by a man who wanted to pursue and cherish my heart.
We spent the month of January asking tough questions.  We discussed our values: theology, parenting, and other deal-breakers.  
Richard intentionally shielded my heart during that season.
He focused on our friendship, transparently answering all of my questions.  Avoiding romantic gestures and words that could potentially sway my ability to think clearly, he did not cultivate intimacy with me—emotionally or physically.
Don't get me wrong romance was definitely there, waiting under the surface.  I prayed fervently for wisdom in my decision. Slowly, cautiously, as Richard's godly character was proven to me, I allowed the seeds of romantic love to take root and blossom.
On February 4, Richard received my dad's blessing on an official relationship.
We could not stop smiling.
Next came dates, quality time with our families, love letters, endless FaceTime calls, and, before long… planning for an autumn wedding.  It didn't take us long to be certain of our love and our desire to commit to each other for life.
On June 10, 2017, Rich surprised me atop a breezy hillside.  There, with friends and family watching from a distance, he dropped to one knee, called me his love, opened a box, and asked me to be his wife.  
God's beauty and kindness are clearly seen in my ongoing love story with Rich.
From the day we were wed on October 1 of 2017, marriage has grown sweeter by the day.  Richard continues to pursue my heart, drawing me closer to our ultimate Lover and Friend.
So tell me!
What qualities are you looking for in a guy? How do you envision the unfolding of your future love story? I'd love to join you in the comments below.