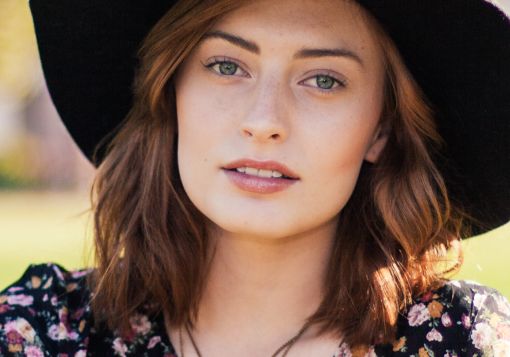 I woke up, looked in the mirror, and immediately disliked what I was seeing. During the night my face decided to turn into a broken out mess. Ugh! I was not a hampy camper.
I washed, scrubbed and did my best to get rid of this ugly mess.
Although my skin is far from perfect, I try my best to keep it clean and fresh. I use natural products, drink tons of water and avoid a lot of sugar on a regular basis. Despite my best efforts, it has a mind of its own.
I'm sure many of you girls can relate to me on this one.
I wish I could say that I am the epitome of a girl who never struggles with her worth, but I'm not. That morning as I went to apply my makeup, I found myself struggling with my value and worth.
I found myself thinking, "My friends aren't going to think I'm pretty. Maybe they won't like me as much. Maybe they will think less of me because of my skin."
Although I knew those thoughts were a total lie, I still struggled.
I was buying into the lie that many of us, at one point or another, have bought into. The lie that our worth as women is directly tied to our outward appearance. The lie that we are only as good as people think we look.
In my heart I knew that wasn't true. I knew my worth had nothing to do with me, and everything to do with who God says I am.
Before my thoughts ran away, I decided to do some personal counseling.
I preached truth to my soul. I reminded myself that I am valuable because of Christ. I am worthy because of Christ's worth in me. I am made in the image of God. My skin doesn't dictate my worth. My friends don't dictate my worth. Only my Maker has the authority to define my worth.
As I preached truth to myself, my entire outlook changed.
I no longer felt depressed about my skin. I no longer struggled with feelings of worthlessness. I was content in who Christ made me to be and I trusted that my friends and family loved me for more than my clear skin.
The reason that I share this story with you, is because I know that you probably struggle (or have struggled) in this area as well.
Whether it's skin breakouts, weight issues, a bad hair day, cellulite, or anything else, we all deal with our own set of issues. We all have those days where we look in the mirror and think, "I look horrible!!"
I know that more bad skin days are in my future. I know more bad hair days are in my future. I know that more I-really-dislike-the-way-I-look days are waiting for me.
So what do we do? How do we avoid letting those "bad" days ruin our sense of worth?
I believe that each one of us needs to have the truth implanted in our hearts so we can be ready to preach truth when the moment comes. When the I'm-feeling-ugly-and-worthless day arrives, we need to be ready to counsel our souls. We need to be prepared to speak truth to ourselves and direct our thinking to truth.
Here are the four truths that I "preached" to myself that morning I was feeling unsatisfied with my appearance.
Your worth has nothing to do with your outward appearance, but everything to do with God.

Your Maker is the only One who can give you worth. Your friends and family have no say over what makes you valuable.

Your sense of worth must be founded on the unchanging character of Christ and His love for you. Not your skin.

God is your maker. Focus on this truth, "I praise you because I am fearfully and wonderfully made; your works are wonderful, I know that full well" (Psalm 139:14).
After focusing on these four truths, the worries about my skin completely went away. I was reminded of the truth and my soul was encouraged.
The next time you have one of those "bad days," remind yourself of these four truths.
I can guarantee that if you focus your thoughts on God's truth, your outlook will radically change for the better. It worked for me and I'm confident it will work for you as well.
I'd love to hear from you now.
When was the last time you had one of those "bad days" like I had?
What will you do to remind yourself of the truth the next time it happens?