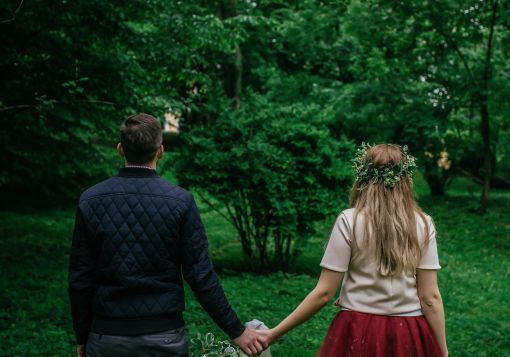 I didn't want to be that girl.
That girl who sat on her bed sobbing over an ended relationship. I didn't want to be in that sad/heart-wrenching position, but there I was. Broken hearted and wondering why it had to be me.
In the moments that followed my breakup, I didn't know what to do with myself.
I cried my eyeballs out until there were no more tears to cry.
My entire head was clogged from the tears and I was just doing my best to breathe. This heart stuff was hard. Harder than I'd imagined it to be.
There is just something so extra painful about giving up/moving on from a person that you thought would be apart of your life forever.
The expectation that this could finally be "the one" to total aloneness and singleness is a hard reality to face.
I know this is hard for many of you because you email me (and Kristen) daily expressing your own relationship woes.
You pour out your hearts to us through email and social media wondering how in the world you can cope with the pain of a broken heart.
Bottom line, a broken heart is hard to deal with. It just is. I don't want to fluff it or make the pain and sadness less than it truly is. I've cried my fair share of tears to know the reality behind the words "break up."
Although a break up is hard, what happens in the days following the breakup will make or break you.
If you turn to self-pity, depression, hate, bitterness, worry, fear, or anger, you are setting yourself up for even more misery. It might feel good to soak in a pool of despair and depression for the moments, but it won't help you grow and gain from the break up long term.
Instead of turning to the immediate and very temporal "feel good" fixes, I want to share with you what I did after my breakup.
What I'm about to share with you is something I've learned to do as I've grown older. This isn't something I naturally feel like doing. I've had to choose to intentionally steer my thoughts towards the One who can help me, rather than things and stuff that can't.
I've learned to pour out my heart to God on the pages of my journal and ask Him to help me. I literally cry out to Him and ask Him to be my strength and trust when I have none.
Here is my journal entry following one my breakups. 
O Lord, You are faithful to provide. You have not forgotten me. Even though I don't understand why I have to go through this, you do. I simply have to trust You. You see the full story of my life. You know what will be best for me. You know how I can serve you best. Please help me to hold onto that hope. 
I look around and I see nothing. I wonder how I will ever find true love, but you know how. Just like Ruth, I need to follow. You had Boaz ready. Will I be faithful and wait for my Boaz? I don't know where he will come from, but you do. 
Please strengthen me to be your vessel. Please help me to follow you with all of my heart. Give me patience, persistence, passion, and pursuit of You. I am weak Lord, help me to trust You. Help me to wait on Your perfect timing. Give me a passion for holiness. Give me a deep love for you. Give me trust in you. Amen.
The next time you experience something heart-wrenching and painful, I encourage you to pour your heart out to God on the pages of your journal.
Ask Him to strengthen you and give you the trust you don't have.
Spend time praying as you try to pen what is in your heart. Journaling my thoughts and prayers to God has been one of the most impactful and helpful things I've done over the years.
Often times I'll just open up the Bible to Psalms and start copying down Psalms in my journal.
Sometimes I'll even turn on Worship music and just write out the lyrics as I listen. I don't always have the words to say, so I use other tools to help me form my prayers to God. Psalms and worship music is a great place to turn to.
What about you?
How do you get through the difficult times in your life?
Have you been through a breakup? What was helpful for you during that time?