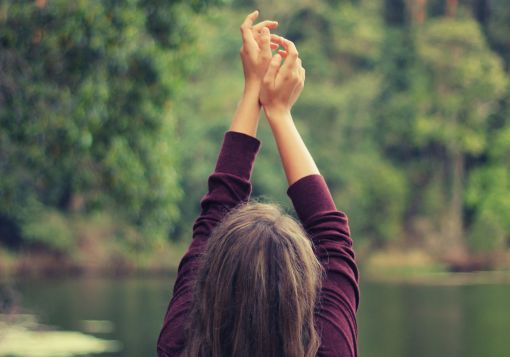 My hair was a wreck, my makeup was half-finished, I was running behind and my sweet friend was already at the restaurant waiting for me to arrive for our lunch date.
I sprinted out the door and headed towards my location.
I reached across the seat to grab my make-up so that I could finish (Yes! Sometimes I do makeup when I'm driving. Confession time.) and nothing was on the seat. I looked in the back row, under my feet, under the passenger's seat, and nothing was there.
Noooo!!!
I realized I had left it inside on the kitchen counter. This was just not my day. Running late. Makeup half done. Friend sitting and waiting for over 30 minutes because of me and my craziness. I just wasn't on my game.
Thankfully, my friend was gracious and forgave me for my lateness and no one seemed to even care about my half made-up face.
Here is the part of the story that I like to leave out.
I wish I could say I wasn't as prideful as I was, but, it's honesty time.
During this season of life, I was pretty obsessed with what other people thought about me. I hated the idea of not looking cute and not having my makeup perfectly done. I wanted other people to think I was physically in shape, had a pretty face, and was overall appealing to whoever saw me.
Without even realizing it, I had totally bought into the lie that I needed to look "perfect" in order to be valuable.
I was basing my worth as a woman on what other people thought about be.
If people thought I was pretty… I felt good.
If people thought I had a good figure and nice body… I felt good.
If people liked anything about my outward appearance… I felt good.
Again, without even realizing it, I was I was allowing total strangers to determine what makes me valuable.
I'm so thankful that the Lord revealed this messed-up way of thinking in my life and has allowed me to grow in this area. I know that Christ, as my Creator and Maker, is the only One with authority to determine what gives me value. When I remember that truth, I am so relieved because I no longer have to measure up to others opinions, thoughts, or expectations for my outward appearance.
I can live in freedom knowing that my worth as a woman isn't based on how toned my abs are, how perfect my skin is, how cellulite-free my legs are, or how skinny I think I should be.
My worth has nothing to do with having a perfect body and everything to do with the worth Christ has placed on me.
I'll be the first to admit that my body isn't perfect.
I have plenty of my own imperfections and areas that are less than "ideal." I'm not always in the best of shape and my skin definitely breaks out more than I'd like it to. Despite the imperfections, I'm truly content because I know where my worth comes from.
If you girls are anything like me, you've struggled in this area. It's hard not to struggle when we live in a world that is OBSESSED with physical perfection.
Despite the obsession with perfection, we as women do not have to buy into the lie. We can have freedom in this area. I've truly come to embrace the body God has given me (and not obsess over my imperfections) and I would love for you to have the same!
Here are a few practical tips that really helped me break free from my struggle in this area.
1. Be careful what you look at.
Images can (and often times do) have a huge impact on the way that we view ourselves. If you are filling your mind with images of "perfect" women from magazines, social media, movies, music videos, etc. you need to take a step back and consider what this is doing to your perspective of yourself.
Check your "image viewing" habits and ask yourself if they are helping or hindering you in this area.
2. Don't compare yourself to other girls.
God didn't design you to look like other women. He designed you to look like you. Unique qualities and all. Don't compare yourself to your friends, celebrities, and/or random strangers you bump into at the mall. Just enjoy being the woman God created you to be.
If you choose to gratefully accept the body and looks God gave you, you will have so much contentment in this area. Don't waste your time comparing. Instead, choose to give thanks.
3. Be the best size and weight for you.
I have learned that I am most content with my body when I eat healthy, workout, and just accept the body God gave me. Instead of killing myself trying to be as skinny as runway models, I've strived to be a healthy weight and size for me. I'm Bethany. I'm not you. You are you and you are not me. Let's each do our best to take care of the body God has given us and to be the best weight and size for us.
4. Believe that God defines your worth.
God is your Designer. He created you and He is the only One with the authority to define what gives you worth. It's time refocus on the fact that no one else in the world (not your boyfriend, best friend, mom, dad, boss, etc,) has authority to define your worth. The next time you are feeling down about your value as a woman, stop and remind yourself of what your Creator thinks of you.
"For you formed my inward parts; you knitted me together in my mother's womb. I praise you, for I am fearfully and wonderfully made. Wonderful are your works; my soul knows it very well. My frame was not hidden from you, when I was being made in secret, intricately woven in the depths of the earth" (Psalm 139:13-15).
What do you think?
Which of the four tips do you need to work on most?
In what ways can you develop a more Christ-centered view of your worth as a woman?