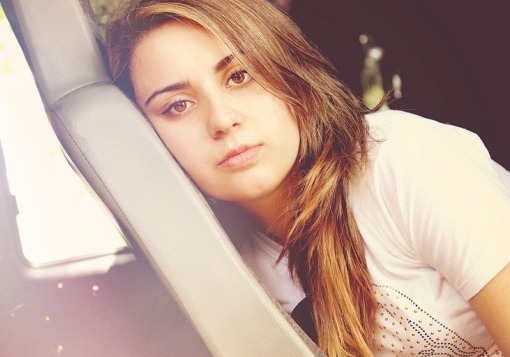 This goes out to all the single girls still living at home!
I sat down on a lawn chair on our pool deck. The summer wind blew in my hair and the sun shined warm rays on my face. I took a deep breath and a sip of my sweet tea.
I stretched my legs out and wiggled my toes. Everything was quiet and peaceful. This was the beginning of a beautiful lazy afternoon and a perfect time to finish my book.
I guess my mom had other plans.
She loudly pushed open the screen door disrupting the fantasy world of my book.
"Lisa! I'm gonna need your help this afternoon. I've got to go into town to run errands, I need you to clean the house and make dinner," she said smiling as if there were something to smile about!
Wow. Talk about child slave labor!
I followed her inside and she handed me "the list." I physically, not verbally, showed my disapproval and anger. I shrugged my shoulders and pouted while mom was explaining what to make for dinner.
Mom hates leaving the house with her oldest daughter in a resentful mood. But she left anyway, hurt and disappointed. This wasn't the first time this scenario had taken place. As I sulked around the house cleaning and making up things that "I would say" to my mom if I could, I looked out the window.
What did I see?!
The boys running around the yard playing in the sprinklers and laughing the whole time! Why did they get to play? Why didn't they have to work and cook? Couldn't mom have given them some chores to do too? I got even more frustrated and angry.
Well I can tell you! At the end of that day, I had made each of my family members an enemy (in my own home) and disrupted the whole evening with my terrible mood.
I have a short questionnaire for you:
Does the above story sound like how some of your days turn out?
Are you tired of being asked to help out in the home?
Do you have trouble wanting to help out in the home?
Do you think that you shouldn't have to be the one to clean, decorate, cook, or help with the kids?
I mean you aren't going to live there forever are you?
Your mom is the woman of the house isn't she?
If you answered "Yes" to any or all of those questions KEEP READING.
Girls, first I want to point out that it is your God-given duty and responsibility to honor your father and mother in ALL things. You will not get far in your life or relationship with God if you don't.
And second, it is your God-given duty and responsibility as a daughter, living under the same roof as your parents and family, to serve, bless, and do whatever your parents require of you (within biblical boundaries of course).
In the above story I did what my mom asked me to do.
I just didn't do it willingly or with any diligence. I didn't have even a hint of honor in my heart that day for my mom. I had nothing but laziness, lack of respect, pride, and selfishness in me that day.
You were put in your family as a daughter to be the helper to your mom. You were called to serve, not BE served. You were called to bless, not BE blessed.
You catch my drift.
We think that because we are still single we have a license to do what we want. We lay around and wait like our parents' home is temporary and sort of like a jail. We sit around reading romantic novels and creating the perfect dream boy in our minds. We pin wedding ideas on Pinterest just to pass the time until that day really comes! Why?
Because we are not content.
We think "home is boring, brothers and sisters are annoying and I'm still waiting for lover boy to fulfill my needs and dreams."
I am sure that you love the Lord and want to do what's right. You want a godly man and maybe someday a wonderful family and home of your own! Your ambitions aren't wrong, so then what is?
Let me tell you a little story.
Allie was 18. She lived at home with her mom and loved attending church, youth group and other such godly events. Oh, and she was always on the lookout for a "possible" (A.K.A., possible suitor). She had 4 other brothers and sisters who were all younger than herself. Allie had great potential of getting married and being a good wife.
She loved God, she already had younger siblings that she knew how to care for, and she could cook a dinner! These are all great attributes according to the world's view of a young lady in line for getting married. But Allie didn't know what was going to be expected of her once she was married.
At home she was lazy.
She lived for Friday nights. She watched tons of movies. She engaged a lot of her time on Facebook and other social networks. Allie didn't like helping her mom with chores around the house. Allie hated making breakfast first thing in the morning and she was always texting and thinking of her friends and her social life.
Maybe this will catch her a man. But do you think her "godly man" will want to put up with a lazy, unlearned, social queen?
If you want a long lasting relationship with your husband, you're going to have to wise up and buckle down for a long ride of preparing. Preparing to be a wife, mother, homemaker, coach, mentor, and all the other qualities and requirements that come with having a husband, house and children.
And where is the best place to start learning?
That's right, you guessed it! In your own home. Before the marriage, before the children, you have to learn right here, right now. Ask your mom for help and advice. Start cooking and baking more for your family. Read more books about being a housewife and mother. Exercise and eat healthy food before entering marriage and motherhood.
Begin long lasting habits that will prepare you for your life and future ahead that God has in store for you.
God did not create you or put you in a home so that you could sit around until you were married. He put you in a home so you could learn and prepare yourself for life! Our homes are a place of learning, of constructing, creating, shaping, molding and training.
It's the calm before the storm.
Our homes and our mother's guidance are like a cocoon for us. We are here to be trained and prepared for life before we spread our wings. Enjoy it while you are still at home! Learn with eagerness! Train with determination! And please don't do it just so you can look good and catch a man.
Do it for the Glory of God. Do it for your future family.
The next time your mom asks you to help out when you were planning on doing something else, jump up and say "sure mom!" Think of it as good practice. How would you do it if your husband asked you? "What honey?! Make your own sandwich!" No. I don't think so…
Don't think of singleness as a sad state of life to be living in. Think of it as the beautiful training grounds for marriage!
-Lisa Hallahan is a blogger over at Young Keepers of the Home. 
 Photo credit: www.flicker.com | AvidaeBella