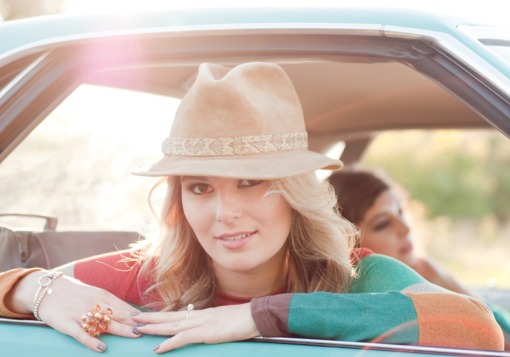 From the time they were born their families despised them. Their parents hated them and hoped they would die. These two feeble sisters were born into a poverty stricken home with barely enough food to survive. Not only were they starving, but they lived in a world of scary darkness.
Both sisters were born completely blind.
These two Cambodian girls endured years of physical and verbal abuse from their parents. Having an incurable disability immediately classified them as "trash" in their country.
Nobody loved them. Nobody wanted them.
At one point during their youth, their parents took them to the center of the jungle and left them there to die. Miraculously though, the blind sisters found their way back to village and scrounged up enough food to make it through another day.
They lived everyday in fear of what this dark cruel world would do to them.
With no hope for their future, they suffered through life one day at a time.
The world had abandoned these girls, but God had not forgotten them. One day a missionary family visited this small Cambodian village and discovered these abused, blind sisters. The missionaries took compassion on them and nourished them back to health. They even talked to their parents and showed them how to care for children with disabilities.
It wasn't long before the gospel penetrated the hearts of each family member, including the blind sisters, and they all put their faith in Jesus Christ.
The missionaries also taught the blind sisters a skill and provided a job for them to earn money. Not only do these girls have a better life, they have the hope of a much better life to come. Their blindness will never go away on this earth, but they anxiously look forward to the day when they will see Jesus face to face.
This is a true story and these sisters are now 21 and 18 years old. My heart filled with an overwhelming sense of sorrow as I read their story in a missionary newsletter a few days ago.
I set the newsletter down with a heavy heart and continued sorting through my mail.
The next thing I picked up wouldn't have normally stood out to me, except for the fact that I was imagining what life as a poor, abused, blind Cambodian girl would be like. The "letter" I held in my hand was a beautiful, full color, glossy advertisement for luxurious, expensive patio furniture. The title read, "Enjoy your summer in luxurious style."
My heart was immediately pierced by the contrast of the two pieces of mail.
In Cambodia, these blind sisters will never know the luxury of simple things like fresh water, soft beds, and healthy food. In America, we have more than enough and yet we're always told we need something better, something nicer…something more luxurious.
Advertisements bombard us everyday telling us we need more, more, more.
The truth is, most of us have more than 90% of people on this earth, and yet we complain about the tiniest, dumbest things.
We get upset at the Starbucks' baristas if they mess up our drink. We get frustrated if our shellac nail polish peels off too quickly. We get angry if our siblings mess with our iPhone. We become impatient when the lines at the store are too long. We get annoyed when our parents give us a curfew.
In comparison to those sisters, we look like total brats.
True confession: I'm guilty of every one of those things. Instead of showing gratitude for the overwhelming amount of blessings and luxury I do have, I grumble and complain about what I don't have. Instead of thanking God everyday for my family, my health and my sight, I show Him ingratitude by wanting more.
Can you relate to me here?
Today is the day we celebrate Independence Day in America. While I am SO grateful to be living in one of the most amazing countries in the world, it has a downside. Even though we're one of the richest countries out there, we suffer from a serious case of ingratitude.
You and I have so much to be thankful for, but how many times a day do we complain about something?
As Nancy Leigh DeMoss points out, "If I'm not content with what I have, I'll never be content with what I want."
On the flipside, how often do we stop and thank God for simple blessings like a toothbrush, shoes, sunscreen, or air conditioning?
Having a grateful heart is the key to living a joyful life.
If you're a Christian, you already have all you need to live a life of gratitude to God. Jesus died on the cross for you (so you didn't have to) and gave you the gift of eternal life. That's a HUGE cause for celebration every day!
My challenge for you over this 4th of July weekend is this: Practice gratitude every day.
A great place to start is to thank God every morning for your salvation. The next thing to do is to memorize a few verses about gratitude or "giving thanks".
1 Thessalonians 5:18 is a great place to start: "Give thanks in all circumstances; for this is the will of God in Christ Jesus for you."
Another good verse is Psalm 136:1 "Give thanks to the Lord, for He is good, for His steadfast love endures forever."
Do whatever it takes to remind yourself to practice gratitude to every day.
Set reminders on your phone and write notes on your mirror. An incredible book to read is Choosing Gratitude: Your Journey to Joy. I highly recommend it!
Next time you're tempted (which will be soon) to be a bratty American just think about those blind Cambodian sisters. Think about how luxurious your life is compared to theirs and thank God for the thousands of blessings you have.
I have a feeling you can relate to this blog in some way.
I hope you were convicted as much as I was in writing it. I'm not perfect and neither are you…but with God's help we can transform our selfish hearts into something beautiful.
What are some ways you can show God gratitude today?
How many times do you stop to thank God for the blessings you have in your life?
Are you guilty of having a spoiled American mindset? What will you do this Fourth of July weekend to cultivate a heart of gratitude?
I'd love to hear your thoughts in the comment section below!
Photo credit: www.flickr.com | Laura Dye