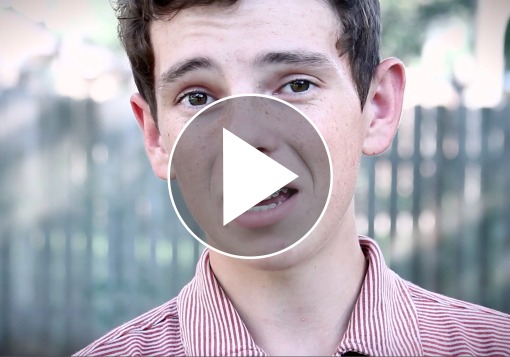 Click HERE to watch the video.
I was one of those high school girls who was all about guys. A day didn't go by where I wasn't thinking about one of my crushes. I spent a lot of time flirting with guys, but even more than that I spent countless hours dreaming about them.
I clearly remember wondering what certain guys were thinking. Getting inside of a guy's mind intrigued me and I wanted to know how they thought about girls. Have you ever wanted to know that?
Well, several years later my wishes became reality. I got married! Ever since then I've had a front row seat into the mind of a guy. Let's just say it's been an eye opening experience for me.
Guys and girls think SO differently about things.
I used to think that being loud and flirtatious would attract the heart of a godly guy – wrong. It will definitely attract some guys…but they're not going to be the godly, mature type.
I used to think that dressing edgy and seductive would catch the attention of a godly guy – wrong again. Showing off skin will definitely attract the guys…just not the godly ones.
I used to think that becoming independent and self-sufficient would attract the heart of a godly guy – triple wrong. Godly guys are attracted to girls who are family oriented and desire to be team players.
Getting inside the mind of a godly guy has helped me understand how clueless I was about how they think!
Chances are, you're probably a little clueless too. In fact, most single Christian girls seem to be in the dark about how godly guys think.
If I knew then what I know now, I would have acted a lot differently in high school. Instead of leaving you in the dark like I was, we want to give you the inside scoop.
It's time for you to become #GuyWise.
Becoming wise about guys isn't going to happen all at once though. So, we decided to dedicate an entire week to the topic!
We will be releasing a brand new blog post every single day this week on the topic of guys, plus we'll be giving away a few amazing books to help you become #GuyWise.
In order to gather the best information we went straight to the source – guys themselves.
This is your chance to get the inside scoop on how godly guys think. We're going to cover exciting topics such as how to handle your crushes, modesty from a guy's perspective, is flirting okay, and how to encourage the guys in your life to become godly men.
The video at the top of this page is a brand new project we completed in honor of this special #GuyWise week. We interviewed five different godly guys ages 18-26 and asked them this simple question: How would you describe a godly girl?
Our goal with this video is to open your eyes to how a godly guy thinks and what he values in a Christian girl.
This is your front row seat for getting into the mind of a godly guy!
Click here to watch it.
To keep up with the #GuyWise week action, stay plugged in to our Girl Defined Facebook every day this week. We'll be posting great content over there that you don't want to miss. To enter your name in our book giveaway, all you have to do is share any of our posts on Facebook.
We'll be praying for you this week. 
Our prayer for you this week is that you would grow in wisdom and godliness in the way you interact with the guys in your life. That you would desire to be blessing and not a hindrance to your brothers in Christ. That you would strive to challenge and encourage the guys in your life to become godly men in this generation.
Will you join us in becoming #GuyWise? We hope so!
Let us know your thoughts about the video in the comment section below.