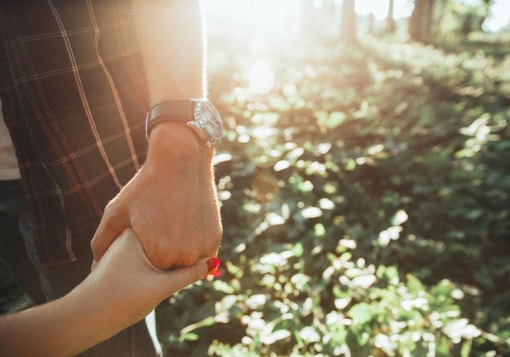 When I was in college I went shopping with some of my best friends every Thursday night. Like you might imagine I was evaluating the size, color, and qualities. The crazy thing is, I never purchased a single thing.
In fact, I wasn't even shopping for clothes, shoes, or accessories.
I was shopping for guys.
Every Thursday night was my college small group. If there were new guys visiting, I would check them out. If I liked what I saw, I would immediately view them as a "potential." Over time, I began forming a long list of "options" as I continued to evaluate and shop.  
I tried these guys out, so to speak, in my head. I imagined conversations with them, what character traits and talents would suit mine best, and how we could use them together.
I envisioned projects in ministry and even parenting. Did I think about the romance of it? Of course! And I wasn't the only single girl doing this. It was a widespread habit among us single girls. We talked and giggled and it all seemed harmless.
But I didn't stop there.
I picked out my crush for the semester, break, or summer and let my brain wear him everywhere.
It wasn't long before I met the man I would one day call my husband. Jim and I had been attending the same church together for several months before we were married. We even went to the same small group as well. We eventually got married and I assumed my "shopping" would automatically stop. 
Fast forward a few years.
I am a happily married wife, but to my shock, my shopping didn't stop. Why? Because I had made it a habit to live a make-believe life with other men.
By coincidence our current small group also met on Thursday nights.
I hadn't been "shopping" in some time…and then it happened. A new man began attending our small group and it was not lost on me.
I took note of how he talked and the way he looked. I imagined. I dreamed. I shopped. It wasn't until the car ride home that it hit me. I had just cheated on my husband.
Jesus puts it bluntly in Matthew 5:28, "But I say to you that everyone who looks at a woman [or man] with lustful intent has already committed adultery with her in his heart."
I just committed virtual adultery against the man I loved.
The man I committed my life to. I cheated on him.
It didn't happen because this new man was seducing me secretly; it occurred because many years before I had formed a bad habit and let it live and grow.
James 1:14 says, "But each person is tempted when he is lured and enticed by his own desire.  Then desire when it has conceived gives birth to sin, and sin when it is fully grown brings forth death."
I am praising God for the Holy Spirit and His conviction.
My eyes have finally been opened to the long term consequences of shopping for guys. I have recognize my need for the forgiveness of God, possible only by Jesus' sacrifice, and I have the power to overcome this sin. My husband has also forgiven me.
My challenge to you and every single girl out there is this: stop shopping for guys.
I know it seems harmless now, and you assume it will never affect your future marriage, but trust me, it most likely will.
Habits are hard to break.
It is still a struggle for me occasionally. I find myself wanting to imagine how this man or that man might romance me or 'fit' me. I have to fight it.
Dear sister, be warned from a married gal and stop now.
The forever, unchanging, and deep love of Christ is worth clinging to today. Wearing His righteousness as a garment more precious than dreaming of a man for a moment.
Stop shopping girl. It is a waste of your time and a danger to your future.
I would love to hear from you in the comment section below.
Have you been 'shopping' for guys lately? If so, why do you do this?

How do you think the habit of "shopping" might affect your current relationships with guys, and your relationship with your future husband?

What advice would you give to a girl who is constantly "shopping" for guys?
This honest and transparent guest post was written by Anna Hannigan – a wife, mother, and writer. If you are interested in submitting a guest post to Girl Defined, click here.
Photo credit: Here