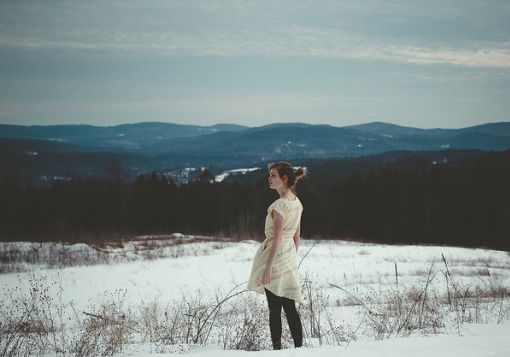 "Watch out for that cable." "Don't kick the stand." These are whispered exclamations as we walk onto the dark stage, doing our best not to trip on each other.
Finally, we're in our positions.
It's dead quiet in front of us, and our audience is waiting. We've done this before but there is still a hint of anticipatory queasiness before a show. We each take a deep breath, smile… and suddenly lights blare in our face. That's our cue, and we launch into our first song.
Have you ever looked around and thought "how in the world did I get here – this is crazy awesome!"?
I have. And do, just about every day.

I'm super duper blessed to be in a folk/bluegrass band with my siblings called 4 Proches. I'm Beecher (22), then comes Ezra (19), next Liza (16), and finally Asa (12). We grew up singing and playing instruments but never imagined in a million years we would be where we are today. In 2012 Ezra and I were asked to perform at a fundraiser, and we dragged Liza and Asa up with us to sing and play the spoons, respectively.
And from there it's been a roller-coaster ride!
Our band believes that every human was made to glorify God. 1 Corinthians 10:31 tells us that "whether you eat or drink, or whatever you do, do all to the glory of God." In fact, we wrote a song about it called "Purpose." (Pssst we're giving away a copy of our new CD which includes the song Purpose. Get the details at the end of the blog). 
The overall goal of Christians should be to live so that people see the glory and wonder of Christ displayed through us – whether that's in our talents or behavior. But perhaps you're thinking "well I don't really know what my purpose is!" Well we've been right there where you are!
Here are three things that have helped us find our purpose, and we hope will guide you in finding yours.
1. Pray.
Ask God to show you your purpose. "If any of you lacks wisdom, let him ask God, who gives generously to all without reproach, and it will be given to him" (James 1:5). Ask the Lord to show you what his passion for you is, and what gifts he's given you that you can use to influence others. Ask Him what breaks his heart that you could be a part of restoring and making right while pointing others to him?
2. Get out and Do.
It is in the doing that we discover what we were made to do. Help out at a shelter, take a  mission trip, help a stressed out friend for a day. Service will open your eyes to gifts and  passions God has given you.
3. You will discover your purpose at the intersection of your talents and your passion.
We all have the overarching purpose of pointing others to Christ and his glory. But this is going to be fleshed out differently in each of our lives, because no two people were created exactly the same. God has given you skills that you're good at. Maybe it's music. Or perhaps it's public speaking or cooking or dog walking. He's also given you a passion for something. Perhaps it's orphans in Haiti, or the homeless, or even simply encouraging those around you! It's when our gifts combine with what we're passionate about that we find our purpose.
Never forget that God loves to use ordinary people going about life in an ordinary way who want to be used by him to change the world.
My siblings and I are still dazed at all that God has done – we've toured the western half of the US, performed in front of thousands of people, and been able to share our story on TV, radio, and print. Just ordinary people doing ordinary things who God is using to point attention up to Him!
You can check out our song "Purpose" here – it's pretty much the message above in song form!
Now, we want to send one of you our new album "Run To You"!
All you have to do is comment below as to what YOUR purpose in life is, or what you are passionate about, to be entered. Ready…GO!
If you want to stay in touch with us, we're on Instagram, Facebook, and Twitter and YouTube. Or hit our website link to get your own copy of our new album, "Run To You"!
Get to know the author of this blog post: Beecher Proch calls the Hill Country of Texas home. When he's not writing, performing with his three siblings in their band, or attempting to get a smile out of someone, you'll probably find him working on a new entrepreneurial venture. Beecher is passionate about influencing the world for Christ's Kingdom through stories, be that blogging, writing meaningful music, or going about it the old-fashioned way and taking a pen to the page.