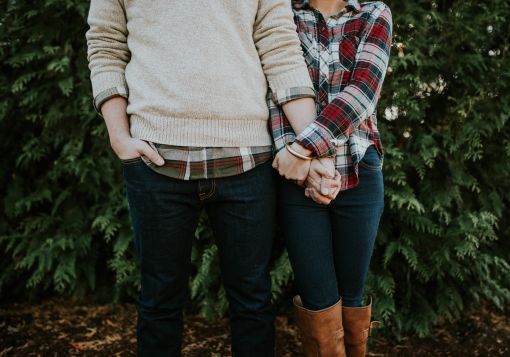 Every now and then I meet an older gal who strikes me as a seriously godly woman, a woman whom I hope to be like someday. Today, I want to introduce you to one of those godly gals.
Say hello to Amanda.
She's a super sweet thirty-nine-year-old awesome wife and an amazing mom to four adorable boys. She's packed full of wisdom and has shared some of her secrets below.
Check it out.
Why is your relationship with God so important to you?
I belong to God, first because He created me and a second time because He bought me with the death of His Son and made me His own. I cannot find my purpose and happiness apart from the One who created me and purchased me.
Psalm 16 informs me why my relationship with Him is important:
He is my safest refuge. I cannot count on good looks, money, or abilities for security—He is my only refuge (v. 1).
Apart from Him "I have no good." Any good that I will experience will be found in my relationship with Him. If I neglect my relationship with Him, I can be sure that no good will come of it (v. 2).
My sorrows will increase if I pursue other things to satisfy me (v. 4).
With Him, I have a beautiful inheritance (v. 6).
How do you practically maintain a solid devotional time? Do you have any tips for us?
My beliefs are proven by my actions. If I say I love God more than anything else, yet I neglect to spend time with him, then I prove that I treasure something else more than Him. I have to remind myself of this regularly.
I also look to the examples I have in older women who follow the Lord. I admire their relationships with the Lord and the wisdom and knowledge they have. I will not wake up one day and suddenly be like them! A solid devotional time is essential.
Here are some practical tips for how to make it happen:
A good devotional time begins the night before. You will sacrifice your devotional time by staying up too late.

Put your phone in another room when you go to bed. Don't let it be the last thing you see when you go to bed or the first thing you see when you wake up.

Keep your Bible, journal, and a pen in a quiet, distraction-free spot that you can go directly to when you wake up. (My closet is sometimes the only quiet, distraction-free spot in the house, and that's great!)

Follow a Bible-reading plan. Find one online that will eventually take you through the whole Bible (even if it takes more than a year) or make a plan yourself to study the Bible strategically and then follow it.

Do it when you don't feel like it. The more you consume the Word, the hungrier you will be for it.
If you could go back in time and give your eighteen-year-old self some advice, what would you say?
You are not too young to invest in eternal things.
You are not too young to serve in your church in significant ways.
You will never regret a single minute you spend studying the Word of God. Read it, meditate on it, memorize it, make it such a part of your life that you consider every circumstance through the filter of Scripture.
What were some of the biggest lies you believed as a teen girl, and how would you encourage a girl if she were struggling with those same things?
Lie: I believed that being popular would make me feel like I was worth something.
Truth: Your worth is not found in who likes you, who admires you, or who is envious of you. You have worth because you are created in the image of God. You have worth because He paid a great price to bring you into a relationship with Him.
Lie: I believed that if I acted right God would protect me from suffering.
Truth: We live in a fallen world and suffering is a part of it—for all of us (1 Peter 4:12–13). God uses the pain and suffering of this fallen world to deepen our relationship with Him and make us more like Christ. There is great purpose in suffering. If Christ, who lived an absolutely righteous life, was called the Man of Sorrows, then we who are His followers should expect to experience sorrow as well. It does not diminish His power or His goodness.
Lie: I believed that choosing the right guy would lead to happily ever after. I believed that marriage would make me happy.
Truth: Choosing the right guy is incredibly important (don't marry a man who doesn't fear the Lord!), but God won't be finished with you at that point. You will not have arrived. God will use that man to reveal selfishness and pride in your heart. The truth is that God's primary intent for marriage is not to make us happy; it's to make us holy (Gary Thomas: Sacred Marriage).
What advice can you give a single girl desiring marriage?
Instead of focusing on finding the right guy, spend your energy on becoming the woman God has created you to be. Get involved in your church and invest your free time in spiritual growth in yourself and in others.
You are not a junior varsity Christian because you are not married. You can have maximum kingdom impact in your singleness, even because of your singleness.
In what ways do you think you could have better prepared for the role of a wife and mom?
Hands down, knowing the Word of God better would have better prepared me. I would have known more of God's character, I would have better understood my own sinful, prideful heart, and I would have been better prepared to act in humility and submission to God and to my husband.
Learning how to become a godly woman is not easy. That is why Kristen and I wrote Girl Defined: God's Radical Design for Beauty, Femininity, and identity. We want young women and women to have an easy-to-understand book that will teach and show them how to live out biblical womanhood in our modern times. I encourage you to check it if you desire to grow in this area.
It's Your Turn
What jumps out at you from my interview with Amanda?
If your beliefs are proven by your actions, what does your commitment to a personal quiet time show?
Can you identify with any of the lies Amanda shared? Which ones?