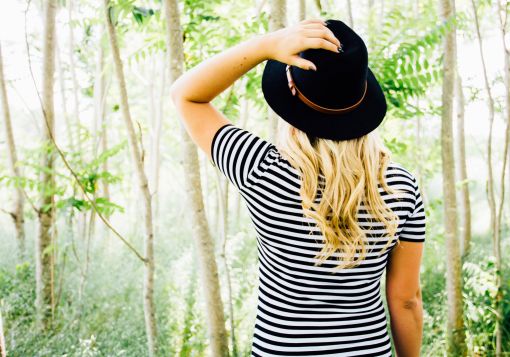 I grew up reading (and rereading) the insanely popular relationship books on courtship and dating. Titles like, "When God Writes Your Love Story," "When Dreams Come True," "I Kissed Dating Goodbye," "Boy Meets Girl" and several others were well worn books on my bookshelf.
As a 14,15,16 and 17-year-old girl I was gung ho on board with the idea of "leaving the pen in God's hands."
I trusted God big time. I wanted Him to write my love story. I wanted Him to show off in a mighty way in my love life.
I was a "leave the pen in God's hands" groupie like none other.
Year after year after year went by and I was still holding on to my teenage dreams. I believed that, at any moment, God would bring Prince Charming along and everyone would "oooh and awww" at how beautiful God had penned my love story.
Well…several more years have gone by and I'm now facing my 27th birthday, utterly and totally single.
Questions have started churning through my mind. Has God forgotten me? Has He lost the pen? Has He forgotten that I am the perfect candidate for a God-written love story? Has He forgotten that I soooo desire to get married…like yesterday?
As I thought through my past, present and future, I decided to pull out my journal and get my heart on paper. I wanted to sort through my thoughts and figure out what went wrong.
Here's what came out:
"I've been thinking. Like a lot. When it comes to my future (marriage, future husband, etc.) am I trusting God with my life because of what I think God might give me in return? Am I praying, serving, and remaining pure because I genuinely love God? Or, am I doing those things in hopes of what I think God might give back? Am I feeling disappointed, at times, because my future didn't line up according to my expectations?"
Before I share the next part of my journal writings with you, I want to expound on that first part. I have a feeling many of your girls can relate to what I am about to share.
I've slowly, but surely, been realizing just how wrong my thinking has been about God, romance, and obedience to Him.
When I read through those relationship books as a teen girl, I found it easy and exciting to want to leave my love story and future in God's hands. I wanted Him to have the pen. I wanted my future to unfold in a way that I would know God was working.
Little did I know that deep in my heart there was a big, unknown, lurking expectation.
Looking back, I now realize that I one-hundred percent expected God to write my love story according to my hidden dreams and ideals.
I believed that marriage was God's best choice for my life (God surely knew I was sooooo not cut out to be single long-term) and I trusted that He would make marriage happen no later than 23-24 years old. At the late, late, latest!
Marriage needed to be a part of His best love story for my life.
I now totally realize where my thinking and expectations went wrong. When I read through those books as a teen I said "yes" to God having the pen in His hand, but I secretly wanted to control it. I wanted Him to write what I wanted, not what He knew was best for my life.
Are any of you guilty of wanting to control the hand that holds the pen?
As I go into my 27th birthday, I've decided that I don't want to be a controlling girl anymore. I want to fully give God control and freedom to write my love story (aka life story) however He sees fit.
He's God. I'm not. I can fully trust Him. You can fully trust Him. His plan truly is best.
The title of this blog expresses how many single girls are feeling. I can't encourage you enough to take a step back and realize that God hasn't forgotten you. He is writing your love story.  He's writing out His best plan according to His will, not your own. He is doing what He thinks is best.
I've seen many girls grow anxious, upset, bitter, and angry because their story didn't get penned the way they wanted it to. I don't want that to happen to me and I'm sure you don't want that to happen to you.
I want to have the joy and radiance of a girl who loves her Savior and totally trusts in Him to write her story however He sees fit.
Before we finish, let me share the rest of my journal entry with you.
"God, please help me to fix my thinking. I don't want to be a doer of good, solely in hopes of what I might get. I don't want to remain pure, work in ministry, dress modestly, study my Bible, and pray, because of what I hope you will give me in return. I want to do those things because I genuinely love you and trust you. God, I know that your plan is SO much better than mine. Your story for my life is sooo much better than anything I could dream of. Help me to leave the pen *and control* in your hand."
If you can relate to my journal entries in any way, I'd love to hear from you in the comments section.
Please feel free to make that last journal entry the prayer of your heart as well. God hasn't forgotten you. He hasn't looked over you. He has the pen and is writing Your story. You (like me) just need to let go of the pen and fully trust and rejoice in the story He is choosing to write for your life.
His story is so much better than the one we could write.
I can honestly say that God's story for my life has totally blown me away. It hasn't included a guy (yet) but it's been an amazing ride and I wouldn't change it one bit. I am excited about my future and I can't even imagine what my 27th year will hold. God has written an incredible story for my life and I pray that I'll can continue to leave the control in His hands.
I challenge you to choose to serve Him wholeheartedly, knowing that He will write a much better story than you could ever write. If you will fully trust in Him, you will experience life and joy in a way you've never experienced before (whether a guy is in the picture or not.)
Will you join me in leaving the pen and control in God's hands?