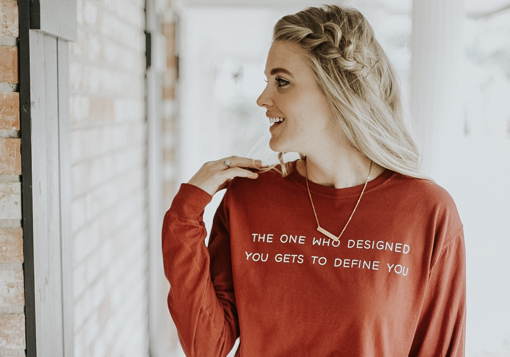 It was a cool Texas day as we sat on the couch and brainstormed for ideas. The year was 2015. Two of our younger sisters were there with us as we tried to create the first-ever Girl Defined shirt. What color should we choose? Which design should we go with? How many should we order? After several hours of chatting and tossing around ideas, our talented youngest sister (Suzanna) suggested creating a simple white shirt with a custom hand-painted font on the front that simply said, "GirlDefined."
Of course! Our very first ever shirt should be a reflection of everything we believe in and stand for at Girl Defined Ministries. "Girl Defined" is two simple words, but it captures the heart and passion behind our vision to encouraged younger women to be girls defined by God and to embrace His identity for us.
Suzanna quickly hand-lettered the font on a white piece of paper, which we then scanned into our computers.
It was perfect. We selected a beautiful shirt design and BAM. The first every Girl Defined shirt was created!
Since that day, we have created six different shirt designs that have each been intentionally designed to reflect the heartbeat of Girl Defined Ministries. The goal with our apparel line is to curate a combination of quality, beauty, inspiration, and truth. We aren't just girls…we're girls defined by God — and that truth is something we want to reflect in our apparel.
With that being said, I thought it would be fun to give you a little peek-behind-the-scenes peek into the meaning behind each of our shirts.
I've already shared the story behind this lovely shirt. It's such a great reminder that we are all girls defined by God. He loves. He cares for us. He has a good plan for us.
This "outdoorsy" army green shirt reminds us that the Christian walk is a journey with ups and downs. If we put our hope in Jesus, we will have victory. When you wear this shirt, you will be reminded to persist in your journey of pursuing Christ and His Word. Galatians 6:9 says, "And let us not grow weary of doing good, for in due season we will reap if we do not give up."
This brightly colored shirt reminds us that we all need sisters. Whether you have physical sisters or not we are all a part of a bigger sisterhood through Jesus Christ. We are a family. We can encourage each other, pray for each other, and link arms side-by-side together and remind each other that we are not alone on this journey.
This shirt is one of our all-time favorites because the Girl Defined sisterhood is for women and girls of all ages. As older women come alongside younger women, we can each benefit from that friendship. The Christian sisterhood starts when we're little. We learn and grow from the older women in our lives. This little Sisterhood shirt is perfect for the little sisters, nieces, and cousins, in your life. Invite them to become a part of the Girl Defined sisterhood now.
This feminine and timeless design was handpainted by our sister, Suzanna. Each flower is accompanied by one of the Fruits of the Spirit. As we live out our calling to be girls defined by God, we can look at the Fruit of the Spirit to see the areas we need to work on. As our heart grows closer to God, we will naturally change into a woman that exemplifies those fruits. "But the fruit of the Spirit is love, joy, peace, patience, kindness, goodness, faithfulness, gentleness, self-control." Gal. 5:22-23a.
We need to be reminded of this powerful statement every day: "The One who designed you gets to define you." God created each one of us to be unique so that we could glorify Him. He created us, designed us, formed us, and wants to mold us into exactly who He created us to be. No one else has the right to define our beauty, feminity, or identity besides Him. When you wear this shirt, you'll be reminded to trust God's good and perfect design for your life a girl.
Just like the original Girl Defined shirt, this sweatshirt reminds us that we are girls defined by God. He holds the answers to our questions about identity, purpose, and feminity. He loves his Daughters and has a good and beautiful plan for our lives. This cozy sweatshirt is perfect for a chilly day, athletic event, or just relaxing. Every time you wear this sweatshirt you'll be reminded of the fact that you are a girl defined by God.
We hope you're as encouraged and inspired as we are! 
We are excited to offer you these beautiful and meaningful shirts as a way to link arms and encourage one another in our walk with Christ. We are a family. We are sisters. We are united in Him. These shirts are so much more than "merch" or "apparel"… they're life-giving sources of truth that we each need to be encouraged in. We hope you'll grab one for yourself or for a sister or friend this Holiday season. Every purchase you make at the GirlDefined.com/shop goes 100% directly back into supporting Girl Defined Ministries.
These lovely items (along with our necklace, hair scarves, signed books, and more) will only be available online until December 8th, 2019. If you're interested in grabbing something, we encourage you to grab it fast because we only have a limited number of sizes available.