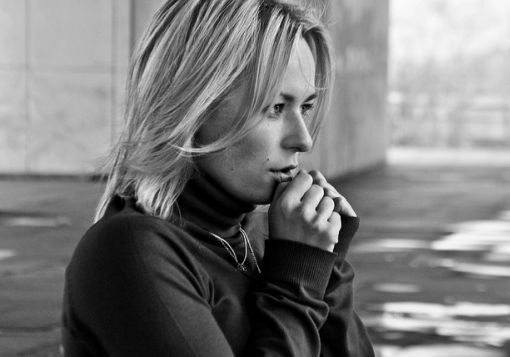 Like most girls, I have dreamed of the day I will unite in covenant marriage with the man God has for me. Since my mid-teens, I have eagerly anticipated the beautiful sanctification that comes through marriage.
The unconditional love. Submission. Dying to self for the sake of one another. Examples that are a testimony and a light to the world. A reflection of the light of Christ in the reflection of holy union.
But what about now? When I'm still single? The waiting can be frustrating.
I often get so caught up in the desire to glorify God through marriage that I forget that marriage is not the end result.
We should be desiring to glorify God in our lives above all else. How we choose to live in the single years of waiting for that covenant to begin, can be just as sanctifying as the years that follow.

We'd all like to believe that God has a plan for who we will marry.
But when it doesn't happen the way we think it will, our faith is challenged. We wait for someone we cannot yet see. We keep our hearts for something we see now only in shadow but some day will see in full.

As single women with a desire to marry, life before marriage is equally rich in covenant metaphors. Are you seeking to honor the Lord in how you live as a single woman in regards to marriage?
1. Do you handle natural attractions with self-control?
Ezekiel 16 tells the story of the unfaithful woman that is a picture of the unfaithfulness of the Hebrews. I doubt any of us want to be that woman. Scripture is clear that faithfulness begins in the heart. We all deal with attraction. It makes us human and it's actually a beautiful gift. But attraction can easily become a distraction.
It's so easy to become distracted from the end goal (sanctification), because the man we'll marry is someone we don't yet know. Or we meet someone and hope they are "the one" without any solid assurance. Don't let yourself be distracted. As the bride of Christ prepares herself for heaven, so we can remain pure of heart and focused when attractions seek to distract us from following God.
2. Are you tempted to initiate relationships with boys?
"For I am sure that neither death nor life, nor angels nor rulers, nor things present nor things to come, nor powers, nor height nor depth, nor anything else in all creation, will be able to separate us from the love of God in Christ Jesus our Lord" (Romans 8:38-39). 
If you care for a guy friend and he hasn't said anything to express his own feelings, do you feel tempted to "help" him along in the relationship? The Bible doesn't have hard and fast rules for this and I'm not trying to invent any. But it's vitally important to keep in mind that marriage is a reflection of Christ and the church. And we cannot choose God until he first chooses us to be his bride.
As the church of God, we are recklessly pursued by a bridegroom who adores us not because of anything we have done, but because of our intrinsic value and beauty in his eyes.
When we decide to lose faith in our future by taking initiative ourselves, we are reflecting a lack of faith in Christ's ability to relentlessly love and pursue.
I'll admit I have failed in this area in the past. It's tempting to want to take matters into your own hands. Whether you struggle with this or not, we all have times of doubt in our journey of faith. It's not about where you've been but who you chose to be today. When you feel weak or discouraged, think of what you're fighting for when you submit to the will of Christ, and think of who is on your side. Which is stronger? Temptation or God? Take heart, beloved.
I truly believe marriage will be a more beautiful reflection of Christ if we choose to surrender our dreams to God and trust him to lead the man he has for us. Remember the end goal. Sometimes the most courageous thing a woman can do in preparation for marriage is be still and know that He is able. 
3. Are you running with perseverance?
"I have fought the good fight, I have finished the race, I have kept the faith" (2 Timothy 4:7)
Sometimes the Lord simply calls us to wait…Without knowing the future. Without the when or the how or the who or the why. He calls us to have faith in the man we will some day call our own and faith in Himself to bring that man according to his perfect timing.
When the church loses sight of the imminent finish line, we can forget to chase with vigor and perseverance the very things that will prepare us to face a holy and blameless God and submit our lives to pure and undefiled worship of Him in heaven. Let's not, in the metaphor of waiting as single women, lose sight of the imminence of married life.
Most likely, your season of singleness is going to come to an end sooner than you think. Choose to trust that today. Spend the little time you have left preparing yourself to enter into that sacred covenant as a better reflection of the sanctified bride.
I don't share this because I'm wise, but because I'm a fool. Not because I am strong, but because I am weak.
I have distinctly failed in each of these three areas, and write this not as any kind of example or success story, but because I have come to realize that I have no answers and I know the only One who does. Please don't take me at my word, but take what I have written and compare it to God's Word. His is the only opinion that truly matters.
For the foolishness of God is wiser than men, and the weakness of God is stronger than men (1 Corinthians 1:25). 
Our world is fallen and all metaphors are filled with flaws
.
This isn't about trying to be perfect, but about resting in his grace and learning to walk by faith. When we understand the purpose for the metaphors he has created, we can choose to watch God to do his sanctifying work in us, and become the close reflection he has called us to be.

The end goal is not marriage. It is ultimately the glory of Christ. Let's fix our eyes on the true goal. There are so many ways we can learn and grow now, while we are single.
Choose to trust the Lord today, and know that he has a beautiful purpose and a plan for you
.
May he strengthen you and keep you. May he reveal more of himself to you through this time of trusting in the unseen. May he make you see how deeply you are loved.
What is (or was) your biggest struggle when it comes to singleness?
How can you view that struggle as an opportunity to learn more about Christ and his love for you?
About the author: Patience Pennington is the author of this blog post. You can learn more about Patience on her amazing website. Check it out here.