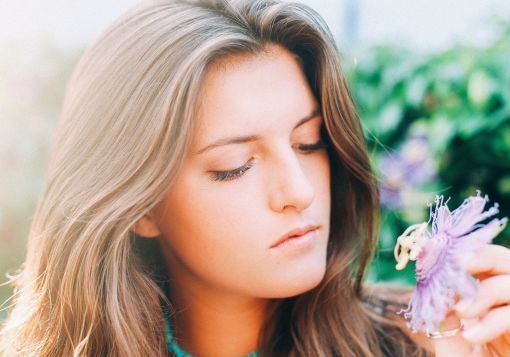 I'm her. I'm the good girl.
The girl who was born into a Christian home. The girl who memorized John 3:16 as soon as she could speak. The girl who never went through a rebellious stage. The girl who never had a boyfriend in high school and never dated around.
Yep, that's me. The good girl.
I'm not bashing my good-girl-ness and I'm not boasting in it either. I'm just telling you that that's my story. I have the "good girl" story.
Here's the other side of the good girl coin. If you're a good girl, you can probably relate. Somehow along the journey of life, the Enemy creeps in and begins feeding us "good girls" a bunch of lies.
Lies…
Your worth is found in your goodness.
Better keep up that good girl reputation.
You better not commit a major sin or else you will be worthless.
What would people think of you if you did anything wrong?
Jesus died for you…but only because you were already good.
Your identity is found in your behavior.
You are only valuable because you are pure and moral.
On and on the list goes….
I'll be the first to admit that I, as a good girl, totally believed and lived under the weight of those lies. The lies that somehow my worth and identity was defined by my goodness. I was carrying a burden and weight that God never intended for me to carry. In fact, that's the very reason Jesus came to earth. He came to die for me so that I could live and walk in freedom from the weight.
Thankfully, one warm summer day, God opened my eyes.
The weight of my "non-goodness" hit me square between the eyes. My heart felt heavy and burdened. At twenty-four years old, I was beginning to see my sin and brokenness in a whole new way. And it was freeing.
God's gift of salvation was beginning to make more and more sense in my mind. Although I'd believed and received Jesus Christ early on in life, this was a monumental turning point for my relationship with God.
Instead of trying to keep up my goodness (for the sake of finding my worth in it) I more fully understood that Jesus died for me.
Jesus didn't give up his life for me because I was perfect, He gave it up because I was broken.
I was realizing more and more that I no longer needed to maintain my goodness to maintain my worth. I was so fully loved by Jesus in spite of my sin. Jesus knows I need grace and mercy. He isn't surprised by that. He died because I so needed Him.
This might sound basic to some of you, but it really hit me in a new way that afternoon.
My prayer is that this blog might hit some of you in a new way too. I want to take some time to share four truths that I believe every "good girl" needs to hear.
Four Truths for the Good Girl:
1. Understand that Christ Died for You, a Sinner.
But God, being rich in mercy, because of His great love with which He loved us, even when we were dead in our transgressions, made us alive together with Christ (by grace you have been saved). Ephesians 2:4-5
Jesus didn't come to save perfect people. He came to save lost, hurting, broken and needy people. He didn't pay a partial price for you, He paid the full price. He paid the entire debt of our sin on the cross. We don't need to earn our salvation, Christ did that over two thousand years ago.
2. Accept His Goodness instead of Trying to Prove Your Own.
He made Him who knew no sin to be sin on our behalf so that we might become the righteousness of God in Him. 2 Corinthians 5:21
Jesus is perfect. We are not. Let's quit trying to prove our goodness in his eyes. Let's stop trying to show Him that we are "worthy." Instead of trying to earn our worth, or prove our goodness, let's just accept His goodness. He's the good good Father, not us. Let's just joyfully and freely bask in His love and goodness towards us. We can stop trying to find our identity in our goodness and finally just accept the new identity He's given to us.
3. Express Gratitude for God's Gift of Salvation.
Bless the LORD, O my soul, And all that is within me, bless His holy name. Bless the LORD, O my soul, And forget none of His benefits; Who pardons all your iniquities, Who heals all your diseases; Who redeems your life from the pit, Who crowns you with lovingkindness and compassion; Who satisfies your years with good things, So that your youth is renewed like the eagle. Psalm 103:1-5
Take some time to just stop and thank God for His amazing gift of Salvation. Our God is so compassionate and gracious towards us. He gave everything for us. He loves us so much. We need to spend more time focusing on Him. The more we focus on Him, the less we will focus on ourselves. Focusing on Him will help to remind us that we have an amazing and all-loving Savior.
4. Reject All of the Lies from the Enemy.
Be sober-minded; be watchful. Your adversary the devil prowls around like a roaring lion, seeking someone to devour. 1 Peter 5:8
The enemy so wants us to live under the weight of our own goodness. He wants us to believe every lie He can come up with about our identity. He does not want us to find freedom in Jesus. Let's be on guard and watch for the lies. Let's reject anything that does not line up with Scripture. Take every thought captive and make sure it aligns with God's truth. Don't allow Satan to hold you to a standard that God does not hold you to. Be watchful and keep an eye out for lies.
Wrapping it up.
If you consider yourself to be a "good girl" I hope and pray you surrender that title to Jesus. None of us are truly "good girls." We are all sinners in need of a Savior. The more we truly understand the gospel and our need for Jesus, the more free we will become. The less we try to maintain a certain image, the more we will embrace our new identity as a child of God.
I encourage you to surrender your "good girl" identity to Jesus. Instead, embrace your identity as a daughter of God and walk in the grace and mercy that He daily offers you.
Do I have any "good girls" out there?
How many of you have identified yourself as a "good girl?"
How has your perspective changed since reading this blog? Anything you would add?