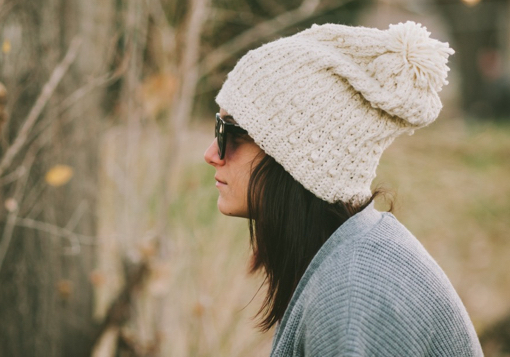 I may be married now, but I was single for 24 years and I know exactly what it's like to have unfulfilled sexual desires. In fact, I have a really embarrassing story to confess to you.
When I was a young teenager, I thought it would be a good idea to "practice" kissing before I met my husband. So…I "practiced" by smooching a designated kissing spot on my wall inside my closet. Since I wasn't going to kiss a real guy until marriage, I thought a little practice wouldn't hurt.
Yeah…awkward. I know. Not to mention it didn't really help.
I share that embarrassing story with you to show you that I was just a normal single girl with sexual desires, just like you.
As I entered my late teen years, my sexual desires and longings only grew stronger. Yeah – I struggled, just like many of you, with strong urges for sexual fulfillment in marriage someday. Getting married felt like an eternity away though and my desires almost felt too intense to bear.
Thankfully, God gave me grace right when I needed it.
I don't know about you, but there were times as a single girl when I viewed my sexual desires as a curse. I wished they would just go away all together and then reappear when I got married. Have you ever felt that way?
Thankfully, God's Word helped me understand that those desires weren't a curse, but a blessing. His word also reminded me that He would give me the grace to handle my desires until marriage happened (if it happened).
I want to share with you some of the things that helped me handle my sexual desires as a single girl.
1. Understand God's Design for Sex
God created sex and it's a beautiful thing within the covenant of marriage. God also created us to be sexual beings with desires and longings for sexual intimacy. God's design is good and beautiful when enjoyed in the right context.
Healthy sexual desires are not wrong or sinful. They're actually 100% normal. It's normal for you, as a single girl, to look forward to and be excited about enjoying God's gifts of sexual intimacy within marriage. However, these good desires can quickly become sinful if we turn them into lust, or use them with the wrong person at the wrong time.
God created sex to be a binding force between a husband and wife to unite them as one in marriage.
This covenantal seal also comes with intentional blessings such as physical pleasure and the opportunity to bring new life into the world.
As Christian girls, we must have a strong understanding of God's holy design for sex if we're going to handle our own sexual desires in the right way. I encourage you to read my other blog post titled, Applying God's Truth to Sex to help you build a strong biblical foundation.
2. Prepare for Battle
As a single girl, your sexual desires may be a normal part of God's design, but they can also be the largest area for sinful temptation. The battle for purity is real, and it's an intense one. We live in a culture that has totally perverted God's design for sex and pressures us to "join in on the fun."
Yes, the world tries to lure us into its perversion, but the battle for purity begins within the walls of our heart. James 1:14 says, "But each one is tempted when he is carried away and enticed by his own lust."
Our heart is sinful and is constantly trying to carry us away and entice us towards lust.
We need to recognize our own bent towards sexual sin and prepare ourselves for this battle. We won't win unless we're proactively striving after holiness, purity and a passion for God's glory.
The best place to start is by spending time worshipping the true and living God every day. Get in His word and allow His truth to transform your thinking. Pray every morning (and throughout the day) asking God to help you love His holiness more than you love yourself.
Don't let the battle of sexual temptation take you by surprise.
3. Make the Choice to Fight or Flee
As you live your daily life in the sinful world, you will undoubtedly come face-to-face with sexual temptation. For example, you might be innocently shopping for something online when a sensual ad pops up. You didn't seek it out. You weren't even looking for it. But there it is.
Another example is you may be trying to fall asleep one night when your mind is suddenly bombarded with sinful sexual thoughts. You're instantly tempted to dwell on these thoughts in your mind.
Sexual temptation comes in all shapes and sizes and it often doesn't give us a lot of warning.
When sexual temptations hits you have two options. You can either (1) Fight it, or (2) Flee from it.
Fight it: Fighting it needs to happen when you can't physically get away from it. You can't physically escape a sexual thought in your head, so you need to choose to fight against it. You can't escape driving through a city with sexualized billboards, but you can choose to fight it by not looking at them.
God will help you fight your temptations – you are not alone.
1 Cor. 10:13 offers us that powerful promise: "No temptation has overtaken you that is not common to man. God is faithful, and he will not let you be tempted beyond your ability, but with the temptation he will also provide the way of escape, that you may be able to endure it."
Flee from it: The next best way to fight it is to simply flee from it. This is a great option! This looks like you physically removing yourself from the temptation. If a movie turns south, turn it off. Don't keep watching it. If your friends start talking about inappropriate things, leave the conversation. If that phone app is tempting you towards lust, get rid of it.
Don't wait around hoping to be "strong enough." Get away from the temptation. 1 Cor. 6:18 says, "Flee from sexual immorality. Every other sin a person commits is outside the body, but the sexually immoral person sins against his own body."
4. Make Victory Easier  
Fighting the battle of lust in our hearts is already hard enough without added temptation. I can't encourage you enough to set yourself up for success by removing as much sexual temptation from your life as possible.
This means pitching sexualized romance novels, saying no to secular magazines like Cosmo and Seventeen, deleting impure or edgy phone apps, saying no to impure movies, turning off that sensual song, etc. You get the idea.
If you desire purity and holiness, you must battle for it, girl. It doesn't come naturally. Get rid of extra temptation and make victory easier to accomplish.
I pray those 4 points are helpful to you as you strive to handle your sexual desires in a God-honoring way.
I know it's hard. I know it's a battle. But with God's help, and strategic planning on your part, you can steer your sexual desires in a God honoring direction.
Let's chat. If you have any questions, fire away below.
What are you doing, as a single girl, to keep your sexual desires in check?

What additional advice would you add to my list?
Photo Credit: Here