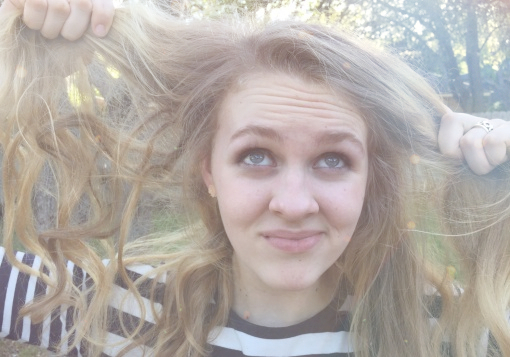 "Oh, have you seen this latest movie?"
A teen friend of mine went on to tell me the name of the movie she had watched. I sat there, staring blankly, having no idea what she was talking about. She continued telling me about her favorite movies and bands.
I continued to sit there, nodding my head, acting like I knew what she was talking about.
On the inside, I was searching my memory for any trace of those names.
A few more girls joined and rambled on about different celebrities. Half of the time, I didn't know who these girls they were talking about, but I so desperately wanted to join the conversation and contribute something.
It seemed as though I was the only one in the group who didn't watch those movies or know anything about those celebrities.
Then and there I wanted to do a quick internet search to catch up on all the different bands and latest movies.
I wanted to fit in.
So often, the teen girls around me discuss the latest Hollywood happenings and I do the awkward nod, not knowing who or what they are talking about. This "left out" feeling causes a discontentedness inside of me. It makes me want to instantly drive to the movie theater to watch the newest movie on the block, whether it's good or bad.
In the moment, it doesn't matter to me. I just want to be on the up-and-up and fit in.
The struggle against worldly desires is a huge problem for me as a teen girl.
I'm bombarded every day with music, magazines on the shelf, billboards on the road, movies, etc. I also live in a culture where people make it a priority to keep up with the newest styles, work out, stay trim, have a boyfriend, and get a really good job.
The list goes on and on.
If you're a teen girl living in any part of the world, you know the struggle I'm talking about.
In our day and age, it's so hard to stay focused on honoring God rather than joining the popular crowd that doesn't honor Him. It's even harder when most girls (even in the church) around you don't take their spiritual life seriously. How am I supposed to honor God with my life when it seems as if so few girls care?
It's a battle I face and I'm sure you are facing it too. It can be really discouraging.
It's not easy to be a teen girl in today's culture, but I am slowly learning that the road less traveled is totally worth it.
1 John 2:15-17 has really encouraged me in my teen years. I continually remind myself of this verse when I get discouraged about life. Here it is for you:
"Do not love the world or the things in the world. If anyone loves the world, the love of the Father is not in him. For all that is in the world—the desires of the flesh and the desires of the eyes and pride of life—is not from the Father but is from the world. And the world is passing away along with its desires, but whoever does the will of God abides forever."
I am learning that we need to stand strong against sin.
It may look appetizing at the moment, but even the forbidden fruit looked appetizing to Adam and Eve. Was it worth it in the end? Absolutely not. All sin is appetizing in the moment, but the consequences are not worth it.
Girl, I'm right there with you. I know the struggle you're in. Worldly temptations are everywhere. It's in our homes, at the store, and even on our phones. We can't escape it.
But, there is one thing we can do.
Read our Bibles. We can fill our minds with truth and wisdom, which is oh-so-important. If we don't know the difference between good and bad, how will we make the right decision?
A great place to start is in the book of Proverbs. Solomon gives lots of advice to young people on how to resist the world and its temptations. You can also read solid Christian books. Check out this Page to see which books Bethany and Kristen recommend.
Another amazing weapon is prayer. Pray for yourself. Pray for the friends you have. Pray for your sisters in Christ who read the Girl Defined blogs. Prayer is a very powerful weapon you can use when fighting the battle against sin.
Also, remember that you're never alone.
We're all facing the same worldly temptations and the same struggles. But we also have the same God who is amazing and awesome all of the time. He is the One who will help us in our frustrations and temptations. He is the One who will guide us when the struggles are hard and life gets tough. He cares for you and He cares about your struggles.
He always has an answer for you.
As a fellow teen girl, we need to talk about the struggles we are facing. Let's encourage and pray for one another. I'd love to hear about the things going on in your life.
What do you struggle with? How do you overcome your struggles? Any tips or advice you can share? Join the discussion by commenting below!
PS: The picture at the top of this post is actually me. That's an honest picture of how I feel sometimes! Can you relate?!
*This guest post was written by our wonderful 15-year-old sister, Rebekah. You can find out more about Rebekah and the entire Baird family at our family blog: Oh Happy Heights