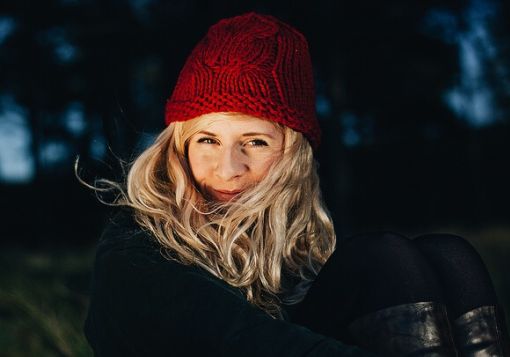 I saved up my allowance (yes, I still get one) all summer in anticipation of the end-of-year clearance sale at one of my favorite online retailers.
As autumn's first chill threatened to ditch summer like a Hollywood fling, I filled my cart with all those cute lil' summery clothes I had been eyeing since spring. Including the hat. Not just any hat, my sisters. This black trucker hat with giant, silver "SURF" lettering was the epitome of cool.
The model who had worn it in the spring catalog—with her caramel skin and salt-tousled hair—confirmed it was the cutest hat EVER created. Surely all the girls in sunny Costa Rican surf spots were wearing them. So when I spotted said trucker hat looking trendy and on sale?
It was in my cart faster than you can say "impulse purchase."
As always, the arrival of my online order felt like my birthday. (Why is it that we can spend our own money on something, but if it comes in the mail it feels like a gift? I catch myself wanting to hug my postman in gratitude—like he's being generous by delivering my frivolities.) I tore into the package and got ready to stage a "fashion show" for my husband to get his opinion of each item.
He gave a verbal thumbs-up to the sundress, the tennis skirt, and the slouchy burnout T-shirt.
I was on a roll, so when it came time for the hat, I threw together a quintessential summer ensemble—jean cut-offs and a T-shirt—to give him the full effect and got ready for the compliments to flow. A quick glance in the mirror revealed that I hadn't magically transformed into catalog perfection, but whatevs—the hat was cute. At least, I thought the hat was cute. Something in the back of my mind gave me the teeniest pause. I decided to ignore whatever that was and get Paul's opinion.
"So, what do you think of the hat?" I asked.
And this was his response: "Uhhhh . . ." Bad start right there. Should have left it alone. But he continued, "I don't like it. Maybe it would look good on someone with a different-sized head."
My jaw dropped. "A different-sized head?"
"Yeah. I mean, it just sticks up kind of high on your head."
"It's supposed to look like that," I defended.
"Well, it's up to you, but I don't think it looks good."
Now, I have to tell you that my husband is usually super complimentary when I try onanything for him, so for him to say that something didn't actually look good—at all—I had to take that seriously. (And have a good laugh later.)
But his words got me wondering . . . what made me think that the hat was cute in the first place? And why was it so hard to return an $18 hat that, apparently, made my head look like Mr. Munster's?
It took a while, but I've finally figured out the answer to those questions (among other questions about beauty and body image).
We girls have looooong been defining what's "cute," "in style" or "fashion-forward" by what we see in magazines, on ads, on screen or (more recently) plastered all over social media. So when we look in the mirror, whether we feel cute or not depends almost 100 percent on how closely we think we match something we've seen somewhere else.
From our makeup to our clothes, from our hair to our overall body shape, from our skin to our teeth to our arms to our bellies, we evaluate our own beauty based on whether we match our favorite images of other girls.
So when I looked in the mirror donning my long-anticipated trucker hat, I ignored all reason and thought maybe I could pull it off only because someone in a magazine defined it as cute for me.
Obviously, God wants more for us than that.
As His perfectly-designed daughters, we should be the first girls in the world to recognize the beauty He has displayed in plain sight—like the beauty in a smile, in strong legs, and in a body made to bring God glory. Part of being a "new creation" (2 Cor. 5:17) is knowing—and living like we know—our worth and beauty.
Putting words to how I've always subconsciously defined cute has been revolutionary for me. I hope it will be for you, too. Recognizing truth is the first step to living free, and there's a whole lot of freedom in redefining "cute."
Instead of looking in the mirror and checking to see whether we look like the latest magazine image or Polyvore ensemble, we can create our own version of beautiful—a beautiful that defies stereotypes, stands tall, and expresses herself with her own unique je ne sais quoi. (That's French for indescribable beauty. Oui!) Because that's the way God has made us to shine.
However . . . if you happen to find a cute trucker hat that isn't twelve inches tall, I'm still in the market (wink).
Your Chance to Win! 
We are SOOO excited to give away a signed copy of, Jessie Minassian's brand new book Backwards Beauty: How to Feel Ugly in 10 Simple Steps
To have your name entered in the giveaway, simply leave a comment with your answer to one of these questions:
What source do you look to define what's cute and what isn't?
Have you ever made a beauty mistake like my trucker hat purchase because you looked to something other than God's Word to define your beauty?
Winner will be announced Wednesday (Feb. 10th). 
Get to Know the Author.
Jessie Minassian loves Jesus, sunshine, and sand between her toes. She's also a speaker, author of a handful of books, and the resident "big sis" at LifeLoveandGod.com, a Q&A website for teen girls. A native Californian, Jessie now lives near Denver, Colorado, with her husband and two daughters.