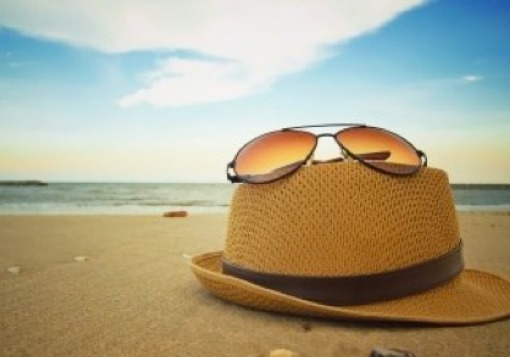 Summer time is almost here! We're breaking out the lemonade, grilling in the backyard, and playing horseshoes in the evenings (yes, we play horseshoes). I especially love wearing the bright and cheery colors that my summer wardrobe brings.
During the summer months it seems like everyone is so happy and upbeat, doesn't it? I am usually happy and upbeat myself until I remember the one down side of summer – the blistering heat. Down here in south Texas our summer days seem to average a lovely 100 degrees, with a nice humid breeze to keep your hair moist.
Doing anything outside during the summer without sweating is pretty much impossible.
The only logical way to cool down while you're outside is by wearing less clothing. This presents a small challenge for Kristen and me, who want to stay cool, but don't want to expose every inch of our skin to the public. Summer time always brings the same yearly challenge for us – dressing modestly without boiling to death.
After many years of studying, learning, and maturing in our understanding of modesty we have learned a very hard-to-swallow truth.
Hot weather doesn't justify wearing immodest or revealing clothing. 
We have learned that God's command for women to "adorn themselves in respectable apparel, with modesty and self-control…" (1 Tim. 2:9) isn't a flexible command when the weather gets hot. That doesn't mean we wear long sleeve shirts and pants all summer, it simply means we don't uncover our intimate body parts (chest, stomach, thighs, back, etc.)
It means we avoid those revealing summer dresses and say no to the mini skirts. Instead, we choose to wear clothes like long bermuda shorts, capris, and fun summer skirts. On the top, we stick with loose fitting shirts and keep our camisoles handy for cleavage cover-up.
Style doesn't have to be sacrificed to dress modestly either.
With a little creativity we can still dress for our time period without having to lower our standards of morality and purity. We can still be totally stylish and cute without showing too much.
Not only do we believe dressing modestly honors God, but it also blesses our brothers in Christ who are striving for purity in their own lives.
Here's what one guy had to stay about this topic:
"When girls dress modestly, it keeps my eyes where they should be. I want to look into a girl's face. If a girl has too much skin showing it is not only distracting but it tempts my eyes and my mind to go somewhere I don't want them to go." -Godly Guy
I have personally heard from many Christian guys how helpful and refreshing it is to them when Christian girls choose to go the extra mile by wearing modest clothing.
As you get dressed this summer, here are a few practical questions to ask yourself as you pick out your outfits.
1. Is what I'm wearing revealing and/or drawing attention to intimate body parts (chest, stomach, thighs, back, etc.)?
2. Do my clothes reflect the purity of Christ or the immorality of our culture?
3. What is the motive of my heart for wearing this outfit?
As John MacArthur once said:
"A woman should examine her motives and goals for the way she dresses. Is her intent to show the grace and beauty of womanhood? Is it to reveal a humble heart devoted to worshipping God? Or is it to call attention to herself and flaunt her beauty? Or worse, to attempt to lure men sexually? A woman who focuses on worshipping God will consider carefully how she is dressed, because her heart will dictate her wardrobe and appearance."
We love hearing from you, so comment below with any questions or comments!
PS If you're interested in learning more about being a God-defined girl in every area of life, we encourage you to grab a copy of our brand new book, Girl Defined: God's Radical Design for Beauty, Femininity, and Identity.
We also hope you're join us for our 8 week LIVE summer study starting in June!
Photo Credit: www.hellomodesty.com