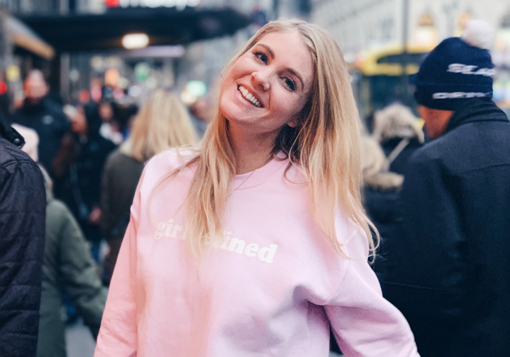 When I was single, I spent a lot of time wondering if I would ever get married. I thought about the future a lot. Sometimes my thoughts were filled with anxiety and worry, and other times they were resting peacefully in God's sovereignty.
My questions about marriage were eventually answered in 2011 when I walked down the aisle and married Zack Clark.
Now that I was married, I didn't have to wonder about that anymore. I remember going on my honeymoon and feeling blissfully free of all worries about the future. Life was great. Life was simple.
There was nothing to be anxious about. At least not yet.  
Then my marriage hit the two-year mark. Without warning, I experienced two unexpected miscarriages back-to-back. I was shocked and devastated, to say the least. I was trying desperately to keep my heart anchored in God's truth. But as the third year rolled around, thoughts and worries about the future crashed into my mind again. What if I have another miscarriage? What if I don't ever get pregnant again? What if something is seriously wrong with my health? What if…
Fear. Worry. Anxiety.
My old companions were back. The future was uncertain again and I felt a sense of panic in my chest. As year four rolled around, I knew I had a serious choice to make. I could live the rest of my life in a state anxious uncertainty, or I could choose to place my trust, hope, and future in the Lord's hands. My circumstances were out of my control, but the God I served was in control of my circumstances. I knew this in my head. But it hadn't fully penetrated my heart yet.
As I wrestled with this inner battle, a friend asked me a simple question one day that completely rocked my world.
She gently asked me, "If you were to never get pregnant again, do you think you could still live a life of total satisfaction and contentment in Christ?"
I stared at her in surprise. What? I thought to myself. Out of habit, I nodded my head quickly to say "yes." But deep in my heart, I wasn't sure. Could I be truly content? Could I find total satisfaction in Christ in the midst of my unfulfilled desires? It was through that simple question that God led me on a journey to discover the truth about my heart. Getting pregnant and having biological children had become the greatest focus in my life. I wanted something more than I wanted Christ (Luke 10:27). My good desires had become idols in my life.
My anxiety about the future was rooted in the fear of me not getting what I wanted.
This realization was a huge revelation for me and a major turning point in my life. My anxiety about the future was just a symptom of a deeper heart issue. If I wanted to live a life of joy and peace in Christ, then I needed to love Christ more fully. I needed to desire Him more than anything else. He needed to come first in my heart.
Luke 10:27 pierced me with conviction: "You shall love the Lord your God with all your heart and with all your soul and with all your strength and with all your mind…"
I took some time to pray a prayer of repentance before God. I confessed my sin of idolatry to Him and asked for His strength to love Him more fully. I cried out to God and surrendered my future to Him. I surrendered my longings to Him. I poured out my dreams, desires, hopes to Him in prayer, and laid them at His feet.
Over the next few days, I felt a heavy weight lift from my shoulders.
I felt an incredible sense of peace come into my heart. I was no longer "in charge" of the future, God was. And I was resting in His good plan. The anxiety and fear no longer plagued my days.
Isaiah 26:3 really came alive to me during this time. "You keep him in perfect peace whose mind is stayed on you, because he trusts in you."
Through His Word, God showed me that trust and peace go hand in hand. The more I trusted Christ with my future, the more His peace filled my heart. The less I trusted in Christ, the more anxiety and fear filled my heart. "You keep him in perfect peace whose mind is stayed on you, because he trusts in you" (Is. 26:3). This verse became the new meditation of my heart.
I will be celebrating eight years of marriage this summer, and you know what? My circumstances haven't changed much, and my desire for children hasn't been fulfilled as of today…but you know what has changed? My heart. My heart is in a very different place than it used to be. My hope is the Lord. My trust is in the Lord. My peace comes from the Lord.
Now, when I feel tempted toward fear, worry, anxiety (which still creeps up), I have to intentionally realign my heart with these powerful truths:

"Do not be anxious about anything, but in everything by prayer and supplication with thanksgiving let your requests be made known to God. And the peace of God, which surpasses all understanding, will guard your hearts and your minds in Christ Jesus" (Phil. 4:6-7).
"Casting all your anxieties on him, because he cares for you" (1 Peter 5:7).
"Cast your burden on the Lord, and he will sustain you; he will never permit the righteous to be moved" (Psalm 55:22).
Anxiety and worry do not have to be a theme in my life and they don't have to be the theme in yours either. Christ died so we could be freed from the chains of bondage and fear. Even if we don't have the answers, we can trust in the God who does. If you're in a season of unfulfilled longings, I encourage you to take steps toward surrender. Examine your heart and ask God to show you if you're loving other things more than Him.
I want to end by asking you the same question my friend asked me several years ago: "If you were to never get _____________, do you think you could still live a life of total satisfaction and contentment in Christ?"
I'd love to hear from you below.
In what ways do wrestle with fear and anxiety in your life right now?

What would it look like for you to surrender your idols and love God more fully?