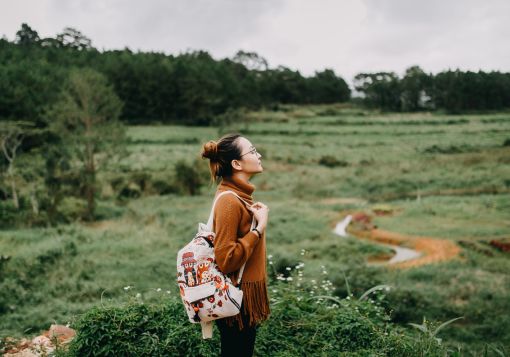 It's so easy to imagine how full, complete, and happy your life would be if you had a boyfriend. It's easy to imagine that all of your problems would go away. That you would magically transform into a kinder, sweeter, more others-centered girl. That life would all of the sudden become easy and trouble-free. 
This is a fantasy. This is not reality. 
Yes, having a boyfriend is fun. It's nice to have someone to care about and to have someone care about you. But a boyfriend won't solve all of your problems. He won't transform you into a sin-free girl. He won't magically fix all of your problems. The person you are before you had a boyfriend, is the person you will be after you get a boyfriend. 
Don't allow your imagination to trick into thinking that a boyfriend is the answer to your problems. 
No. He isn't. He never can be. 
The only person that can help you transform your life and your relationships, is Jesus. He is the answer. He is the one you should run to right now. He is the one who can bring you satisfaction and joy. He is the one who can fix your brokenness and give you hope. He can change you from the inside out. He can give you that satisfaction your heart ultimately longs for. 
Whether you ever have a boyfriend or not, it's one-hundred percent possible to thrive and have complete joy. 
Don't wait for a guy to come into your life to start living. You are here for a reason. 
Here are three simple ways to be happy when you don't have a boyfriend: 
1. Choose Gratitude for Everything You Do Have 
It's that simple. Gratitude is the secret passageway to joy. You don't have to wait for joy and happiness to find you. You can go after them through gratitude. Start by expressing gratitude to God for all that He's done for you. For salvation, Jesus, the Holy Spirit, Heaven, and the ability to have a personal relationship with Him. Next, express gratitude for every single little thing that you typically take for granted. Did you have coffee this morning? Thank God for it. Do you have internet and a computer or phone in order to read this post? Thank God for it. 
The more we turn our eyes towards Jesus in gratitude, feelings of joy will follow. 
2. Find Complete Joy in Jesus 
This might sound a little bit cheesy, but it's true. If you can learn to find complete joy in Jesus right now, you will never be dependent on your circumstances. Your circumstances are always changing. If you are dependent on someone or something other than Christ to bring you complete joy, you will always be disappointed. The Bible says, You make known to me the path of life;  in your presence there is fullness of joy; at your right hand are pleasures forevermore (Psalm 16:11). 
In Christ, there are pleasures forevermore. In Christ, there is complete joy. In Christ, all of our deepest longings are met. In Christ, we can thrive in this life no matter our circumstances. 
3. Celebrate Life with Your Girl Friends 
You don't have to have a boyfriend in order to have a great Friday night. You can create your own fun with your girl friends. Plan a monthly girl's night out. Invite your friends over for brunch and a movie. Plan a hike. Plan a game night. I personally found it so satisfying to have good, solid, quality hang time with my girl friends. In fact, I still find that valuable even as a married woman. 
Don't underestimate the power of friendship. 
Those are just a few simple ideas for how to be happy when you don't have a boyfriend. I'd love to hear from you. What are some additional ways you'd add to the list?