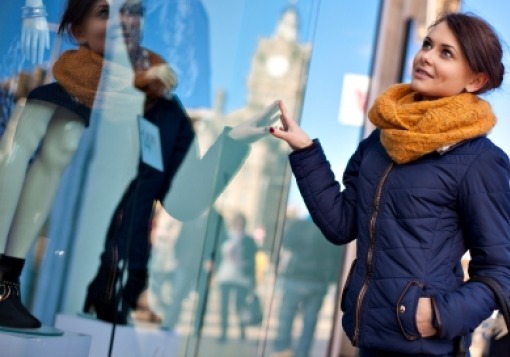 I went through a challenging time in my life once and had a great temptation to turn to "stuff" (shopping, food, mochas, novels, etc.) to make myself feel good in the moment.
Instead of handling my sad emotions in the right way by turning to God's word, I tried to cover them up by shopping and buying fun stuff for myself.
Thankfully, at just the right time, I ran across a great podcast by Nancy Leigh DeMoss. She gave am awesome piece of advice that I found extremely helpful during my time of temptation.
She told a story about how she was in a down mood and didn't feel like working or doing much of anything.
Instead of listening to her feelings and allowing herself to wallow in her sorrow, she went outside for a walk and sang praises to the Lord, recited Scripture, and prayed. She continued for an entire hour until she no longer felt down.
I thought that was a great example of taking control of your feelings and not allowing yourself to wallow in your sadness and sorrow.
Let's all do what Nancy did and get intentional about guiding our feelings in the right direction. Someone recently told me something that I found to be profound. They said, "we must reason with our feelings." Just because we "feel" a certain way doesn't make it right. We have to reason with our feelings and help ourselves get back on the right track.
God's Word is powerful and can help you overcome the sorrow and sadness you might be feeling.
The next time you feel down or sad, don't run to shopping (or guys, or entertainment, or food, etc) to try and make you feel better. Instead, run straight to God's Word and ask the Lord for strength. Even if it takes an hour long walk.
Let's take a quick look at Psalm 100 to see how impactful this verse is.
Notice how the focus is on the Lord and not us:
"Make a joyful shout to the LORD, all you lands!
Serve the LORD with gladness;
Come before His presence with singing.
Know that the LORD, He is God;
It is He who has made us, and not we ourselves;
We are His people and the sheep of His pasture.
Enter into His gates with thanksgiving,
And into His courts with praise.
Be thankful to Him, and bless His name.
For the LORD is good;
His mercy is everlasting,
And His truth endures to all generations."
My challenge for you is to make an intentional effort to praise God every single day.
You can start by reading Psalm 100 every morning for the next week. It will help you focus your eyes on God instead of yourself. Focusing your eyes on yourself will only fuel your desire to fill your life with momentary pleasures that will make you feel good for a second.
Choosing to focus your eyes on God and worshiping Him will fill that empty feeling inside of you and will give you long term satisfaction.
It will bring God glory, and it will give you the long term strength you need to endure the trial or hard situation.
I'd love to discuss this with you below, so answer one, or all, of the following questions:
• How have you been tempted to go out and shop, eat, watch TV, etc., to make yourself feel better when you were down?
• When you went through a tough situation, how did you handle it?
• How can you "reason with your emotions" in those hard moments when you don't feel like doing the right thing?
Photo Credit: Here