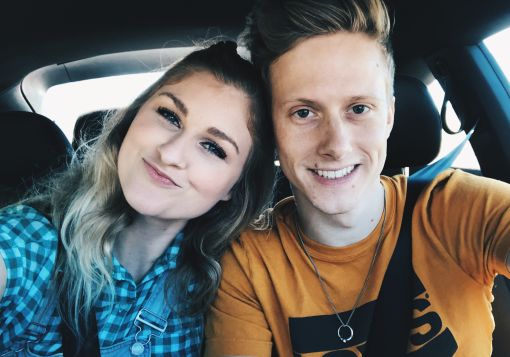 First off, I never ever imagined I'd write a book on sex.
Secondly, I never ever imagined that I'd write a book on sex as an unmarried woman. Who does that? I'd never had sex and yet I was writing a book on sex. It's a little strange sounding. I know.
Looking back on the researching, writing, editing, and reviewing of Sex, Purity, and the Longings of a Girl's Heart, I am absolutely convinced that God used the writing process of this book to prepare me for marriage.
Writing a book on sex was the best preparation for becoming a wife and lover to my husband.  
In the years preceding this book, I honestly considered myself to have a good and balanced view on biblical sexuality and sex within marriage. I had read books like Passion and Purity that gave me good/biblical perspectives.
Little did I know just how much I still needed to learn.
When I began the research process (along with my co-author Kristen) I was regularly blown away by how unbiblical many of my perspectives actually were. My concept of sex was a lot more shallow and less meaningful than I'd thought that it was.
I didn't fully understand or grasp God's design for true intimacy.
I didn't understand Yada (read more about that in chapter 7 Girl, You Were Made for Intimacy). I didn't fully understand that sex is simply a metaphor of God's deep/all-knowing love for us and His desire to have us in return know Him deeply.
My perspective of sex was largely influenced by the culture around me.
The more I dug deep into amazing content by people like John Piper, Dr. Juli Slattery, Nancy Wolgemuth, Heath Lambert, Rosaria Butterfield, etc. etc. the more I realized just how much I'd been influenced by the world. As Dr. July Slattery says, "I was being discipled by the world." Although I'd been somewhat intentional to read good books, I hadn't truly dug into God's Word and south to understand a biblical perspective of sex and sexuality.
Writing a book on sex forced me to…
Unpack the true meaning of purity. Not just the versions I'd heard or grown up with.

Dig deep into the biblical metaphor that sex truly is.

Learn words like "Yada" and strive to understand them.

Take a deeper look at temptation and unpack it more fully.

Realize more and more that true satisfaction is only found in my relationship with Christ.
Gaining a biblical worldview on sexuality served me so well on my honeymoon and early months of marriage. Knowing God's amazing design for intimacy helped to love my husband more freely and enjoy him more fully.
I was able to go into our honeymoon without the pressures and expectations of the world. I knew that great sex was about so much more than a "perfect physical experience."
I knew that great sex ultimately came down to a truly biblical mindset. I came to understand that you can have the best bodies, the perfect mechanics, and still have terrible/unsatisfying sex.
God didn't create sex to simply be mechanics and movements.
God created sex to be a journey that a husband and wife go on within the covenant of marriage. It's a journey of learning to love, serve, and give to the other out of a pure and humble heart. It's a journey that bonds the two together in soul binding ways. A journey that causes the couple to love God more fully. A journey that celebrates the covenant of marriage every time they love one another intimately.
Looking back on God's timing for my life, I can't thank Him enough for allowing me to write this book as an unmarried woman. Gaining a solid biblical mindset, and being discipled by God's Word, was the best preparation for marriage. 
If you're currently single (or just desire a better, more freeing, more biblical mindset on sex) I strongly encourage you to make sure that you are being discipled on sexuality from a biblical perspective.
In fact, that's the entire purpose of Sex, Purity, and the Longings of a Girl's Heart. It's all about discipling women (single or married) on God's incredible and freeing design for sex and sexuality.
Writing this book was life-changing for me.
My prayer is that it will be life changing for you! If you read it, I'd love to hear from you. I'd love to hear how God uses it to change your life concerning sexuality.
Grab a copy here: Sex, Purity, and the Longings of a Girl's Heart