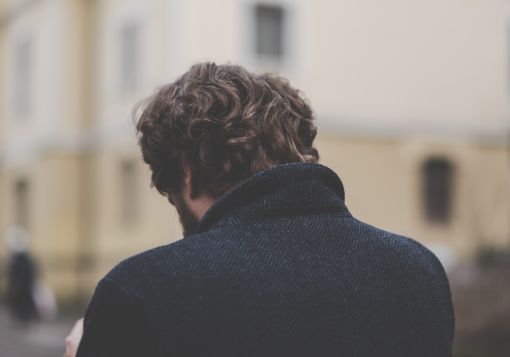 I stared at his tanned arms, his charming smile, and his slicked-back hair as he stood in the college cafeteria line. The moment I heard his contagious laugh, I got goosebumps. I couldn't help but sigh as he walked past me.
"There he goes," I thought dejectedly. "He's probably never going to notice me."
Though it hurt to be neglected by the young man, I honestly wouldn't consider entering a relationship with him, even if he was interested in me. Though he was very handsome, smart, and popular (for good reason), he didn't have the qualities I was looking for in a future spouse. Sure, he was kind and courteous; but he lacked the spiritual maturity and leadership that a husband needs.
I didn't just want a charming guy to sweep me off my feet.
I wanted a man who could bring me closer to Christ. And that kind of spiritual maturity reveals a heart that is satisfied in God.
If I could tell that young man (or any of the young men I've been attracted to over the years) what I desire in a future husband, I would say this:
I don't care what you do for fun, as long as you know how to be serious-minded. I want you to be able to discuss theology, be honest about your sin, and even challenge your brothers in Christ to do the same. Whether you enjoy playing board games, tossing around a football, or running marathons, I simply want you to be serious about your beliefs and your calling.
1. I don't care where you're from, as long as you know where God is leading you.
I want you to have direction and purpose in life. You don't have to know all of God's plans for you, but I want you to be focused on following where God leads, whether that's a new city, country, or continent.
2. I don't care whether you wear the newest clothes or the oldest rags, as long as you put on Christ every day.
I want you to enjoy new things, but I'd rather you enjoy new fruit from Christ's work in your heart. If you're developing a relationship with God and looking for ways to serve Him daily, it doesn't matter how trendy you look in your Nike hoodie or Sperry's shoes.
3. I don't care where you work, as long as you work for the glory of God.
I want you to work hard to pay the bills, provide for our family, and give back to the Lord. You can be an engineer, an astronaut, or an electrician; but your job title doesn't matter as much as your diligence in the career God has provided for you.
4. I don't care how many friends you have, as long as you're friendly to everyone you meet.
I want you to reach out to those who need it, no matter how hard or easy it is for you. You may be an extroverted person who makes a new friend every day or a shy person who struggles to make friendship a priority, but I just want you to seek new relationships with the saved and unsaved.
5. I don't care about your family background, as long as you love your family as yourself.
I want you to sacrificially love whoever is included in your family. Putting your family members' needs before your own needs is a must, whether your parents are divorced, you are adopted, or you have nine siblings.
6. I don't care how many earthly possessions you have, as long as you have stored up plenty of heavenly treasures.
I want you to realize the emptiness in earthly possessions and the lasting value of heavenly treasures. Glorifying the Lord is attractive to me, not polishing your BMW, buying the newest iPhone, or showing off your Fitbit.
7. I don't care if you share my likes and dislikes, as long as you love God before everything else (including me).
I want you to put aside everything in your life to chase after God. If you're satisfied in Him, I'll be satisfied.
8. Future husband, you may be under the impression that I expect you to be perfect. That's simply not true.
I know you will have failures, flaws, and daily struggles, just like I do. In fact, I'm struggling to write this list of qualities I want you to have because I haven't even developed them. And, to be honest, I still want you to be charming, handsome, and popular. Though my honest desires are shallow, the Lord knows that I truly need a husband with spiritual maturity.
So, future husband, I don't expect perfection from you.
I know that is impossible to have while on this earth. I've written this list simply to show you that your character is more valuable than your popularity or possessions or preferences. Your job title, car model, or number of Instagram followers may be impressive; but they aren't as impressive as your love for the Lord.
Future husband, I want your heart—a heart that longs to be satisfied in God.
GUEST POST: Grace M. is a college student, a blogger, and a writer. She enjoys spending time with her family, chatting with friends, and eating sour gummy worms. She writes about the Christian life at Tizzie's Tidbits.