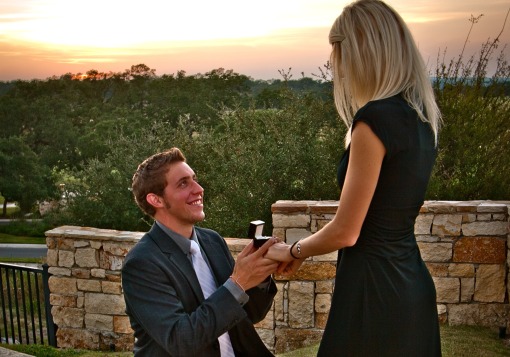 November 14, 2010: There have been some very exciting things happening in my life over the past several weeks!
I've been meaning to write a blog about it for a while and am finally getting around to it. There's no need to beat around the bush, so I'll just come right out and say it. Several weeks ago, on October 27th, the love of my life asked me to be his wife! I still can't believe it.
I am actually getting married.
I've been praying for my man for a while. 
I have been praying for my future husband since I was fifteen years old and have been curiously wondering when I would meet this amazing man. Little did I know that when I met Zack Clark over four and a half years ago, I was looking into the handsome eyes of my future husband.
Zack and I were casual friends for about three years and then became better friends in the summer of 2009. I liked him from the beginning and had a pretty good idea that he was fond of me as well.
I was instantly attracted to his godly character, leadership personality, love for children, his height, handsome face, and athletic abilities. I began praying more frequently for my future husband from that point on.
The day finally arrived when Zack expressed interest. 
After three and a half long years of wondering if things were ever going to work out between us, God finally opened the door! Zack approached my dad and expressed his interest in wanting to get to know me on a more serious level.
After several months of spending time together as friends, Zack officially began courting me with the intent of marriage. Our courtship consisted of us spending quality time together learning about our spiritual beliefs, convictions, personality differences, interests, and life goals.
We, along with our families, prayed fervently during this time that God would reveal His will to us. My dad was very involved in the entire process and built a great relationship with Zack.
After nine months of courting, God made the answer very clear.
Zack and I were, without a doubt, made for each other! Zack proposed to me on October 27th and asked me to spend the rest of my life with him. Tears began flowing from both of our eyes as Zack got down on one knee and told me how much he loved me.
As the setting sun displayed a beautiful orange and pink sky behind us, Zack asked me to be his wife. I emphatically said "Yes!" and then jumped on Zack giving him the tightest hug possible.
God has our love life under control. 
We serve an amazing God. He controls the entire universe and yet still cares about the little details of our lives. Our God is awesome! I know, from the beginning of time, that God chose Zack to be my husband. There is no other man on this earth that I am better suited for than Zack Clark.
When we allow God to direct our futures and our plans, we have no need to worry. He will guide us down the paths we should take.
When we strive to live a Biblical, God honoring life, we have no need to wonder what the future holds.
We can rest peacefully in the fact God is in control.
To read our wedding website bios, click here: Kristen's Love Story: Meet the Bride and Groom