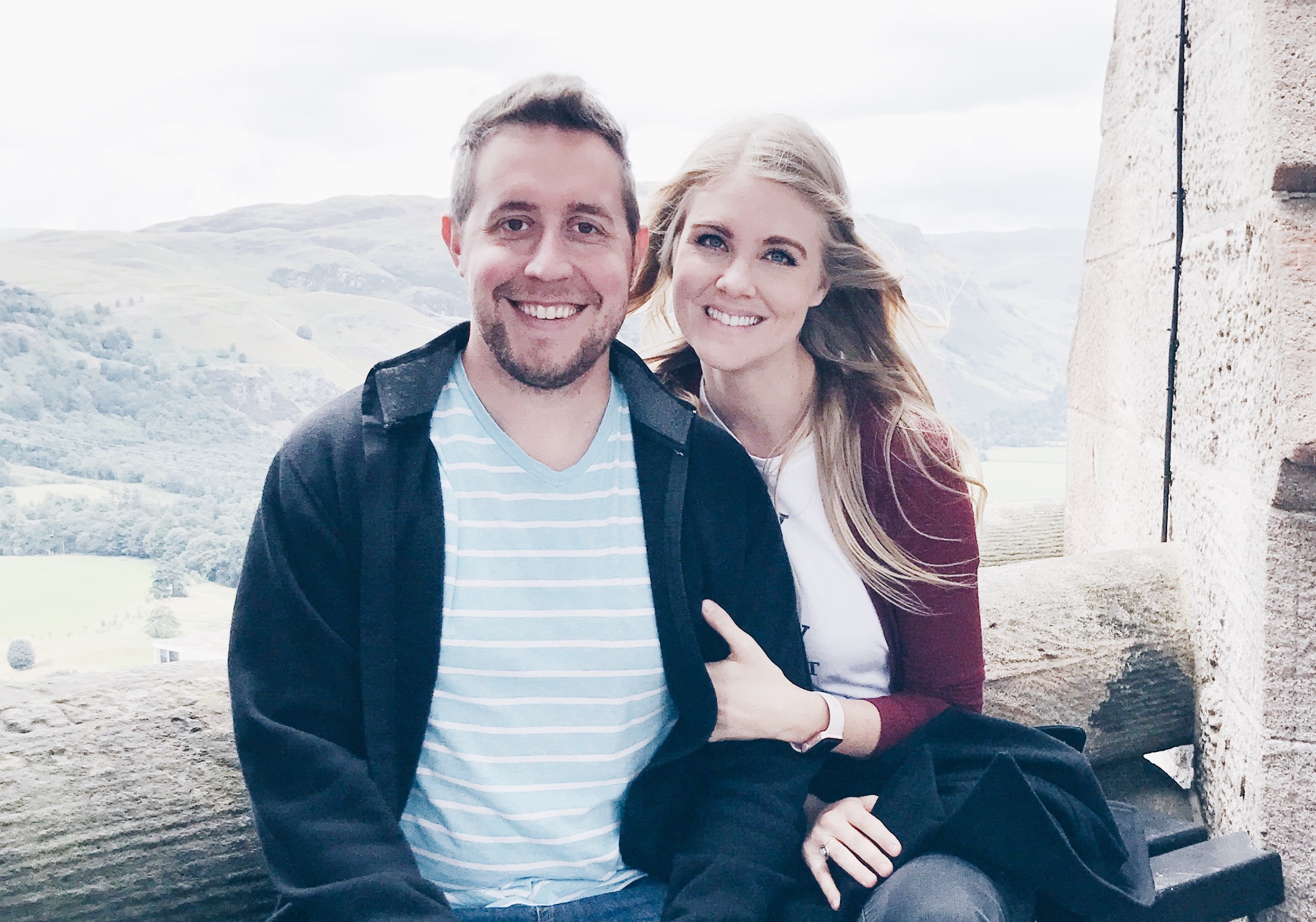 It was a warm Texas afternoon in May of 2006 when I laid eyes on Zack Clark for the very first time. I still remember the exact moment I noticed him. I was attending a Christian conference with my family and He was sitting several rows in front of us. I'll be honest, his strong and tall physique, sandy blonde hair, and tan skin were the first things that caught my eye.
But after meeting him the next day, I could tell there was something special about this guy. As I watched him interact with the people around us, he seemed very genuine, kind, and a natural leader. I was definitely intrigued.
After several days, we all parted ways at the conference.
I had no idea if anything would ever develop between us…but secretly in my heart, I was hoping it would.
Thankfully, I learned that Zack and I were from the same city and currently lived really close to one another, so this made me more hopeful!   
As the weeks and months stretched on, Zack and I saw each other occasionally at a local city event, a mutual friend's birthday party, or something similar — but he never made a move to pursue me. This was really hard for me. The more I interacted with him, the more I grew to respect and admire him. To my dismay though, our casual friendship would remain in this state for the next three years.
The next three years were a huge challenge for me to say the least. God was using this time to teach me a lot about patience, trust in Him, and surrender. In our new book, Love Defined, I share more of what was happening behind the scenes at this point, but for the sake of time, let's jump ahead.
Fast forward to the end of those three long years to 2009.
Zack was ready to pursue a relationship with me. He officially spoke up and expressed interest in me and asked if I would be interested in getting to know him more intentionally. Ahhh! I wanted to scream with excitement like a little girl. This was the moment I had been dreaming of for a very long time.  
Unlike the typical casual dating routine, Zack was interested in pursuing me with a purpose and an end goal in mind. As I share in Love Defined, "Zack wanted to begin a relationship with me for the purpose of seeing if we were well suited for marriage." 
So, with that end goal in mind, we were intentional with every step of the relationship process. In Chapter 13 (What To Do When He Comes Calling), I share four phases of the relationship process that I believe are a helpful pattern for any couple to follow. Rather than jumping headfirst into romance and infatuation, it's a good idea to build a solid friendship first.
Here's a flyover of what our relationship phases looked like:
1. Build an Intentional Friendship First
Since Zack and I didn't know each other beyond on our casual friendship, we decided to spend several months really getting to know each other on a basic level first. Rather than immediately singling off and diving into romance, we spent more time in groups, with our families, and with our friends. We wanted wise people to be involved in our relationship from the beginning. Zack and I asked each other a lot of basic questions during this time with the purpose of getting to know each other on a foundational level.
Here are some of the questions that helped me to know Zack better:
What does he believe about God?

What is his vision?

What are his passions?

What gives him purpose?

What drives him in life?

How does he spend his free time?

Does he understand God's purpose for marriage?

Does he value biblical manhood and womanhood?

Does he, a value purity and holiness?

Does he treat others respectfully?

Does he surround himself with godly influences?

Does he seek out personal accountability?

Is he actively involved in a local church?
These questions and others like them, helped me get to know more about who Zack was and what he valued. The answers to these questions helped me determine if it would be wise to continue moving forward. After seeking advice and input from my parents and godly friends, it seemed like a wise and good idea to continue in my relationship with Zack.
2. Moving into a Serious Relationship
Zack and I were now ready to move into a more serious relationship. As I share in Love Defined, "Once Zack and I had established a solid friendship, we naturally progressed into a more serious relationship. I could clearly see that Zack was a man of godly character and integrity. He desired to honor God in our relationship. He welcomed outside input and wisdom. He embraced the counsel of our parents and other godly people. For me, these were huge signs that Zack genuinely wanted to honor God.
During this phase of the relationship process, Zack and I took things to the next level with our questions, time together, and outside counsel. We asked deeper questions about specific things that would affect our lives if we were to get married (i.e. plans, career, views on gender roles, finances, kids, etc.). We spent more one-on-one time together, striving to get to know the heart of the other. We also sought more intentional outside counsel from wise people and even worked through a pre-engagement book together.
We established some physical boundaries as well and began enjoying some of the sweet, romantic aspects of the relationship (dates, flowers, sweet cards, etc). After 10 months of being in this phase, we were ready to decide if marriage was the next step.
3. Figuring Out if You Should Get Married
After 10 months of deeply getting to know one another, seeking outside counsel, praying our brains out, and working through a pre-engagement book, Zack and I were ready to make a decision.
But…to get the rest of the story, you're going to have to come back for Part 2 of this post. 😉 We're out of time here, but in the next post, I'm going to share with you how Zack and I decided to get married, how I knew he was "the one," and what I learned during my first year of marriage.
So be sure to come back this Friday for Part 2! And if you want to get this story in more detail (plus a bunch of other helpful relationship advice), grab a copy of Love Defined: Embracing God's Vision for Lasting Love and Satisfying Relationships). If you preorder by April 30th, you'll get an entire package of free bonuses too!
Now I want to hear from you!
What questions do you think are important to ask early in the relationship process?

What pros and cons have you seen between the casual dating scene, and going about relationships more intentionally?