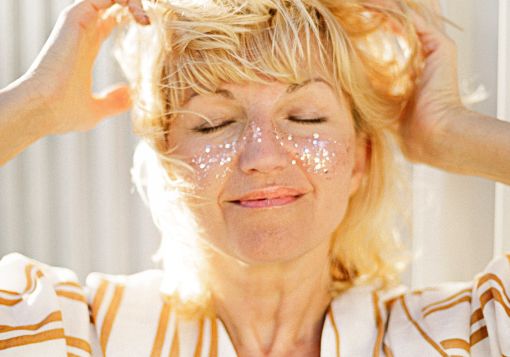 She barely looked up.
I pulled my cart into the aisle, unloaded the groceries onto the conveyer belt, and watched as she began scanning them. She still didn't look up—just kept her gaze down, as if afraid of making eye contact. I stood quietly for a moment as she worked.
She looks sad, I thought. No—more than sad. Hurt. Hopeless.
"How are you today?" I asked, breaking the silence.
She jerked her head up, a startled look on her face. "Good. How are you?" A default reply.
"I'm good, thank you." Back to silence. A familiar nudge pricked my heart. I should say something. But what? My tongue seemed glued to the roof my mouth. I shoved the thought aside.
She finished scanning the groceries. I smiled, wished her a good evening. She smiled back, almost tentatively, before ducking her head again and checking out the person behind me. I walked away.
I could've been kinder. Conviction pricked my heart. Could have tried to encourage her, help in some way. Offer some kind of hope.
But I didn't. Shamefully, I didn't.
Sadly, this isn't the only "I didn't" I've experienced.  My excuses are a mile high.
I don't have time. I don't know what to say. What if they think I'm strange? I'm not good at things like this.
I've turned away and stayed silent. Bottled the love of Christ in my heart, too sealed up with fear, doubt, and self-focus to let it pour freely. I've sat in church and heard messages about loving your neighbor, read verses about kindness, even prayed for more love . . . and then walked into the world, and kept it all to myself. I've said "no" to God's gentle nudge.
But now I say: no more.
Kindness Culture.
Our culture has a thing for kindness.
We tweet phrases like, "Spread kindness like confetti," hang wall art with the Cinderella catch-phrase, "Have courage and be kind," and wear T-shirts saying, "Always be kind."
But how much kindness are we actually spreading? How much love are we actually giving?
Most of this kindness culture is promoted by people who don't claim to be Christians. Being kind and loving is a moral code many ascribe to, Christian or not.
But for Christians, kindness and love aren't simply moral codes. They're commands.
Loveless Confetti vs. Holy Spirit Love.
Both kindness and love are mentioned in the much-quoted listing of the fruits of the Spirit. "But the fruit of the Spirit is love, joy, peace, patience, kindness, goodness, faithfulness, gentleness, self-control." (Galatians 5:22-23, emphasis added)
We look at this list and think we're okay because we're doing better than some people, or live out these characteristics most of the time. Like, sixty percent of the time.
But these characteristics aren't supposed to be evidence of our own striving, pleasant nature, or relative goodness. They're the fruit—the evidence—of the Holy Spirit in our hearts.
As Christian girls, shouldn't the kindness and love we show be supernaturally different from the average kindness of a non-Christian? Shouldn't the fruit of the Spirit be a little more . . . Spirit-filled?
What if we're settling for a counterfeit kindness culture? What if we're lowering the bar to what we can muster up in our own strength, and leaving the power of the Holy Spirit—and ultimately Jesus—out of the picture?
What if our version of kindness is more like confetti than we think? Weightless, pointless, and just a lot of surface-level glitz?
Doing it On My Own.
When it comes to showing God's love, I often try to do it on my own. And it never works out. I feel overwhelmed when I think about how God wants me to love others, and I feel guilty when I don't measure up. Because I never do. Looking at a world full of broken and hurting people fills me with panic, instead of compassion. Relying on my own strength and love leaves me empty-handed.
Jesus calls us to a deeper love than we can give on our own. He calls us to a more radical version of kindness. The type that goes the extra mile, turns the other cheek, gives freely, and loves our enemies while they're hating and persecuting us. (Matthew 5:38-48) That's why love and kindness are included with the fruits of the Spirit. Everything on that list is opposed to our flesh. They're not supposed to be an unattainable list of things we attempt to attain anyway, but areas where we cry out to God for help. Areas where we need Holy Spirit intervention.
God knows the world needs His love—desperately.
That's why He sent Jesus to live, die, and rise again. That's also why Jesus commanded us to love, and why He sent the Holy Spirit to be our helper. Because the world needs more than the kindness and love we can humanly scrape together. It needs Holy Spirit-powered love.
Loving others well starts with sitting at Jesus's feet, learning from His love, gaining a heart of sensitivity, and inviting the Holy Spirit to invade our hearts and flood us with His presence. We can't share Christ's love if we're not intimately connected to the Source itself.
Practically, it can look like a hundred different ways. From taking an opportunity to share the gospel, to paying for the person's coffee behind you in the Starbucks drive-thru, to praying with the people you meet in the grocery store, to giving food to the homeless woman on the street, to being kind to your co-worker who's always mean to you.
God uses both small and large expressions of kindness. Sometimes simply a smile and "thank you" can be more meaningful than you know. Mother Teresa said, "Do not think that love, in order to be genuine, has to be extraordinary."
The most ordinary actions can be channels for extraordinary love.
Looking back, I don't know what I should have done for the girl checking out my groceries. If I'd been sensitive to God's leading and not so wrapped up in myself, and concerned with my own comfort, I might have been able to reach out. Maybe God would have led me to ask if I could pray for her. Maybe He simply would have led me to invite her to church or thank her for the great job she did. I don't know, but I do know we'll never be able to reach out with a Christ-focused love if we live with an inward-focused mindset.
The point is to be so connected and in sync with God that His love flows through us, in every action, great or small, and sensitive enough to His voice to be obedient, even if the action makes us uncomfortable. Looking beyond ourselves and reaching out to others will make us uncomfortable. It's not easy to step outside our comfort zones, and risk being thought strange or different, or even being mocked or criticized for our kindness.
But it's time to take the risk because there's a hurting world that needs to know a greater and more genuine love. In all my acts of kindness, may I echo the words of John the Baptist, "He must increase, but I must decrease." (John 3:30)
Let's Start a Kindness Revolution
Isn't it time for a kindness revolution? Isn't it time we drop the corny sayings and get down to the serious business of spreading Christ's love?
On our own, it's impossible. With Jesus, it's more than possible.
I'm writing this from a place of learning. I don't have it all figured out and I'm far from perfect. I struggle with breaking outside my comfort zone and showing Jesus's love to others. But let's learn together.
Let's move past our paltry efforts and get serious about pursuing Holy Spirit kindness. Let's invite God to take the little love we have and multiply it into God-sized proportions. Let's cry out to Jesus and ask Him to fill our hearts with His love. Because it's so much better than ours.
The world doesn't need more of us.
It needs more of Jesus. It doesn't need more loveless confetti. It needs to grasp the solid love of Christ.
Let's be women whose lives are defined by the kindness we share and the love we live—the love of Christ in us.
I'd love to hear from you!
Have you ever struggled, like me, with trying to show God's love on your own?
Why do you think God commands us to love so radically?
What are a few practical ways you could show kindness today?
Bio: Sara Barratt is a 19-year-old writer, avid reader, chocolate lover, and lead editor for TheRebelution. Her first book releases Spring 2020 from Baker Books. Her passion is challenging teens to live sold-out and set-apart for Jesus. Connect with her on Facebook, Instagram, and her website sarabarratt.com.