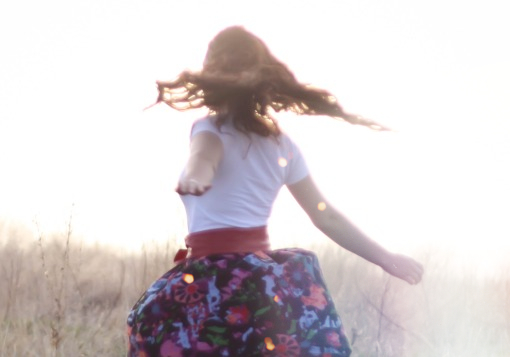 The other day I was listening to a conversation between my youngest sister and youngest brother. As I sat there (harmlessly) listening to this conversation I heard my sister mimic something I had said earlier that day.
I had no idea that Cali had been in the room when I said it but apparently she was and had just repeated me. Same tone of voice and everything!
This got me thinking.
It just goes to show how easily young people pick up on positive and negative things that are so small and insignificant to an adult.
I began thinking back to what I learned when I was younger from those who were older than me. Honestly, I learned a lot. Some good, some bad.
Jesus said in Matthew 18:6 that "Whoever causes one of these little ones who believe in Me to sin, it would be better for him if a millstone were hung around his neck, and he were drowned in the depth of the sea."
Jesus was serious when it came to harming His children.
He is serious when it comes to you being harmed and pulled away from Himself and His Word too. We are to be the example to the children/teens/peers around us. We need to take our example of Christ's bride extremely seriously.
What do you think is being taught to our generation today? Think about the schools, think about the media, think about the culture.
What is being fed to you on a daily basis? Well, the little kids around you are a lot more susceptible to the influences of the world because they are younger and more vulnerable. The last thing they need is another worldly-minded person to look up too.
We should take up our responsibility as examples to the younger generation with enthusiasm and intention.
You are a shining light in the dark. A city on a hill. A generation builder. A culture influencer. Don't let our culture and society influence or define you. Defy your peers who want to drag you down and make you one of them. Stand up to the crowd. Choose to be the influencer.
Instead of accepting the 21st century ways as the "norm" and complying with the ways of the world, you can influence the crowd.
You can.
You can start in your home, in your church, with your friends, and even go beyond that.
The little 13-year-old girl in your church will be an 18-year-old soon. What will she be like then? What influence will you have had on her life?
When we take into consideration the lives and futures of the younger people it helps us reevaluate our actions and behaviors in the present time because of the influence we have on their lives.
What will you do to contribute to the influence on our younger people?
Will you, like Jesus, die to self and take your Christ-exemplifying role model position seriously and strive to point others to Him? Or will you ignore the calling and go with the tide of your peers?
Romans 12:1-2 says, "I beseech you therefore, brethren, by the mercies of God, that you present your bodies a living sacrifice, holy, acceptable to God, which is your reasonable service. And do not be conformed to this world, but be transformed by the renewing of your mind, that you may prove what is that good and acceptable and perfect will of God."
When we refuse to be conformed to the world we are being conformed to Christ's image and therefore becoming a living example to others.
Here are 3 ways to combat the ways of the world and become an example to those around you and especially those younger than you.
1. Get a New Identity.
When you accepted Christ into your heart you were given a new identity. You were covered by Jesus' blood and bought with His love for you. You are highly valued and loved. When you make this your identity you become secure in your calling and no longer need people's acceptance and approval to feel good about yourself.
By having this security in your identity you can choose to separate or pull away from conforming to the world. In doing so, your life will be a shining example to all who see you.
2. Be a Student of the Word.
Become a student of the Bible. Try to read at least one or more chapters in your Bible every day. Underline verses that stand out to you and write them down. Dig into the Word and listen for God's voice. Do this every day.
Don't get caught off guard by the devil. It's important to keep your sword with you and knowing the Word of God is the best way to stay walking in the Spirit on a daily basis. This will not only keep your eyes open to recognizing the devil's temptations of the world but it will inspire you to encourage and bless others in the way of the Lord.
3. Pay Attention to Others.
When you are in a public place, at church, school, or work, try to keep your eyes and heart open. Try to see how others are doing. Make yourself available to others by being kind, outgoing and talkative. If you see someone who might need an encouraging word in their day, walk up to them and be a blessing.
Don't only pay attention to yourself and your friends. Be there for others just like Jesus. Also, don't forget to do the same thing at home with your family. They are the most important people to be an example to.
Thank you for taking the time to read this.
I hope you will take some time to seriously evaluate what kind of role model you're being to the younger girls around you.
Do your actions encourage younger girls to be pursue godliness in their actions, speech, dress and activities?
Would you be proud if a younger girl copied some of the things you do?
What are some things you can do to encourage the younger girls around you to become God-defined girls?
I would love to hear your thoughts on this topic so please leave a comments below.
*This guest post is written by Lisa Hallahan. To read more form Lisa, check out her blog called A Lovely Calling.  
Photo credit: www.flickr.com | 4526027880