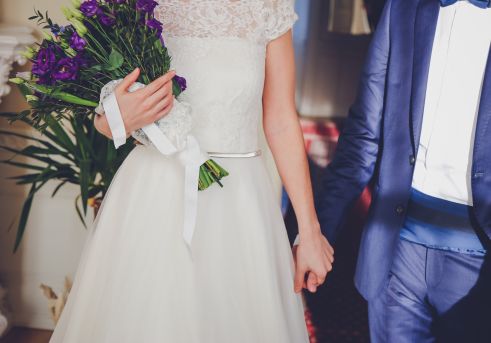 Today I get to introduce to you a 35-year-old love story. This couple is very special to me because they happen to be my parents.
I am so excited to introduce to you to Mike (my dad) and Heidi (my mom). With over 35 years of marriage experience, this amazing couple has been an example of love, faithfulness, and commitment. In a generation that is clueless on how to attain lasting relationships, I can't wait for you to hear from a couple with a proven resume.
Instead of listening to Hollywoods cheap advice, I'm offering you a front-row seat into a couple who's stood the test of time.
Give us a quick introduction of yourselves. How did you meet? How long have you been married? 
My beautiful bride, Heidi, and I met 38 years ago at Florida Bible College over appetizers at the Freshman Welcome Party. We had a lot in common, we were both really tall. But, we also had a love for children's ministry and foreign missions. We struck up a sweet friendship, studied together, served in ministry together…. needless to say, we were soon engaged and married a year later.
Our mutual love for God and children's ministry continued into our marriage. We moved to San Antonio and served in ministry together as husband and wife, which was an incredible unifying part of our marriage.
We also, started a business together, which was sweet. We spent a lot of time together working side by side. Soon, God began to bless us with children…. 9 children in 18 years.
We will be married 36 years this December and truly count every year a sweet blessing.
Was every year perfect… the answer is of course "no". There were times we found ourselves on our knees praying through some pretty stressful stuff. Unfortunately, many times we were too prideful to seek answers through wise counsel. But, through it all, in spite of our prideful hearts, God has been so gracious to us in many, many ways.
If you could go back in time and give your newlywed selves advice, what would you tell yourselves? 
If we could go back and counsel the newlywed Mike and Heidi, we would definitely tell them to seek out an older, wiser couple to give them some much-needed guidance and wisdom such as:
How to communicate better with one another in every area, never ignore problems. Get them out and talked about asap.
How to ask for forgiveness and choose to forgive often.
How to serve one another more humbly.
How to meet the others' needs more effectively.
How to seek to proactively praise and encourage one another.
How can single people best prepare for marriage? 
Having a godly mentor, whether you're single or married, is one of the most important things you can do. We were too prideful many times throughout our marriage to humbly seek advice, just assuming we could figure it on our own. How many roadblocks could have been avoided had we sought godly advice in those early years. We were young and just too prideful to ask for help many times. But, again, God is always gracious and merciful to see us through in spite of our prideful hearts.
He is the perfect picture of pure, unconditional Love.
Single or married, we all need to seek out guidance from older, wiser, godly folks. God did not intend for any of us to do life alone. As a single person, you can seek out an older wiser married couple now to begin forming good ideas for what married life should look like. Ask questions, spend time in their home, observe how they communicate and how they seek to love one another.
Heidi and I have such a deep and abiding love for each other and seek to serve one another and be a true blessing in each other's lives.
Love is a choice, not a feeling!
We are blessed to be lifelong best friends, sweet and loving husband and wife, father, and mother to our precious and amazing children, their sweet spouses and our adorable grandchildren.
We truly are blessed beyond measure and look forward to growing old together, serving and honoring one another and bringing glory to God through it all.
Thanks so much mom and dad for sharing with us!  
I'm so grateful for my parent's willingness to answer a few questions about their marriage. I would love to hear your practical takeaways.
In what ways can you better prepare for marriage as a single? Did they say anything imparticular that stood out to you?