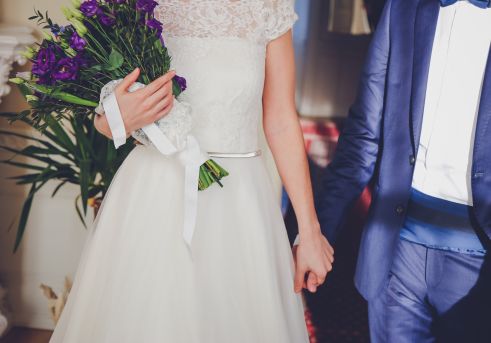 I grew up just like any other normal American girl.
I watched princess movies and read fairy-tale stories. From a young age, I quickly formed this idea that romance and marriage were the essence of a "Happily-Ever-After."
And They Lived Happily Ever After…
That's how every movie ended. If riding off into the sunset with your prince charming was the essence of happy, I sure wanted that.
Fast forward about 25ish years and I'm a grown woman. I'm a new bride married to my best friend and the man of my dreams. Although I have a pretty incredible husband, I've learned a few crucial things about marriage during this whole relationship season.
Marriage isn't about making all your dreams come true.
I know that sounds basic, but I seriously think that's how so many singles view marriage (I sure did). We genuinely think that a husband will make us the happiest woman on earth and that all of our dreams will come true. We think our "flaws" will just disappear and that we will magically transform into a perfect woman and saintly wife.
If that's the case, then why are so many marriages crumbling? Why are so many young couples experiencing such disillusionment? Why are husbands and wives looking to other people and other things to bring them happiness? Why do addictions and struggles continue after the alter?
I've realized that Satan is the king of the greener grass syndrome.
He wants single women desperate for a relationship. He wants them discontent and depressed about their season of life. On the other side, he does the same thing to married women. He wants them questioning their decision of who they married and he wants them longing for the "freedom" and "flexibility" of their single days.
Instead of embracing these candy-coated lies, we need to reject them. We need to look at our own hearts for what they truly are…sinful and naturally bent away from God. We need to acknowledge our weakness and work hard to become more like Christ in whatever season God has us in.
We need to believe that God is a good God.  
He can be trusted. He can satisfy no matter the circumstance. He can do what a magical unicorn could never do. He can give you the biblical truths you need to become a godly woman now and in the future. He can give you the strength you need to love your husband (if you're married) even when it's hard. He can give you the courage to sacrifice, forgive, and show true Christ-like humility to those around you.
Instead of waiting for your season of life to change in order to truly live, begin living right now!
There are no guarantees that you will ever get that next season of life. There are no guarantees that you will even be here tomorrow. The reality of our lives is this, we only have the day God has given us!
"Therefore do not be anxious, saying, 'What shall we eat?' or 'What shall we drink?' or 'What shall we wear?' For the Gentiles seek after all these things, and your heavenly Father knows that you need them all. But seek first the kingdom of God and his righteousness, and all these things will be added to you. "Therefore do not be anxious about tomorrow, for tomorrow will be anxious for itself. Sufficient for the day is its own trouble." Matthew 6:31-34
I want to challenge you to stop and evaluate your own heart. Have you been buying into the greener grass lie?  Do you believe a change of season or circumstance is the answer to your happiness?
Don't wait around for things to change.
Begin learning and growing and thriving right now! Right where God has you. It's totally possible to thrive to the fullest whether single or married.
If you are waiting for marriage to make all of your dreams come true, you will be sorely disappointed. Don't ask a human to do what only God can do. Look to Christ for your full satisfaction now and in the future.
PHOTO CREDIT