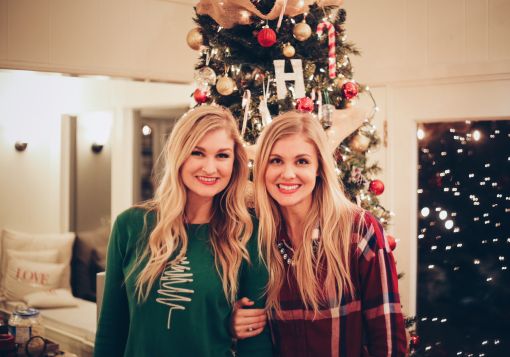 Hey Girls,
Wow! I can't believe this year is coming to an end. So much has happened in the Girl Defined ministry and I'm dying to share it with you.
The biggest (and most incredible) surprise of this past year started with a phone call.
"Bethany, you aren't going to believe this. We just got an email from a publishing company and they're interested in publishing us. This is what we've been praying for! You've got to come over asap and help me write an email back to them!"
When Kristen called and shared the news with me, I was floored.
The two of us had been praying about publishing a book for years *and years and years and years.* We never (in a million years) imagined that this would happen to us. We never thought a publishing company would reach out and ask us, two average girls from Texas, to write a book.
The e-mail from Baker Books (the company publishing our book) arrived in our inbox almost exactly a year ago. From that time, until now, God has done amazing things in Girl Defined and in the two of our lives.
I want to share with you a few of the major highlights from this past year. Kristen and I both feel like Christmas day is the perfect day to give thanks and glory to the God who made all of this possible. Without Him, we would be nothing.
The biggest highlights from the year.
1. Book Publishing Contract.
By far, our book contract was the biggest and most exciting highlight of the year. We can't wait to get this book (Girl Defined: God's Radical Design for Beauty, Femininity  and Identity) into your hands.  By the grace of God, this book turned out to be even better than we could have ever dreamed of or hoped for. God has totally blessed this project and we feel very confident that it will be a blessing to you. Keep your eyes on the shop for pre-order info.
2. Incredible Endorsements.
After the book was completely written, the publishing company assigned us the task of retrieving endorsements. An endorsement is basically someone (typically another author, speaker, or someone with influence) writing a tidbit of commendation to put in the first few pages of the book. We were totally blown away by the people who took the time to read and endorse our book. That process was nothing short of a miracle.  
3. Brave Girl DVD Curriculum.
Brave Girl: Embracing God's Best in the Midst of a Crazy Confusing Culture is a 6 week DVD study that we recently created. The study includes 6 weeks of video, group discussion guides, leader guides, and take home papers. This curriculum is in the final stages and should be released early in the new year. God totally provided everything we needed to create this study and we're so grateful we were encouraged to make it. I can't wait for you to see it.
4. Letters From Our Favorite Girls.
One of the most exciting and encouraging aspects of the ministry, is you. We love hearing from you girls. Whether it's an e-mail, a message on Facebook, a Tweet, or just a comment on the blog, we love hearing about how God is working in your life. The purpose of Girl Defined is to point other young women toward Christ. When we hear personal testimonies, we are greatly encouraged. You can contact us directly here.
Those are just a few of the highlights of this past year. God has truly made the following verse a reality in our lives:
"Now to Him who is able to do far more abundantly beyond all that we ask or think, according to the power that works within us, to Him be the glory in the church and in Christ Jesus to all generations forever and ever. Amen" (Ephesians 3:20).
What about you?
I would love to hear how God is working in your life. In what ways have you seen God work in your life? What would you like to praise Him for?
I hope you have a super Merry Christmas as you celebrate the Birth of our Savior.
Love Bethany (and Kristen)
Photo Credit: Girl Defined