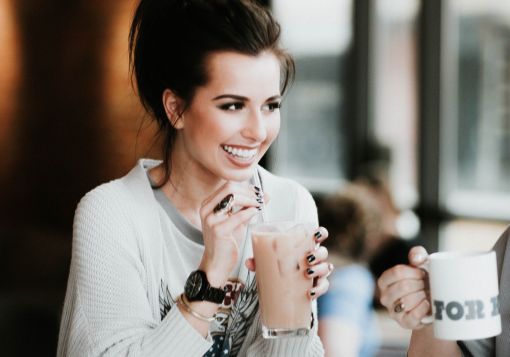 All my life, my family has welcomed people into our home on a regular basis.
From Bible studies and dinners to parties and overnight guests, my family has valued hospitality. I've watched (and helped) my mother cook giant meals and clean our house in preparation for guests.
My sisters and I have set countless tables and sampled many desserts before people have come to our home.
All throughout this, I've noticed that, in today's culture, hospitality tends to be shoved under a rug. We like the idea of Pinterest perfect parties and afternoons that come out of the pages of a magazine, but in reality, not everyone wants to welcome people into their homes. There are too many distractions, too much do, we're not ready, why can't we just go to Burger King…
This is a real tragedy.
Embracing hospitality doesn't necessarily mean turning into Martha Stewart. Hospitality is much more than being able to whip a nice dinner for guests. Recently, I asked my grandmother, the queen of hospitality, some questions to learn more about this lost art and its importance.
Here's some of our conversation:
1. Why is hospitality important to you?
Hospitality is important to me because it's my gift. God gave me the gift of hospitality and I want to use it to the best of my ability.
2. Why do you think women in today's culture should embrace hospitality?
Hospitality makes a community. When you are hospitable, people are drawn to you. Not to mention, God wants us to love our neighbor. Showing hospitality is a way to show God's love.
3. What advice on hospitality would you like to give to women in today's culture? 
I think women don't show hospitality because their house is messy and they're not prepared for guests. I always try to be ready. For example, if my husband says someone is coming over, I can make a chocolate cake. I can do this because I try to make sure that I always have the ingredients to make a chocolate cake on hand. I also try to keep my house as tidy as possible for guests as well.
4. Any final thoughts? 
I think we all should try to be hospitable because God wants us to love our neighbors as we love ourselves. Hospitality is a way we can show his love.
Hospitality shouldn't be forgotten or swept under a rug.
Hospitality is important in the Bible. We see Abraham showing hospitality to strangers (Genesis 18:1-8), Mary and Martha showing hospitality to Jesus (Luke 10:38), and the people of the early church showing hospitality to each other (Acts 2:46).
In fact, hospitality is even commanded in the Bible! 1 Peter 4:9 says, "Show hospitality to one another without grumbling."
Hospitality is something that needs to be practiced and valued, especially in today's hurting culture.
For ideas on how to practice hospitality, check out some of our recent posts:
Why Modern Girls Should Embrace the Lost Art of Homemaking
Bethany's Secrets to Planning, Hosting, and Throwing a Fabulous Party
What do you think?
How can you show hospitality this week? Do you have any advice on hospitality for others? What impact have you seen hospitality have?
This guest post was written by Micaiah Saldaña. She is a teen writer and blogger. Check out her stuff at Notebooks and Novels. To Submit a guest post to Girl Defined, click here.