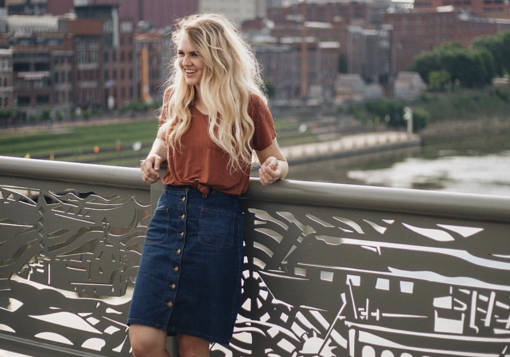 Big tears streamed down my face. I just knew I was destined to a life of drabby, old-fashioned clothing. I was sixteen, and my parents and I were having another modesty conversation.
I wanted to be fashionable, but I felt like my parents were dooming me to a life of turtlenecks and bonnets.
They did their best to explain that modesty didn't have to look old-fashioned.
They encouraged me to have fun and explore styles but not to compromise on my modesty standards.
After years of trial, error, tears, and lots of creative thinking, I've finally come to understand the balance of fashion and modesty my parents were pushing for. They were right! I can dress modestly while still looking totally adorable. I don't have to choose one or the other.
Fashion and modesty truly can go hand-in-hand.
Maybe you've experienced a "tears streaming down your face" moment too. You want to have fun with your fashion, look trendy, but still pursuing modesty. You feel discouraged because you can't seem to find the balance.
I'm here to bring you some awesome news. It can be done! You can dress cute and trendy without giving up on modesty.
Today I want to bring in one of the pros to give us some of her tips and tricks.
I've decided to interview my sister, Rebekah Baird! Rebekah is nineteen years old and has a passion for encouraging Christian girls in the areas of fashion, beauty, and modesty. She's created an entire blog to inspire all of us in this area.
I asked her a few questions and she gave some awesome answers. Here's what she has to say about combining modesty and fashion:
1. How do you dress modestly while looking totally adorable in the process?
I've learned that it takes a lot of creativity to dress fashionably and modestly. It's not impossible; it just takes extra work. Creativity is the name of the game! When I see a new fashion trend hit the stores, I creatively think of ways to make that trend work in a modest way.
2. What are some of your favorite modesty hacks?
I absolutely love modesty hacks! They help me maintain my fun sense of fashion while still remaining modest. A few of my favorites are:
Denim jackets over tight shirts or shirts that don't have enough coverage.
Fitted tees underneath spaghetti strap dresses is really easy and stylish.
Long shirts are great for adding extra coverage to the rear area if the pants are tight.
Camisoles. I wear them under everything to add coverage up top and to keep my midriff from showing.
3. Can you share with us a few of your favorite trendy pieces?
I love the hair scarf (not to be confused with a regular scarf) because it adds a really cute touch to just a plain outfit. Hairstyles make a big difference with the outfits. I personally love cute hairstyles because they add a super fun touch. I also love a fun lip color. I feel like it adds a great pop to the outfit.
4. Do you have any wisdom or advice to share?
Modesty doesn't have to be about dressing old-fashioned; you can dress trendy in a modest and feminine way. It just takes a little extra effort. Don't compromise your modesty standards, just get creative.
It's your turn.
How do you maintain modesty while still dressing fashionably?
What are a few of your favorite modesty hacks?
Photo Credit: Ellissa Baird