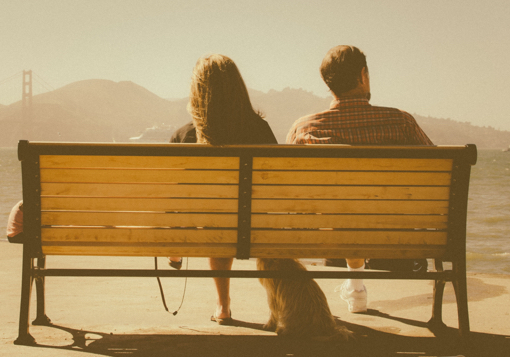 My husband and I recently celebrated two years of marriage. Yes, that's not a long time compared to some, however God has taught me a lot.
Let me just say this upfront – life doesn't get easier when you get married.
I'm sorry single friends…life doesn't magically get easier with a man by your side (even if he's amazing).
After marriage, I realized how truly selfish and sinful I can be.
I used to think it was extremely odd when I heard about people divorcing after two years. Then I got married and realized how selfishness can easily lead down a devastating road.
As I allowed "my personal rights" to interfere with my marriage, suddenly those divorce statistics made sense to me.
Selfishness kills beautiful relationships. Holding on to "personal rights" destroys marital unity.
Another area I saw my selfishness and "personal rights" come into play was in my living arrangements.
I would have LOVED a house to call home and the security that home ownership brings. This might not be a big deal to some, but I was pretty upset that my need for a house wasn't being met.
And sadly, I blamed my husband for this inconvenience.
I would get really mad when I didn't see any fruit from my "I'm pouring my heart out to you, do something" sessions. And…that would inevitably end with me shutting down and being extremely unhappy.
Please know that my husband is very sensitive to my needs.
So for me to have even entertained the thought of divorce was very scary, and very eye opening for me. Praise the Lord that Jesus is ever-present to catch us. He helped me fight those selfish thoughts.
Am I cured? No. I will have to fight this battle everyday. My husband can't meet all of my needs.
Over the past few years, I have learned that marriage can't make me happy. My husband can't make me totally happy. Only God can.
I have learned the very hard lesson that selfishness doesn't get you what you want. Not ultimately.
The more I focused on my life the less I became focused on God. The more I focused on my "rights" the less happy I became in my marriage.
In the end, I lost focused on the most important thing…
I lost focus on the fact that my life isn't about me! It's about God.
As Psalm 115:1 says, "Not to us, O LORD, not to us, but to Your name give glory because of Your lovingkindness, because of Your truth."
So here I am now.
I would now consider myself a happily married woman. Will marriage be smooth sailing in the future? Most definitely not. However, I have learned where my hope and trust needs to be. I know that my Heavenly Father will give me His truth, through His word.
I will have to make the choice to step out in faith and remember that His way is perfect and His way will ultimately bring me amazing satisfaction.
Whether you're in a relationship, married, or single – this lesson is for you. Total satisfaction cannot be found in any relationship or marriage. Selfishness will not bring about the results you're hoping for.
The only way to find lasting satisfaction, is by surrendering your desires to God, and placing your entire hope in Christ alone.
I'd love to hear your thoughts on this topic below.
In what ways have you pushed for your "desires" and then ended up unsatisfied in the end?
How have you seen your selfishness ruin your satisfaction?
This guest post was written by Amanda Welch. If you're interested in writing a guest post for GirlDefined.com click here. 
Photo Credit: Here