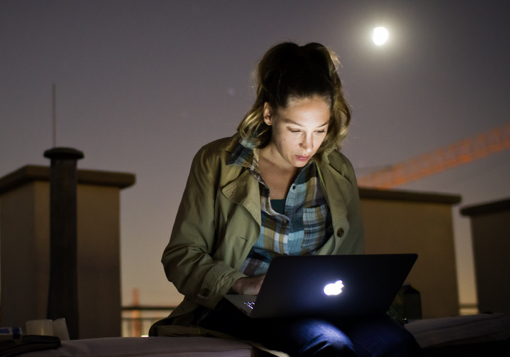 Dear Women of the #ShoutYourAbortion Movement,
I saw your popular hashtag on social media the other day and was instantly curious. I quickly did a google search. After reading many of your articles explaining why you did this, I think I'm beginning to understand.
Although you might classify me as a right wing fanatic, I'm honestly trying really hard to see things from your perspective.
I was tempted to write an article blasting you, explaining why I think you're wrong. But then, why would you want to read another article written by some conservative only interested in tearing you apart?
Instead, I decided to stop and think.
I decided to think really hard about where you might be coming from.
After reading dozens of your tweets and comments surrounding #ShoutYourAbortion, I'm beginning to see your perspective. Behind every idea is a worldview, right? And behind every worldview is a want.
You want something out of life, just like I want something out of life.   
Sure, we may be coming from polar opposite political views and worldviews, but at our core, I think we both want the same things as women.
We both want happiness.
We both want successful lives.
We both want respect from others.  
We both want to be valued.
We both want power to accomplish great things.
We both want satisfaction in our lives.
We both want hope.
We both want all of those things, right?
We're both women, and we both have similar wants.
Before you read any further, please know this: I am not writing this letter to manipulate or belittle you. I am truly writing this letter with a heart of sincerity and love. I honestly want to help you get want you want. What we both want.
Based on your articles and tweets, you believe happiness is found by standing up for yourself. By doing what's best for you first. You believe happiness comes through having total control over your body and your sexual choices.
You believe that success is found once you accomplish your personal goals and make a name for yourself.
You believe respect will come from being a strong woman who is empowered to do whatever she wants.
You believe a woman's value is based on her accomplishments and her contributions to society.
You believe power comes from within yourself.
You believe ultimate life satisfaction is achieved by having total control over your career, love life, and circumstances.  
You believe hope is found in the possibility of good circumstances to come.  
Having a great life largely depends on you making it happen for you.
You are a woman driven by your wants, just like me.
Like any human being, you are taking the best course of action you know to get what you want.
What makes you and me different isn't our wants, but our course of action. Essentially, we believe different paths will get us to the same "wants." That's where we differ.  
Now before you jump to conclusions and think, "this is where she tells me my path is wrong…", hear me out. What if there was a God and He came to your house tonight and wrote down the secret to happiness, success, and life satisfaction on a piece of paper.
What would you do with that information? What would you do with that piece of paper?
I'm guessing you would do what anybody would…save it and carefully follow its instructions.
The truth is, a real God did come down to this earth to give us those exact instructions, only it happened 2,000 years ago. A real God came down to planet earth to show us how to get what we want. He even wrote it in a Book for us to keep.
This God knows what we want because He is the same God who created us.
He handcrafted you and He handcrafted me. He knows what will make us happy, satisfied, and content as women because He made us. And He loves us.
Here is God's recipe for obtaining lasting happiness, success, respect value, power, satisfaction and hope.
Happiness:
Since God created us, we cannot find lasting happiness and peace apart from Him (not my words, His). God says, "Happy are the people whose God is the Lord" (Psalm 144:15). "Delight yourself in the LORD and he will give you the desires of your heart" (Psalm 37:4).
Success:
When we die, our earthly accomplishments won't matter anymore. What will matter is if we were successful in God's eyes or not. Here's how God defines success: "Do not be conformed to this world, but be transformed by the renewal of your mind, that by testing you may discern what is the will of God, what is good and acceptable and perfect" (Romans 12:2).
Respect:
We live in a world where respect has to be earned by the people we're trying to please. However, God judges by a different standard. "I understand that God shows no partiality, but in every nation anyone who fears him and does what is right is acceptable to him" (Acts 10:34b-35).
Value:
You don't have to earn your value. God handcrafted you which gives you immense value and worth in His sight. "For you created my inmost being; you knit me together in my mother's womb. I praise you because I am fearfully and wonderfully made; your works are wonderful, I know that full well" (Psalm 139:13-14).
Power:
As much as you try to muster power from within, it just isn't enough sometimes. Listen to this amazing promise: "He gives power to the faint, and to him who has no might he increases strength. Even youths shall faint and be weary, and young men shall fall exhausted; but they who wait for the Lord shall renew their strength; they shall mount up with wings like eagles; they shall run and not be weary; they shall walk and not faint" (Isaiah 40:29-31).
Satisfaction:
Life is short and then you die. Lasting satisfaction only comes from living your life for God's glory, which is motivated by the promise that you'll spend all of eternity with Him. "You make known to me the path of life; in your presence there is fullness of joy; at your right hand are pleasures forevermore" (Psalm 16:11).
Hope:
Life without hope is pointless. That's why many people commit suicide. Having hope for this life, and the life to come is what will give you the encouragement to keep living. "May the God of hope fill you with all joy and peace in believing, so that by the power of the Holy Spirit you may abound in hope" (Romans 15:13).
Whether we accept God as our Creator or not doesn't change the fact that He is, indeed, our Creator.
He is the only One able to satisfy our deepest longings, give us hope and purpose, and fill our lives with peace.
This letter isn't really about abortion at all. #ShoutingYourAbortion is just a symptom of a much deeper heart's cry. It's a symptom of a deeper longing and want. God has saved me from my sins and given me eternal purpose and hope, and I sincerely want the same for you.
I pray you find the answers to your wants…and I pray you find them in your Creator, the God who loves you more than anyone in this world (John 3:16).
As a woman, my heart goes out to you.
I pray your future is filled with truth, hope and abundant life in Him. Thanks for reading!
Sincerely,
Kristen
PS I'd love to hear from you in the comment section, or shoot me a personal email here.
Photo credit: Here