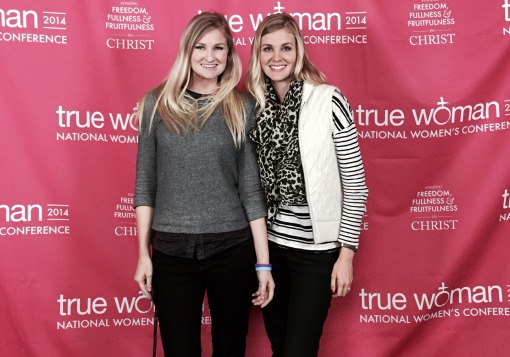 Tuesday night Kristen and I packed our bags, preparing to fly out the next morning to attend one of the best womens' events in history. Which event is that? The True Woman '14 Conference hosted by Revive Our Hearts and Nancy Leigh DeMoss.
It's seriously the most counter-cultural, mind-blowing, life-changing event that a young woman could attend. That is why I love it so much and why I wish each and every one of you could be here. Since you weren't able to make it to the conference, I want to give you a snapshot of the opening ceremonies and share some quotes from these top notch authors and speakers.
When it comes to getting the best seats at a conference, Kristen and I don't mess around. 
We arrived over an hour and a half early, ate dinner in front of the closed conference doors, braced ourselves for their opening and sprinted (ahem, I mean walked) to the front. Our efforts paid off and we sat as close as an attendee could possibly sit.
We were front and center as we sang praise and worship with Keith and Kristyn Getty, listened to a life changing message by Joni Eareckson Tada and sat in awe as Nancy Leigh DeMoss gave an incredible dramatic recitation of over thirty-minutes of Scripture memory.
It was amazing! 
We are both being refreshed, revived and challenged to pursue God in a deeper way. Not to mention we are so encouraged by the fact that over 8,000 women are attending a conference on how to be a God Defined, True Woman. We are not alone in our fight for godly womanhood.
Let me introduce you to a few of the speakers and give you a glimpse of their passion for God defined womanhood.
Mary Kassian
"Your womanhood is not a biological accident. It's not a matter of chance. God was intentional when He made you a woman. And He wants you to discover, embrace, and delight in the beauty of His spectacular design. He wants you to enjoy something so much more valuable than the world's cheap imitations and knock-offs. He wants you to be a True Woman!
What exactly is a True Woman? 
She is, quite simply, a woman who is being molded and shaped according to God's design. She's a woman who loves Jesus and whose life is grounded in, tethered to, and enabled by Christ and His gospel. As a result, she is serious about bringing her thoughts and actions in line with what the Bible says about who she is and how she ought to live. She is a woman who rejects the world's pattern for womanhood, and gladly wears God's designer label instead."
Susan Hunt
"It is time for women of biblical faith to reclaim our territory. We know the Designer. We have His instruction manual. If we don't display the Divine design of His female creation, no one will. But if we do, it will be a profound testimony to a watching, needy world."
Kimberly Wagner
"The truly beautiful fierce woman has an otherworldly strength derived from a source beyond herself. She's plunged in fully to the forgiveness and love of Christ, and He holds her heart so completely that she's reached true contentment. Her identity is forged through abiding in Him, and her courage is displayed by her commitment to Him and His cause. 
He is her driving motivation and propels her by the wind of His spirit. Her passion is stoked by His fire. She is no 'halfhearted creature' but is drinking deeply of Him and experiencing infinite joy." 
I wish you were here! 
I so wish each and every one of you could be here in Indianapolis to soak up these incredible messages. As you can see from the quotes, the speakers are sharing important truths that we rarely hear taught these days.
If you are able, I would highly recommend logging into the free LIVE stream for the conference. We would love to have you join us from your computers. Keep your eyes peeled for two tall blondes in the audience. We will most likely be near the front!
With that said let me leave you with an amazing quote and question by one of my favorite speakers, Nancy Leigh DeMoss.
"I am convinced that the influence of an army of godly women will be incalculable–in our homes, our churches, and our culture. Will you be one of those women?"