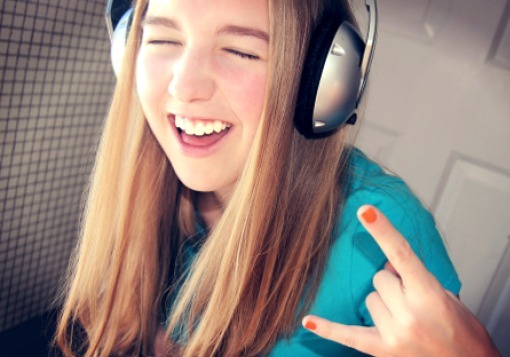 I pulled into a carwash the other day to use the vacuums and couldn't help but hear the loud rock/pop music coming from the SUV next to me. I looked over and saw a lady (probably 40 years old) vacuuming out her car, with what appeared to be her 3 year old daughter sitting in a carseat. I smiled at the little girl and waved. She returned my wave and gave me a sweet, innocent smile. It was impossible for me to avoid hearing the lyrics of the loud song as we vacuumed our cars side by side.
The song was about partying, being sexy, having sex, drinking and a whole bunch of other explicit things.
I was shocked that a mom would play such loud, inappropriate music in front of her own daughter. I glanced over at the mom again to see if she looked concerned about the sexualized lyrics pumping through her car. She wasn't phased a bit. In fact, she seemed to be enjoying the music.
I wondered if that mom even realized what she was doing. I thought mothers were supposed to protect and guard their kids from stuff like that. I left the carwash feeling sad for the mom and the little girl. I knew the mom had no clue about what kind of atmosphere she was raising her little daughter in, and I felt sad for the little girl for having to endure such explicit content. That scene was heavy on my mind as I drove home.
As I thought about what had just happened, I felt a small voice inside of me ask a probing question.
What kind of example are you being to the little kids in your life? Are you doing anything that could lead your little brothers or sisters down a wrong path?
I was immediately reminded of how important it is for me, as an older person, to be careful of the things I do around younger people. Whether we realize it or not, younger girls are always watching us. When we are around them, they are observing our actions, speech, clothes, etc. No matter how old you are, you have a curious audience.
Don't you remember how intrigued you were by older people when you were a kid?
I remember being a kid and thinking teenagers were the coolest things in the world. I couldn't wait to be a "teenager" when I grew up. I remember watching what the girls wore, how they did their makeup, and what they acted like around their friends. The crazy thing is, most of the older girls I watched had no idea I was observing them!
My question for you today is the same one I asked myself after I left the carwash that day. What kind of example are you being to the younger people in your life? Do your clothes, actions, speech, media choices, etc. encourage the younger generation toward godliness? Is there a habit or behavior in your life that you wouldn't want a younger girl to copy? Jesus had strong words for anyone who led a younger person astray:
"But whoever causes one of these little ones who believe in me to sin, it would be better for him to have a great millstone fastened around his neck and to be drowned in the depth of the sea" (Matthew 18:6).
It's a serious thing to cause a younger person to sin as a result of your actions.
According to God, it's not something we should ever take lightly (i.e. millstone). Take some time today to examine your actions and ask God to show you any areas that you may need to change. As older girls, we have the privilege and responsibility to show our little sisters-in-Christ what a godly girl looks like.
"There are little eyes upon you and they're watching night and day. These little eyes upon you take in every word you say. There are little hands all eager to do anything you do; And a little girl who's dreaming of the day she'll be like you."
– Kimberly Sedlacek
Photo Credit:  freedigitalphotos.net = Dan