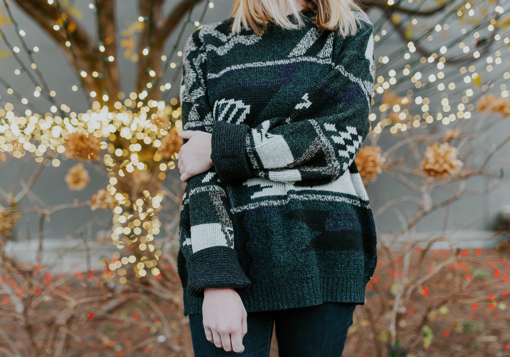 You've got to be kidding me! I thought. This is absolutely crazy. With my basket full of Christmas presents, I navigated my cart to the back of the insanely long checkout line. There had to be at least 30 people in front of me. I scanned the contents of various baskets as I passed by.
Yep. They're here doing the same thing. I thought. Why didn't I plan better?!
Everyone knows that last minute Christmas shopping at a really popular store is pretty much the worst idea ever. And here I was. Waiting in line at the store. Basket-to-basket with all the last minute shoppers.
Frustration stirred inside of me. I wasn't mad at the store. I wasn't angry at my fellow procrastinators (okay, well…maybe a little). I was primarily frustrated with my severe lack of planning and timing.
I decided to pull out my cell phone and check my email to help the time pass.
And that's when it hit me. This is Christmas time. This is supposed to be "peace on earth" time. This supposed to be "all is calm" time. This is supposed to be "glory to the newborn King" time.
But it wasn't. At least not in my heart.
As I stood there in line with my grumpy pants on, I felt a sense of nudging at my heart. Don't forget what Christmas is truly about. Taking a deep breath, and stepping a few feet forward in line, I thought about Christmas.
Not the presents, shopping, music, and peppermint mochas.
I thought about Jesus.
I thought about this King of the world who was born in a humble stable. I thought about Mary and her incredible trust in God. I thought about Joseph and his obedience to marry his pregnant fiance. I thought about the shepherds and their excited anticipation to see the Messiah.
As these reminders filled my mind, the true meaning of Christmas refreshed my heart. Christmas is about Jesus.
Suddenly, the mile-long shopping line wasn't as big of a deal. My "lack of planning" wasn't the end of the world. My circumstances weren't the problem, my heart was. In the midst of the shopping, shopping, shopping I lost sight of the bullseye. I forgot the meaning of Christmas. I overlooked the very Person I was celebrating.
Thankfully, God was gracious to nudge my heart and draw me back to what really matters.
In the middle of a bustling store, my heart found peace and joy again.
Christmas is about celebrating and cherishing Christ. If you're anything like me, I'm guessing you struggle to keep Christ at the center of your heart during Christmas as well. As the busy weekend approaches, I want to challenge you with the same challenge I'm giving to myself.
Slow down. Be still. Cherish Christ.
As I look forward to this weekend and Christmas Day, I don't want to miss the most important thing. Jesus. I'm going to make intentional efforts to slow down, grab my Bible, and read about my Savior. My heart needs moments to be still. To reflect. To pray. To thank God for being my God.
If I don't make intentional efforts to this, I will blow past Christmas without cherishing the Meaning of this holiday.
I don't know what your weekend has in store for you, but I do know that if you aren't intentional to cherish Christ you will miss Him. I can't encourage you enough to plan some margin into your schedule. Turn off your phone and close your computer and open up God's Word. Spend time reading about our amazing Savior in Luke 1-2. Spend some time being still and praising God through prayer.
If you want some additional reading to help you focus on Jesus this season, I highly recommend looking into the following posts:
Will you join me in treasuring Christ this Christmas? I hope so. I'm praying for you. May we be women who join with Mary in saying, "My soul magnifies the Lord, and my spirit rejoices in God my Savior" (Luke 1:46-47).
Let's praise his name together!
"And his name shall be called Wonderful Counselor, Mighty God, Everlasting Father, Prince of Peace" (Isaiah 9:6b).
"Glory to God in the highest, and on earth peace among those with whom he is pleased!" (Luke 2:14).
Merry Christmas!
I'd love to hear from you below.
In what ways do you find it challenging to cherish Christ during Christmas?

What is your favorite part of the Christmas story? Share with me below! 🙂