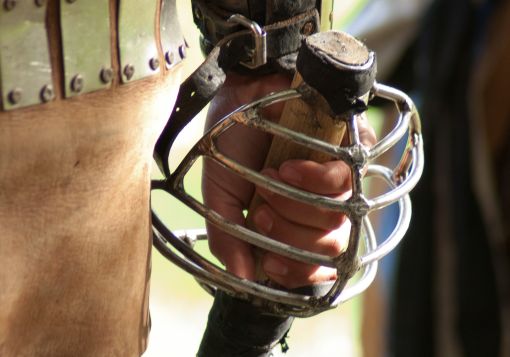 If you're like some girls I know, you think chivalry has gone extinct. Or at least is in hibernation. Even as a guy, I look around and see so few men being courteous to women.
It's surprising (not to mention embarrassing). I am constantly asking myself "Is chivalry dead?" Let me be honest: I don't think it is. I see examples of it in men all around me. It's just not as common as it used to be.
Noah Webster's 1828 dictionary defines "chivalry" as "the system of knighthood; the privileges, characteristics or manners of knights; the practice of knight errantry [if you're wondering what "errantry" means, it was used to describe knights who roamed the land seeking adventure and displaying their heroism and generosity] or the heroic defense of life and honor."
A knight was bold, gallant, warlike, and inspired other men and boys to follow in his footsteps.
I hate to break it to you, but I'm not seeing many examples of "knighthood" in our culture today.
The only "night" some guys seem to know is the time of day when they can roll over and go to sleep with cheese puff residue still on their fingers after a long hard day of…video games.
Knowing that quite a few guys wouldn't even know it's polite to open a door for a woman makes it all the better when I see a man of any age opening doors, carrying bags, or whatever it might be to show that they care for women. Because at the root of chivalry is sacrifice.
As bold, gallant, or warlike as a true knight is, his actions are grounded not in personal gain but in service to others.
You might be asking yourself, "Well that sounds great, but besides (insert name) and (insert name), the guys around seem pretty lame."
I'd have to agree with you. What's causing this?
One factor is that we don't embrace and acknowledge the unique way God created men and women.
We turn differences into hindrances.
Let me explain: the world thinks that if a woman allows a man to do something for her, somehow she's "weaker" or more insignificant. This leads her to refuse any help from a man whatsoever.
Which makes the man feel like he's not needed. If he's not needed, why should he treat any woman with respect or courtesy? (Let me share a secret here girls. Guys hate rejection. But they hate feeling unnecessary even more.)
Recently I was on a business trip and spent several days with longtime family friends. On one of our first outings, I informed their daughter that "when any woman is with me, I open her door. That's just how it is." She pushed back, saying that it was nice but that it might make her look like she was lazy or couldn't do it herself, and just taking advantage of me.
I continued to get her door after that but it didn't feel the same.
"Guys like to be appreciated" a friend recently told me, and I agree.
99.9% of women I know would be thrilled if the men in their lives were true gentlemen. If you're wondering how to spur on guys around you to be that gentleman, here's one thing I would suggest that you do: ALLOW, yes, allow guys to open the door, get your grocery bags, open your car door.
This is encouragement enough for a guy in my experience to step up and be a man. And ladies, please, I ask on behalf all men everywhere – show that you're grateful for a man in your life who treats you well.
Proverbs 16:24 tells us that "Gracious words are like a honeycomb, sweetness to the soul and health to the body." Encouraging words can make a huge difference to a guy! You may not have a knight in shining armor by tomorrow, but you will have a Godly man stepping up to become a real man today.
There will never be the perfect man.
In fact, throughout all of history there has been only one who was perfect: Jesus Christ. He cared for those who were looked down upon (Matthew 14:14), was passionate about things that mattered (Matthew 21:12-13) and loved children (Matthew 19:14). He took our sins on Himself and died a horribly painful death (Matthew 27:32-54). His own father had to turn His face away from Him. THIS was the ultimate sacrifice anyone will ever make.
And the good news? He rose from the grave three days after His death and was reunited with God the Father, making it possible for all of us one day to live with the King of Kings, Lord of Lords, and ultimate example of chivalry for eternity.
That is sacrifice. That is love.
For more reading on this topic, especially if you want to pass an article on to a man in your life you know would like it…or needs it, check out Matt Walsh's blog "Chivalry is Out of Style".
As a guy, I personally think it's really smart for a girl to embrace chivalry. It will not only encourage men towards God given masculinity, it will also encourage girls to embrace God given femininity.
Let me hear your thoughts! 
When a guy in your life is chivalrous/courteous to you, how do you show them you appreciate them?
What are some other ways girls can encourage guys in their quest for chivalry?
Photo credit: www.flickr.com | 49268016