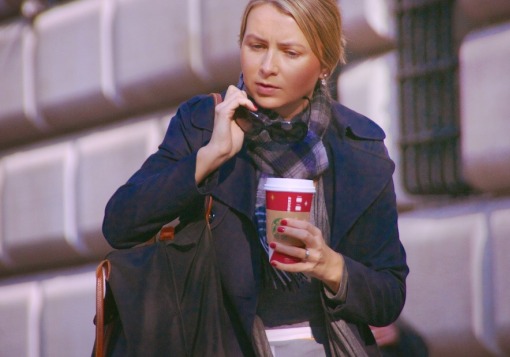 It was a hot, Texas summer day, and I was headed to Starbucks to get an iced vanilla latte. Right as I pulled up to the speaker to order my drink it happened…
The Holy Spirit started convicting my heart.
I had a gospel tract in my purse, but I was not in the mood put to pass it out. I started talking to myself. I go to this Starbucks all the time. They are going to think I'm so weird if I give them a tract. My conversation between myself and the Holy Spirit continued on…until I finally gave in and decided I would pass out a tract when I got to the window.
Fear Struck Again
There was a certain lady who worked at Starbucks from whom I never seemed to get a friendly vibe. I'm not sure if she didn't like to smile or if she just plain didn't like people, but I started praying she would not be at the window.
She was the last person I wanted to give a gospel tract to. I'm sure she'll reject it. She is so scary. Ahhhh, I thought. Within a few seconds I pulled up to the window with money in one hand and the tract in another.
I looked up, and there was the lady I was praying would not be there! I smiled, paid for my drink, and with a trembling hand reached out and handed her the tract. I said, "This has the best news in the entire world in it. It's completely changed my life. You should read it some time."
She took the tract, looked at it, and kind of chuckled. I waved goodbye, and that was it.
Shortly after that experience, she stopped working at that Starbucks and I've never seen her again. I can only wonder what happened to the tract and pray that she read it.
You Can Do It, Too!
We encounter people every day of our lives. Each time you speak to someone at the grocery store, drive-thru window, nail salon, or restaurant, you are speaking to an eternal being.
That person you encounter for those few seconds will spend all eternity in either heaven or hell. One day, just like you and me, they will die and go to one of those places.
As a Christian, you have the opportunity to share the best news in the entire world with them. You may not have enough time to take them through the "Romans road" as you zoom through the drive-thru, but you can leave them something that contains the gospel in it.
Don't Roll Your Eyes
Before you roll your eyes and think, yeah, yeah, gospel tracts are nice, but they don't really do anything. No one ever reads them, let me tell you something. I go to a small church (100 people on an average week).
At least two people in my church came to know Jesus as their Savior because someone handed them a tract. The person who gave it to them had no idea what happened afterward, but God had a plan and a purpose. God used that gospel tract to open their eyes to the truth, and they each trusted in Him.
Seize the Seconds
I have no idea what happened to the lady at Starbucks. I have no idea if she read the tract or shredded it. But I do know this: I had a few seconds in the drive-thru window. I could have either grabbed my drink, smiled, and waved, or I could take the opportunity to point her toward the best news ever.
I'm so glad I listened to the Holy Spirit.
Since that moment at Starbucks, God has given me the courage and strength to pass out tons more tracts. I still get a little nervous and am always waiting for my first rejection. But every person I've given a tract to has seemed genuinely interested and thankful.
Why Don't You Try It?
I want you to think through one of your average weeks. How many people do you encounter? How many stores do you go to? How many restaurants? Gas stations? Malls?
Out of all the people you encounter, would you be willing to pass out one just one gospel tract this week?
I know it can be really scary to hand a stranger a weird-looking pamphlet. One of the verses that has helped me find the courage and strength to be faithful in this area is 2 Corinthians 12:9, which says, "My grace is sufficient for you, for my power is made perfect in weakness."
What an awesome reminder that it's not your strength but God's! In your own strength you can't do it. But with the power of God working through you, you can do it! And you can trust God to take it from there.
Take the Challenge
I want to challenge each one of you girls to pass out one gospel tract this coming week. Put one in your purse, and then start praying for God to give you an opportunity.
If you are up for the challenge, sign your name in the comments section below. I'd love to keep in touch as the week goes on to hear how your experience went.
Are you up for the challenge? Let's do this together!
 Photo credit: www.flickr.com | 72098626@N00/8320868843