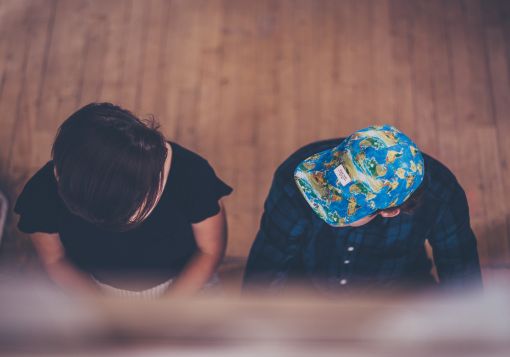 The conference had just begun as I settled into my chair with my warm cup of coffee in hand. I was excited to take a break from the normal routine of life and instead spend the weekend resting and recharging.
About ten minutes into the opening session, I noticed a cute young married couple come through the doors.
They looked no older than mid-twenties, so I'm guessing they had to be a newly(ish) married couple.
What happened next totally took me off guard.
As the husband walked in and gestured towards a row for the two of them to sit in, the wife looked at him with a look that said, "That's the worst row in the world, you idiot. What were you thinking??"
She tossed her hair back, lifted her head high, shook her head "no" and then lead her husband to the row of her choice.
The husband literally followed behind her like a defeated little puppy.
I couldn't help but feel saddened by the scene. Although I don't know the in's and out's of their marriage, I do know this. Her actions just told everyone at that conference that her husband is literally incapable of picking something out as simple as knowing where to sit.
Her public "husband-respect-meter" was low, low, low.
Watching this young married couple interact really got to me. I was just so amazed (in a really sad way) by how defeated that young husband looked after his wife mowed him over.
Instead of having a good level of manly leadership and confidence, he looked defeated.
Sadly, this situation is mild compared to the way many women (myself included) treat the men around us. Instead of encouraging, promoting, and influencing our guys towards godly, good, healthy leadership, we squish it right out of them.
I'll be the first to admit that I struggle in this area.
More often than I care to admit, I squish the leadership in the guys around me. I take the lead, I take charge, I correct, I share my opinions frequently, and I don't give the men much room to exercise godly leadership.
I'm telling you now, I don't want to be that way. I don't want to be the wife who overruns her husband when he simply tries to find a spot for us to sit.
My goal in life is to become a woman who loves, honors and respects the young men and men around me.
I want to be a promoter and helper of godly leadership, not a destroyer.
Pause for a minute and imagine how different that simple situation would have looked if the wife had allowed her husband to lead. Imagine if she had even encouraged him and said, "these seats are great."
Totally different outcome.
My prayer is that we can begin to work on this, as singles and young married gals, so that we can build a lifestyle of encouraging our men up (starting with the simple stuff like letting him choose where to sit).
In my book, Girl Defined: God's Radical Design for Beauty, Femininity and Identity, Kristen and I share 5 ways to help encourage and promote the men around you. Whether you are single, in a relationship, or married, these are all things we can practice on the men around us,
5 ways we can encourage godly manhood:
1. Encourage his leadership (1 Cor. 11:3).
If you're interested in dating someone, wait for him to ask you out. Wait for him to make his own moves. In any relationship, ask him what he thinks and listen. Allow him to make decisions in the relationship. Ask for his advice on small and big things. Affirm him when he makes a good decision, even if it's a simple one.
2. Speak words of life (Prov. 16:24).
Strive to remove negative language from your vocabulary. Instead, choose powerful words of encouragement. Call out the good in your man. Praise his godly character, thoughts, and actions.
3. Help him succeed (Gen. 2:18).
Help your man succeed as he strives to be the leader and provider. Take an interest in his occupation. Affirm his accomplishments and show that you are supportive and available to listen.
4. Let him be strong (1 Cor. 16:13–14; 1 Peter 3:7).
Encourage his God-given masculinity in every way possible. Allow him to protect you. Ask him to escort you through a crowded restaurant or event. If he's able, let him open doors for you.
5. Encourage spiritual leadership (Eph. 5:25–26).
This is huge! For many Christian women, having a man who can lead her spiritually is high on the list. Pray for him daily. Send him uplifting notes and verses during the week. Ask his opinion on spiritual matters. Pray daily that God would raise him up to be a man who loves the Lord and the Bible.
**Note: The italicized section was taken from Chapter 9 of GirlDefined.** 
I would love to hear from you now!
How can you better promote godly leadership in the guys around you?
In what ways are you destroying godly leadership?