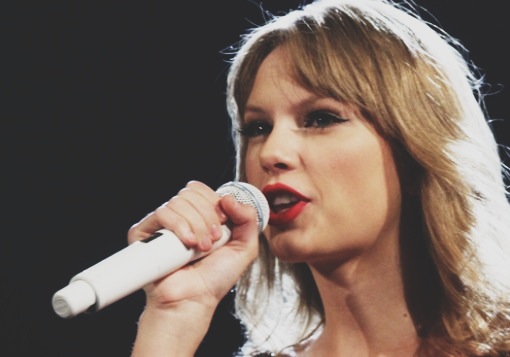 This past Sunday night the highly anticipated VMAs took place in sunny California. Screaming fans stood on the sidelines of the red carpet hoping to catch a glimpse of their favorite celebrity. For those who couldn't make it to California they were able to live stream the event from the comfort of their own home.
Taylor Swift's fans were waiting on pins and needles for her arrival to the red carpet. Fans could hardly make it through the night as they waited for her highly anticipated first ever big reveal of her live performance to the pop song Shake it off.
Taylor decided to reveal a little more than her new song at the show by strutting up the red carpet in not a dress but a bathing suit…Okay, I guess it wasn't technically a bathing suit but what's the difference?
I admit it would be a little stiff for swimming.
Anyways, I am so not a "Swifty" groupie or as I've seen all over the internet a "queen" fanatic. I don't listen to her music and I don't keep up with her on any social media. To clarify even further I didn't watch the VMAs or see her performance.
I'm guessing you're wondering then how in the world I know anything about the blue leotard she wore. Here's what happened, I logged into my Instagram account the night the VMAs took place. I had no idea it was the VMAs but quickly found out through the pictures and comments and likes that were flooding my Instagram "following" section.
Girls were debating over her outfit and whether it was too much leg.
One girl said, "It's no different than a bathing suit." Another said "I don't even think it's that cute." Most said "She rocks the blue outfit" or "Absolutely amazing!!" and on and on.
After reading the lyrics to her latest song and seeing the outfit selection she chose for the VMAs, I'm challenging Christian girls to rethink their love and admiration for Taylor.
Here are 4 reasons you should rethink following, admiring, or listening to Taylor Swift:
1. She is a superstar but is she a good role model?
Taylor Swift rose to stardom when she released "Our Song" back in 2006.  She has been a huge hit ever since. As a Christian you shouldn't blindly follow the crowd and accept whoever is in the spotlight. Yes, Taylor Swift is insanely famous, but is she really a good role model? Is she someone that you as a young lady should look up to and follow? Seriously ask yourself this question, is she a good role model? Why or why not?
2. What worldview is she singing?
Music preaches a strong message. Taylor Swift is singing from her own personal worldview and set of beliefs. You need to ask yourself what Taylor Swift is promoting in her music? I haven't listened to a ton of her music but from what I have heard, it doesn't seem very Christ-centered, pure or holy.
As a Christian it's important that you evaluate everything (even music) from a Biblical perspective. Philippians 4:8 reminds us that we are only to think about things are "true, honorable, pure, lovely, right and commendable." Would you say that the lyrics in Taylor's music passes the Philippians 4:8 test?
3. What message do her clothes send?
Honesty time! When I've browsed celebrities' outfits and clothes in the past, I get totally confused in my brain. I start thinking, "I need to be skinnier. The girls who show more get the attention. My hair needs help. I need better makeup. I need a tan." My thoughts literally go on a downward spiral when I look at that stuff. I'm almost positive it happens to you too.
When you look at Taylor's clothes, what lies are you believing? In my opinion, her clothes don't reflect purity or holiness. They don't reflect a heart that is pointing others to Christ but rather to herself. I'm not trying to be judgmental here, I just want you as a Christian girl to rethink her "role model" status. Don't believe the lie that you are only as good as your body looks. Keep in mind Proverbs 31:30 "Beauty is fleeting…"
4. What does she teach you about guys?
Look for the guy with the good lookin' hair…Burn your old boyfriends' pictures…Sneak out late with your boyfriend…Let your boyfriend turn you into a rebel…Love your boyfriend and then hate him.
I could go on but I won't. The way she sings and talks about guys leaves me feeling pretty depressed. I have to wonder what kind of guys she is dating. From the songs it seems that her idea of a great relationship is pretty superficial. Good looks, emotional highs and physical pleasure is what seems to be an ideal relationship in her mind.
What about true love, sacrifice, service, commitment and all of the hard truths the Bible talks about. Isn't that what truly will make a relationship work?
Let's wrap it up.
It's time for you to reconsider whether following after the superstar, Taylor Swift, is a good idea. Let me leave you with this extremely challenging thought:
"Does the music you listen to lead you to love the savior more or cause your affections for Christ to diminish? Does your music lead you to value an eternal perspective or influence you to adopt the mindset of this 'present evil age'?
Answering these questions honestly is an important step toward making wise decisions about the music you listen to and a life worthy of the gospel." -Bob Kauflin
What are your thoughts on Taylor Swift? Would you say she is a good role model? Would you say that her lyrics are God-honoring?
I would love to hear your thoughts! Leave your comments below.
Photo Credit: www.flickr.com | roberthuffstutter