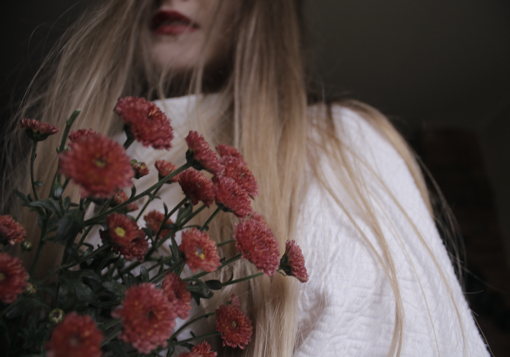 They turned their heads away in disgust whenever she walked by. They were too repulsed to even look at her. She knew this too. Keeping her head down, she hurried past them. This situation was all too familiar for her. With tears streaming down her face, she walked faster. She just needed to get to the house.
After several minutes of making her way through the crowded and narrow streets, she finally saw it. The lights were bright on the inside. The smell of freshly baked bread lingered in the doorway. Pausing to wipe her face, she breathed deeply. She hesitated. 
Do I dare go inside uninvited…here of all places?
Fear gripped her heart. But this was her only chance. She had to do it. Pushing the heavy wooden door open, she peered inside. The room was full of people dining together and making conversation. Scanning the crowded room, she became nervous. 
Where is He? Where is He? 
With her heart beating faster, she finally spotted him sitting on the far side of the room. With her head down low, she hurried across the crowded room, avoiding eye contact with everyone. This wasn't a welcoming place for women like her. And she knew it. But she was desperate. As she drew closer to the Man she came to see, unannounced tears burst from her eyes. She couldn't help herself.
Too ashamed to look into his eyes, she fell down at his feet and sobbed.
Suddenly, the entire room quieted. All eyes were on this unexpected visitor. What is she doing here? How dare she come into this house. Doesn't she know prostitutes aren't welcome here?
Silence filled the room. But that didn't stop her. 
With tears streaming down her face, she opened up a little flask of perfume. She poured the ointment on his dirty feet and used her own hair to wipe them. Nobody moved. Jesus looked down at her, His eyes filled with compassion and love. He was moved by her brokenness and genuine humility.
However, the onlookers were disgusted and wondered how He, of all people, could allow this. Speaking under his breath, one of the frustrated men said to himself, "If this man were a prophet, he would have known who and what sort of woman this is who is touching him, for she is a sinner" (Luke 7:39).
Knowing all things, Jesus looked up and locked eyes with the man who said this.
He said: "Do you see this woman? I entered your house; you gave me no water for my feet, but she has wet my feet with her tears and wiped them with her hair. You gave me no kiss, but from the time I came in she has not ceased to kiss my feet. You did not anoint my head with oil, but she has anointed my feet with ointment. Therefore I tell you, her sins, which are many, are forgiven—for she loved much. But he who is forgiven little, loves little" (Luke 7:44–47)
Jesus then looked down at the broken woman crying at His feet and lovingly said, "Your faith has saved you; go in peace" (Luke 7:50).
Jesus is our Savior. He is our Redeemer. 
He offers grace and forgiveness for the repentant sinner. He offers mercy for the broken person. He shows compassion for the despised. He loves the unlovable and touches the untouchable. He forgives and cleanses the shame of our past by giving us a redeemed future. He covers our sin with His own righteousness. 
No woman is too broken or too far gone that the love and forgiveness of Jesus is not greater still.
Jesus is the one Man that every woman needs. He is the one Man who can truly make us whole. 
He is the One our soul needs. He is the only One who can forgive our sins, wipe away our shame, and redeem our future. He is the only One who can permanently satisfy the ache in our hearts for true love. He is the only Man who can love us perfectly, without failure. He loves you so much.  
The Bible is full of beautiful stories of God transforming broken people into redeemed people for His glory.
Allow these hope-filled words of restoration that the prophet Isaiah penned for Israel to wash over your heart right now:
"The Spirit of the Sovereign Lord is upon me, for the Lord has anointed me to bring good news to the poor. He has sent me to comfort the brokenhearted and to proclaim that captives will be released and prisoners will be freed.
He has sent me to tell those who mourn that the time of the Lord's favor has come, and with it, the day of God's anger against their enemies.
To all who mourn in Israel, he will give a crown of beauty for ashes, a joyous blessing instead of mourning, festive praise instead of despair. In their righteousness, they will be like great oaks that the Lord has planted for his own glory" (Isa. 61:1–3 NLT, emphasis added).
The same powerful God who brought restoration to His children then is the same God who restores His children today.
He graciously and lovingly transforms our ashes into beauty for His glory.
When God looks at His redeemed daughters today, He doesn't see condemned women covered in shame; He sees forgiven women covered in the righteousness of Christ (see 2 Cor. 5:21). God's love for you is determined not by your actions but by His (see Rom. 5:8). You are worthy because of the worthy Savior who calls you His own (see Gal. 4:4–7). You are beautiful because of the beautiful Creator's image that you bear (see Gen. 1:27).
Just as the prostitute woman loved Jesus above all else and came to Him to find healing and forgiveness, we can do the same today. Jesus said, "Come to me, all who labor and are heavy laden, and I will give you rest" (Matt. 11:28). 
Come to Jesus. He will give you rest. He will make you whole in Him. 
As Easter weekend approaches, this is the perfect time to meditate on who Jesus is and why your relationship with Him is so important. As Christians, Easter Sunday (the resurrection of Jesus) is one of the most important events to celebrate in the entire year. Take some extra time this week to read and savor the beautiful passages of Scripture that talk about Jesus's life, death, and resurrection. 
If you're not sure where to start or how to do that, I highly recommend checking out some of these free resources:
Easter Week in Real Time (by: The Gospel Coalition) 
10 Day Easter Preparation Guide (by: Revive Our Hearts) 
Fill Your Heart with Fresh Awe This Easter (by: Revive Our Hearts) 
Jesus Christ is the one Man each of our hearts needs. He came to this earth to bring sight to the blind and to set the captives free. Look to Him for your Salvation. Look to Him for forgiveness. Look to Him for your identity. He is so worthy. 
In closing, take a few minutes to listen to this powerful song called Graves into Gardens and thank God for His amazing grace in your life. Thank you Jesus! 
*The majority of the content in this post was pulled from my book, Sex, Purity, and the Longings of a Girl's Heart (Chapter 15: Redeemed Sexuality).